SONATA ARCTICA estrenan lyric vídeo del nuevo single, «The Rest Of The Sun Belongs To Me»
Los íconos finlandeses del metal melódico SONATA ARCTICA deberían cerrar su gira europea «Acoustic Adventures» esta semana. Desafortunadamente, tuvo que posponerse hasta fines de 2022 (¡el extenso itinerario en vivo de la banda se puede encontrar a continuación!) Debido a razones obvias. Pero los fanáticos no deben preocuparse, ya que la banda está trayendo un ambiente acogedor de sala de conciertos a sus hogares en la forma de la primera parte de su álbum de dos piezas «Acoustic Adventures«, que saldrá el 21 de enero de 2022 a través de Atomic Fire.
Consta de adaptaciones acústicas de doce pistas que conducen a la discografía de SONATA ARCTICA, «Acoustic Adventures – Volume One» fue grabado y producido por Mikko Tegelman y la banda en Studio57, Finlandia; Tegelman también fue responsable de la mezcla y masterización del álbum junto con el bajista Pasi Kauppinen. La obra de arte de la colaboradora y compatriota del quinteto desde hace mucho tiempo, Janne Pitkänen (NIGHTWISH, AURI, etc.) completa la experiencia total de manera encantadora.
El primer sencillo del disco, «The Rest Of The Sun Belongs To Me«, está disponible hoy y se puede disfrutar junto con un lyric vídeo en YouTube, aquí:
Henrik «Henkka» Klingenberg, teclista de Estados Unidos:
«'The Rest Of The Sun Belongs To Me' fue una canción que apareció por primera vez como bonus track para Japón en 2003, justo cuando me uní a la banda. Cuando empezamos a arreglar canciones para la segunda gira de «Acoustic Adventures» en 2019, esta canción de alguna manera siguió apareciendo y decidimos intentarlo. Nuestro querido amigo Masi Hukari, que se unió a nosotros en el escenario para la gira, hizo gran parte del trabajo en este arreglo en particular y creo que su aportación fue realmente importante en el resultado de esta canción. Para este disco, usamos el arreglo en vivo como punto de partida y no creo que la canción haya cambiado tanto, así que lo que escuchas es una versión ligeramente refinada de el arreglo de la gira de 2019. Decidimos usar esta canción como el primer sencillo ya que es realmente diferente de la versión de estudio original y, como siempre, preferimos ofrecer algo nuevo e interesante para nuestros fans y para nosotros también».
Pre-ordene el álbum físicamente (CD-digipak, vinilos de varios colores), pre-guárdelo o pre-ordene digitalmente para recibir «The Rest Of The Sun Belongs To Me» instantáneamente ahora, aquí: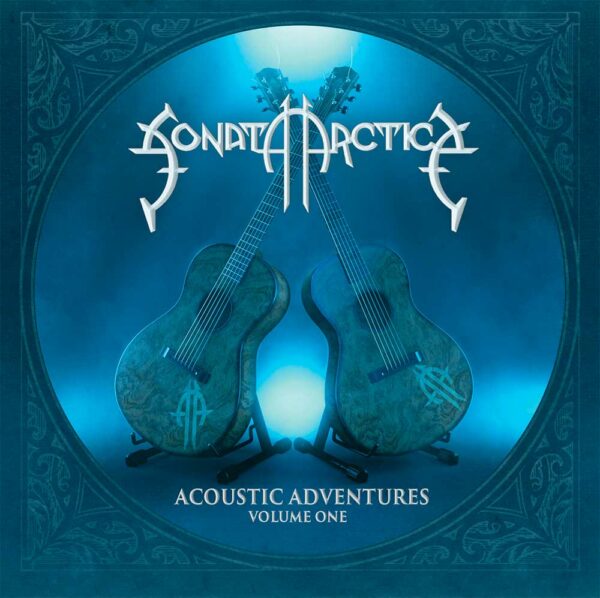 «Acoustic Adventures – Volume One» tracklisting:
The Rest Of The Sun Belongs To Me
For The Sake Of Revenge
A Little Less Understanding
Alone In Heaven
Tallulah
Don't Say A Word
As If The World Wasn't Ending
Paid In Full
Tonight I Dance Alone
The Wolves Die Young
Wolf & Raven
On The Faultline
SONATA ARCTICA en directo: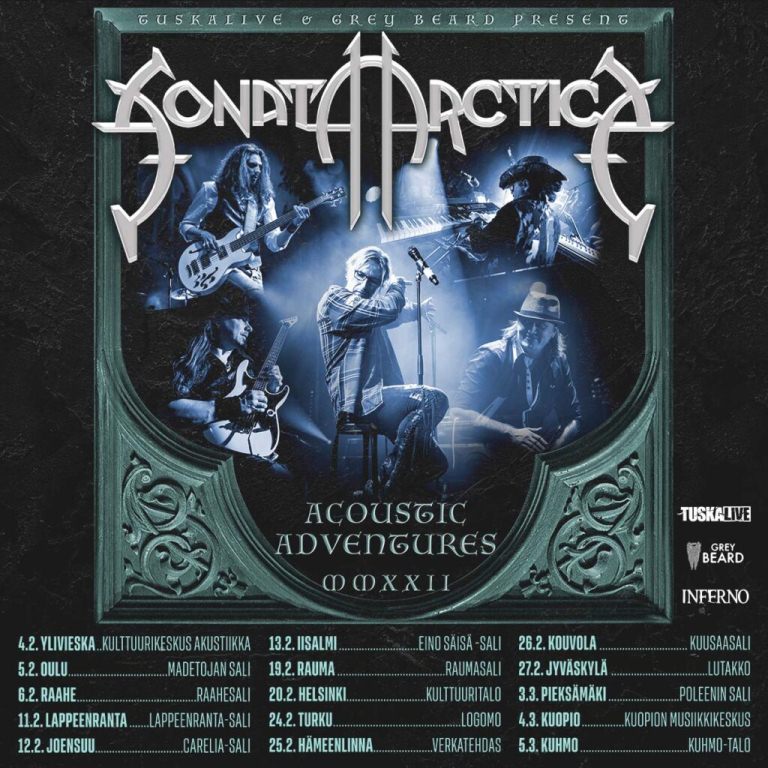 «Acoustic Adventures MMXXII«
04.02. FI Ylivieska – Kulttuurikeskus Akustiikka
05.02. FI Oulu – Madetojan-sali
06.02. FI Raahe – Raahe-sali
11.02. FI Lappeenranta – Lappeenranta-sali
12.02. FI Joensuu – Carelia-sali
13.02. FI Iisalmi – Eino Säisä-sali
19.02. FI Rauma – Rauma-sali
20.02. FI Helsinki – Kulttuuritalo
24.02. FI Turku – Logomo
25.02. FI Hämeenlinna – Verkatehdas
26.02. FI Kouvola – Kuusaa-sali
27.02. FI Jyväskylä – Lutakko
03.03. FI Pieksämäki – Poleenin-sali
04.03. FI Kuopio – Kuopion Musiikkikeskus
05.03. FI Kuhmo – Kuhmo-talo
19.03. FI Pori – Isomäki Areena (con STAM1NA)
23.03. IL Tel Aviv – Havana Club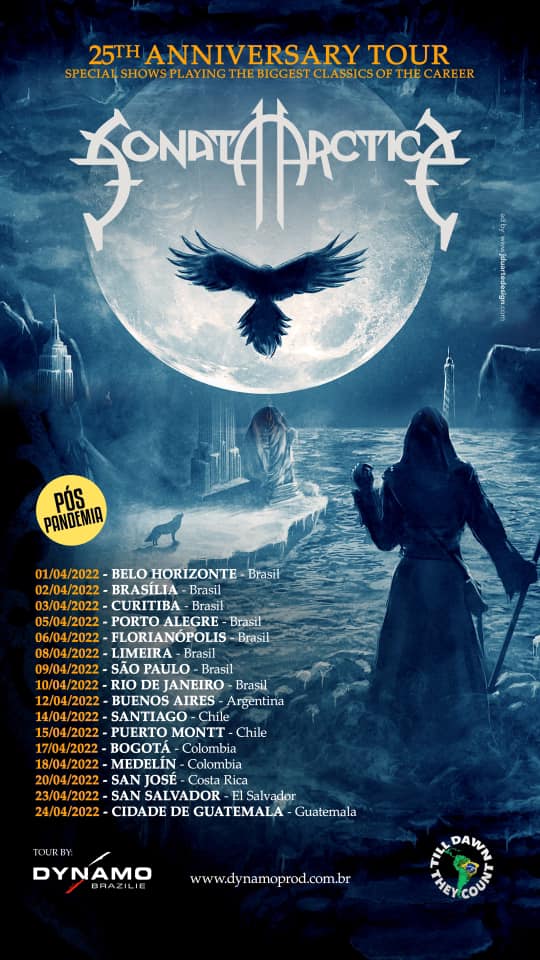 «25th Anniversary Tour«
01.04. BR Belo Horizonte – Mister Rock
02.04. BR Brasília – Toinha Brasil Show
03.04. BR Curitiba – Tork n' Roll
05.04. BR Porto Alegre – Opinião
06.04. BR Florianópolis – John Bull Pub Floripa
08.04. BR Limeira – Bar da Montanha
09.04. BR São Paulo – Audio
10.04. BR Rio de Janeiro – Circo Voador
12.04. AR Buenos Aires – El Teatro Flores
14.04. CL Santiago – Teatro Teletón
15.04. CL Puerto Montt – Arena
17.04. CO Bogotá – TBA
18.04. CO Medellín – TBA
20.04. CR San José – Pepper Disco Club
23.04. SV San Salvador – Cifco
24.04. GT Guatemala City – Salon San Jose
02. – 05.06. CZ Pilsen – Metalfest Open Air
10.06. SE Sölvesborg – Sweden Rock Festival
17./18.06. FI Oulu – Metal Capital Festival
29./30.07. FI Kokkola – Kokkolan Viinijuhlat
05.08. FI Jämsä – Himos Metal Festival
26./27.08. FI Kajaani – Kainuun Musiikkijuhlat
22.09. UA Kiev – Atlas Club
23.09. RU Moscow – TBA
24.09. RU St. Petersburg – TBA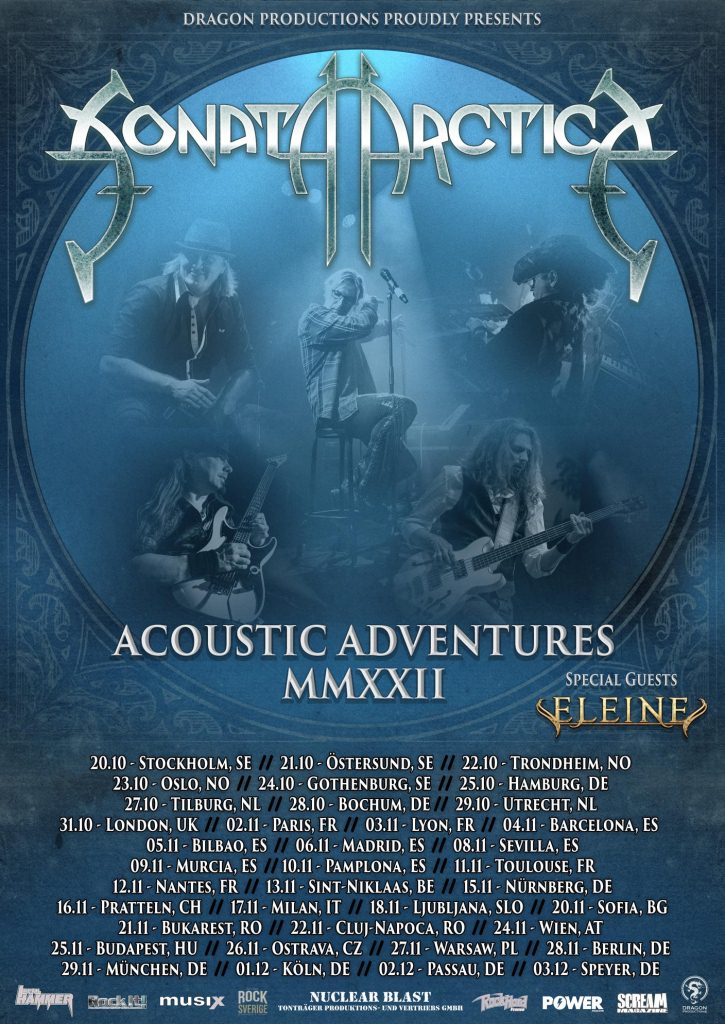 «Acoustic Adventures MMXXII» con ELEINE
Presentado por Metal Hammer (DE), Rock It! (DE), musix (DE), Rocksverige (SE), Rock Hard (FR), Power (ES), Scream (NO), Dragon Productions y Atomic Fire
20.10. SE Stockholm – Södra Teatern
21.10. SE Östersund – Gamla Teatern
22.10. NO Trondheim – Byscenen
23.10. NO Oslo – Parkteatret
24.10. SE Gothenburg – Valand (Ordensalen)
25.10. DE Hamburg – Fabrik
27.10. NL Tilburg – 013
28.10. DE Bochum – Christuskirche
29.10. NL Utrecht – Pandora
31.10. UK London – Islington Assembly Hall
02.11. FR Paris/Vauréal – Le Forum
03.11. FR Lyon – Le CCO
04.11. ES Barcelona – Salamandra
05.11. ES Bilbao – Stage Live
06.11. ES Madrid – Copérnico
08.11. ES Sevilla – Custom
09.11. ES Murcia – Garaje
10.11. ES Pamplona – Totem
11.11. FR Toulouse – Le Metronum
12.11. FR Nantes – Le Ferrailleur
13.11. BE Sint-Niklaas – De Casino
15.11. DE Nuremberg – Hirsch
16.11. CH Pratteln – Z7
17.11. IT Milan – Live Club
18.11. SI Ljubljana – Orto Bar
20.11. BG Sofia – Music Jam
21.11. RO Bucharest – Quantic Club
22.11. RO Cluj-Napoca – Form Space
24.11. AT Vienna – Szene
25.11. HU Budapest – Akvarium
26.11. CZ Ostrava – Club Garage
27.11. PL Warsaw – Proxima
28.11. DE Berlin – Columbia Theater
29.11. DE Munich – Backstage (Werk)
01.12. DE Cologne – Essigfabrik
02.12. DE Passau – Zauberberg
03.12. DE Speyer – Halle 101
SONATA ARCTICA son:
Tony Kakko | voces y teclados
Elias Viljanen | guitarras
Pasi Kauppinen | bajo
Henrik «Henkka» Klingenberg | teclados
Tommy Portimo | tambores