PESTILENCE lanza el vídeo de la nueva pista "Deificvs"
Los íconos holandeses del death metal PESTILENCE han lanzado una nueva canción "Deificvs" con el vídeo que la acompaña, filmado por Grupa 13 (Kreator, Behemoth, Amon Amarth). La canción es el segundo sencillo del próximo álbum de la banda, "Exitivm", después de "Morbvs Propagationem". El álbum se lanzará el 25 de junio a través de Agonia Records. Mira el nuevo vídeo de "Deificvs" a continuación:
Por más controvertido que pueda ser para algunos, nadie negará jamás al indiscutible motor de la banda, Patrizio Mameli, y su constante capacidad para reinventarse a sí mismo. A diferencia de la mayoría de las bandas de la escena, PESTILENCE sigue evolucionando. Desde las rabiosas inclinaciones al thrash de su debut de culto en 1988, "Malleus Maleficarum", hasta la versatilidad con infusión de jazz de "Spheres" de 1993 o el asalto frontal de "Resurrection Macabre" de 2009, sin mencionar el favorito de los fans y "Testimony Of The Ancients" de 1991, producido por Scott Burns, nunca lo hizo el mismo registro dos veces. No importa quién toque con él en cualquier álbum de PESTILENCE, Mameli siempre saca lo mejor de los músicos con los que está trabajando. Pero, ante todo, el hombre tiene una visión única, un estilo reconocible al instante y, sin embargo, siempre extiende los límites musicales. Y nunca es más cierto que en "Exitivm".
Con la excepción de la batería, localizada por el propio van der Plicht en el estudio de su casa, el álbum se grabó durante un período de dos meses entre junio y agosto de 2020 en Pitchnote Productions. El álbum ha sido producido, como todos los álbumes de PESTILENCE, por Mameli y está coproducido, grabado, mezclado y masterizado por Jory Hogeveen (Shinigami y Ancient Rites). En marzo pasado, la banda filmó su segundo vídeo oficial – tres décadas después de "Land Of Tears" – para la canción "Morbvs Propagationem". "Exitivm" estará disponible en varios formatos, incluyendo imágenes supra-limitadas, pin-wheel, "firebreath" y versiones de vinilo transparente. La portada una vez más trajo la esfera icónica de la banda y fue realizada por Michal "Xaay" Loranc, conocido por sus diversas versiones de Nile, God Detheroned o Evocation y que ya había trabajado en "Hadeon".
Tanto una reinvención como una confirmación de todo lo que la banda ha estado defendiendo desde 1986, treinta y cinco años después, PESTILENCE está más que nunca abriendo nuevos caminos y explorando los puestos de avanzada del sonido del metal extremo en "Exitivm".
PESTILENCE – Exitivm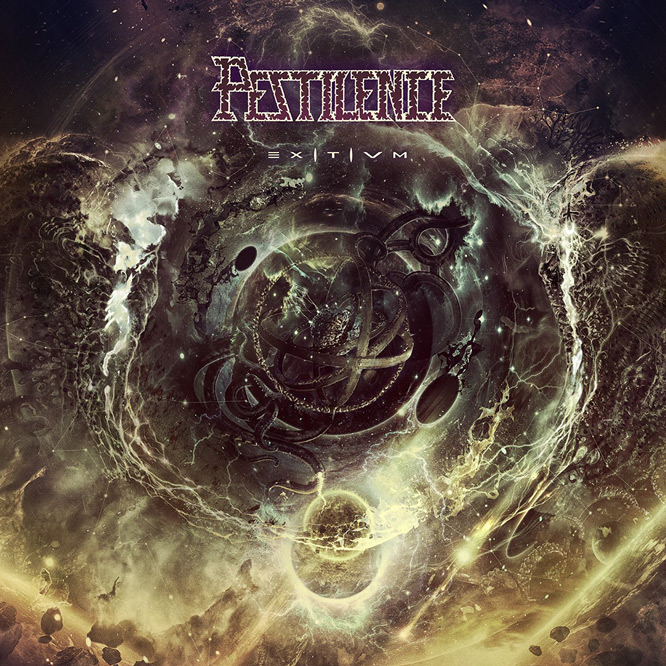 "Exitivm" tracklist:
In Omnibvs (Intro)
Morbvs Propagationem
Deificvs
Sempiternvs
Internicionem
Mortifervm
Dominatvi Svbmissa
Pericvlvm Externvm
Inficiat
Exitivm
Immortvos
Personatvs Mortem (Outro)