BREED OF AGGRESSION lanza el lyric vídeo de su nuevo single "I Am The Enemy"
BREED OF AGGRESSION ha lanzado un lyric vídeo para su segundo single, "I Am The Enemy". Míralo a continuación.
"I Am The Enemy' trata de la lucha interior y de mantenerse fuerte cuando te presionan. La gente se burla, se estresa o es condescendiente, y mientras te carcome y se acumula, en algún momento puedes estallar. Así que piensas mucho en ello. Puede sentirse muy bien desatarse, pero también puedes ser tu peor enemigo si te lo permites". – Susie Hoffman Beahm, BREED OF AGGRESSION.
"Escribiendo esto me esforzaba por tener una canción con un groove poderoso para conmover al oyente, Susie cumplió con la letra para hacerla un mensaje poderoso, creo que lo ejecutó perfectamente". – Scott McClellan, BREED OF AGGRESSION.
Un consumado guitarrista y compositor, el álbum en solitario de Scott McClellan, "Brutal Intentions", fue lanzado por Dark Star Records en 2019. Es el guitarrista principal en el próximo álbum en solitario de Tony Martin, ex vocalista de Black Sabbath, Thorns, que saldrá a la venta en 2022 con Dark Star Records. Además de la banda tributo a Pantera, Domination and Cemeterygatez: America's Number One Pantera Tribute Band, Scott ha tocado en The Brain Chiggers y Brotherhood of Spine. McClellan también es un guitarrista de sesión y compositor muy solicitado.
Susie Hoffman Beahm lleva más de veinte años en la industria musical, colaborando con los principales fabricantes de instrumentos que ayudan al descubrimiento de los niños en las aulas y fuera de ellas. Defensora de los programas de música en las escuelas y del crecimiento de las mujeres en la industria musical, Susie dedica frecuentemente su tiempo a causas relacionadas. Ha realizado trabajos de sesión en diversos proyectos musicales y es miembro de la banda indie Natural Oil and Heathen Soul.
El primer álbum de la banda, "This Is My War", ofrece ocho intensos temas producidos por el vocalista y guitarrista de Destrophy, Ari Mihalopoulos, que anuncian con audacia la llegada de este dinámico dúo. "This Is My War" se ha publicado en todo el mundo a través de Dark Star Records. Pídelo aquí.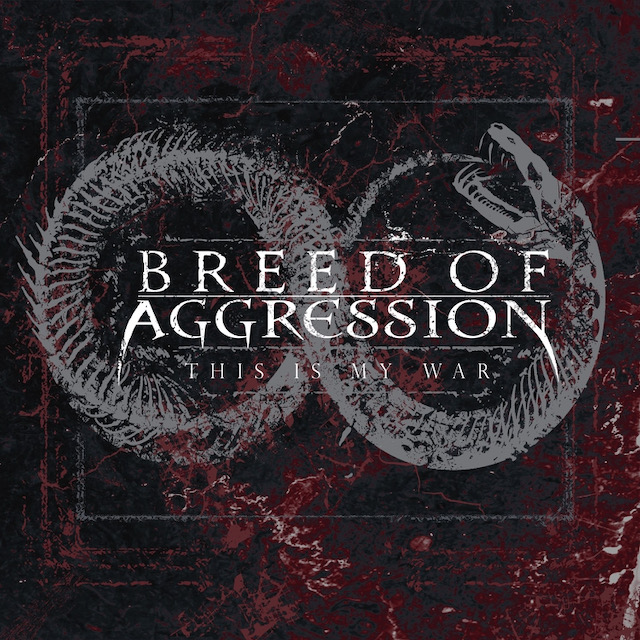 "This is My War" tracklisting:
"Dance With The Devil"
"Unmasked"
"This Is My War"
"I Am The Enemy"
"Cicada"
"Driver Of The Nail"
"We Are The Strong"
"Aftershock"
BREED OF AGGRESSION es:
Scott McClellan – Guitarra, Bajo, Batería
Susie Hoffman Beahm – Voz
Compositores:
Todos los temas son de Scott McClellan y Susie Hoffman Beahm
ASCAP
Producido por Scott McClellan y Susie Hoffman Beahm
Mezclado y diseñado por Aristotle @ Inner Light Recording Studio
Grabado en Dreamography Studio e Inner Light Recording Studio