WIZARDTHRONE lanzan vídeo para el single "Forbidden Equations Deep Within The Epimethean Wasteland"
Con miembros de ALESTORM, GLORYHAMMER, AETHER REALM, FORLORN CITADEL, NEKROGOBLIKON y más, el supergrupo internacional WIZARDTHRONE anunció recientemente su emocionante álbum debut, "Hypercube Necrodimensions" (que saldrá el 16 de julio a través de Napalm Records). ¡Ahora, el apasionante grupo ha lanzado su nuevo segundo sencillo, "Forbidden Equations Deep Within The Epimethean Wasteland", junto con un emocionante vídeo con la letra de acompañamiento, para el mundo!.
En "Forbidden Equations Deep Within The Epimethean Wasteland", las ricas composiciones de trompeta se combinan con arreglos de power metal, rematados con sintetizadores de varias capas. WIZARDTHRONE realmente refleja el paisaje sonoro de su álbum, "Hypercube Necrodimensions", una dimensión espacial y de otro mundo a años luz de la Tierra en las profundidades del páramo epimeteo. ¡Este es un viaje intergaláctico para el que es mejor que se abroche el cinturón!.
El extraordinario asistente del teclado C. Hyperiax Bowes declara:
"Con esta pista, nos adentramos en las nieblas cristalinas de Epimeteo para desbloquear la horrible elucidación trascendental del cosmos. Sin embargo, ese conocimiento arcano tiene un precio terrible. Los estudiantes entusiastas de las artes necróficas reconocerán la influencia de los maestros visionarios Bal-Sagoth, junto con los enigmáticos proto-magos pioneros del metal Emperor, en esta pieza en particular. ¡Súplicas eternas a Xhul y sus heraldos inmortales!".
Con apariciones especiales de Aleksi Munter (SWALLOW THE SUN / INSOMNIUM), Florian Magnus Maier (DARK FORTRESS / ALKALOID) y Evan Berry (WILDERUN), "Hypercube Necrodimensions" es una muestra espectacular de la delicadeza musical de WIZARDTHRONE, constantemente empujando los límites del heavy metal y por lo tanto ¡Ofrece una experiencia auditiva de wizard metal extrema única en su tipo!.
"Hypercube Necrodimensions" estará disponible en CD digipack junto con una camiseta exclusiva y como un LP plegable negro, así como en vinilo curacao / verde jaspeado (limitado a 300) y como un álbum digital.
WIZARDTHRONE – Hypercube Necrodimensions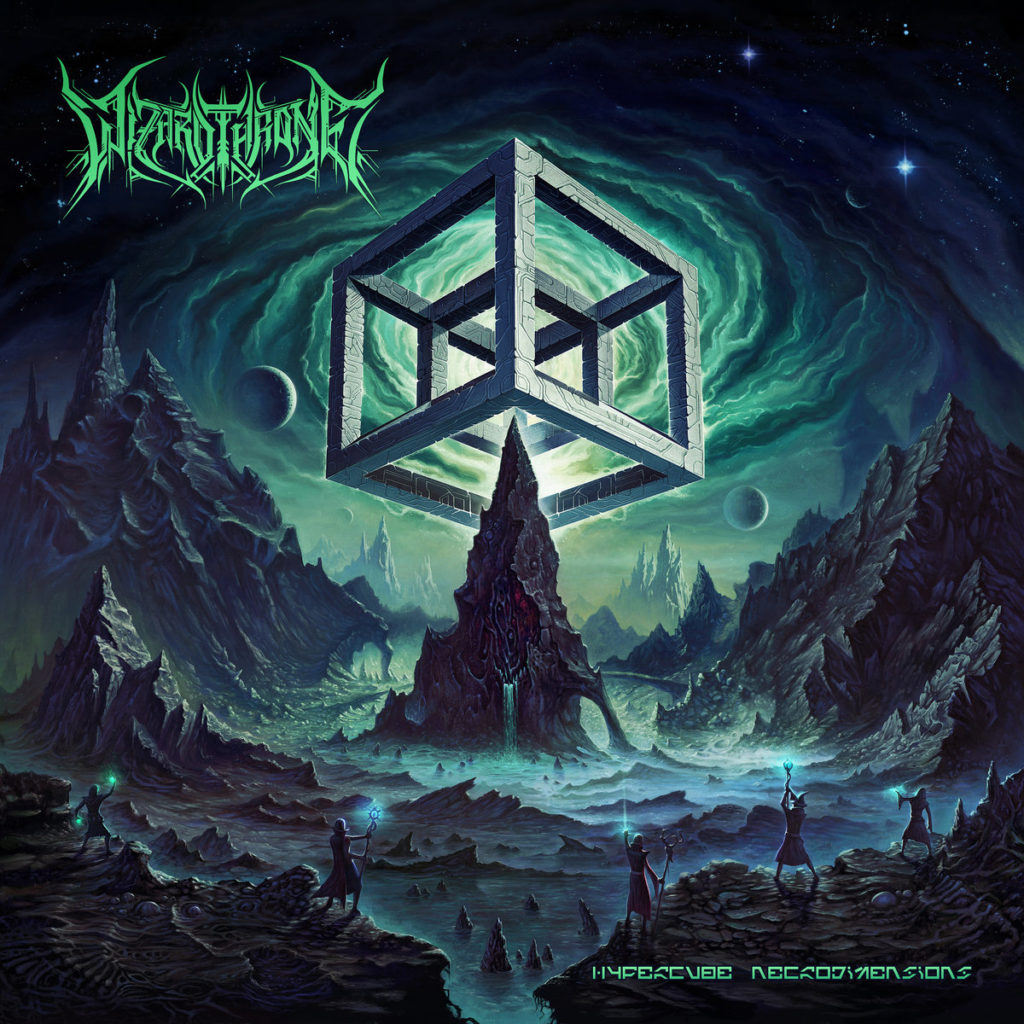 "Hypercube Necrodimensions" Tracklist:
Black Hole Quantum Thermodynamics
Frozen Winds of Thyraxia
Incantation of the Red Order
Forbidden Equations Deep Within the Epimethean Wasteland
The Coalescence of Nine Stars in the System Once Known as Markarian-231
Of Tesseractual Gateways and the Grand Duplicity of Xhul
Hypercube Necrodimensions
Beyond the Wizardthrone (Cryptopharmalogical Revelations of the Riemann Zeta Function)