INFECTED RAIN anuncia el quinto álbum "Ecdysis" y revela vídeo del nuevo sencillo "Postmortem Pt. 1"
La unidad de metal moderno progresivo de Moldavia INFECTED RAIN se ha convertido en uno de los actos nuevos más emocionantes en el mundo de la música pesada, con la carismática y polifacética líder Lena Scissorhands emergiendo como una de las protagonistas de más rápido ascenso del género. Ahora, la banda surge de las profundidades oscuras una vez más, recién saliendo de su primera gira por los Estados Unidos con Butcher Babies y Stitched Up Heart, para revelar el próximo capítulo de su metamorfosis. La banda lanzará su quinto álbum de otro mundo, "Ecdysis", el 7 de enero de 2022 a través de Napalm Records.
INFECTED RAIN se redefinen con el seguimiento de "Endorphin" de 2019. "Ecdysis" electrifica con riffs resonantes, electrónica cósmica, el tesoro de Lena de habilidades vocales e intensos temas líricos que van desde la depresión y el abandono hasta abrazar la realidad, mostrando el avance de la banda al tiempo que mezcla un ritmo progresivo extremo con una melodía oscura e inquietante.
Hoy, los fanáticos pueden probar "Ecdysis" por primera vez al presenciar el nuevo single, "Postmortem Pt. 1", y su vídeo cerebral. La potente pista dispensa instantáneamente la fórmula patentada de la banda, con espeluznantes paisajes sonoros cargados de sintetizadores que caen en cascada en innumerables capas de atmósfera cósmica respaldada por riffs gruesos y estridentes, tambores y gruñidos de rascacielos.
La líder Lena Scissorhands dice sobre "Postmortem Pt. 1":
"La autopsia se trata de la búsqueda constante.
El nunca feliz, nunca contento …
Ciegos a los verdaderos tesoros de la vida, constantemente queremos más y más…".
Mira el vídeo oficial de "Postmortem Pt. 1" AQUÍ:
Producida una vez más por Valentin Voluta, "Ecdysis" demuestra con éxito la brutalidad ultramoderna sin sacrificar la emoción y la melodía, mostrando una nueva capa de INFECTED RAIN que tanto los seguidores de toda la vida como los nuevos fans abrazarán.
La frontwoman Lena Scissorhands agrega sobre "Ecdysis":
"Mientras el mundo entero estaba sumido en una profunda depresión, 'Ecdysis' estaba madurando lenta pero seguramente. El tiempo de aislamiento lejos de todos nuestros planes y metas, lejos de los seres queridos y del escenario, sacó a relucir algo tan nuevo y diferente en nosotros. Un nuevo El capítulo comienza con este álbum, un capítulo de emociones crudas y compromiso total".
Temas como "Fighter" sacan a relucir la crueldad de la banda con toda su fuerza con niveles de agresión incondicionales, incitando a un tornado de ritmos y provocando un lirismo que invita al oyente a mantenerse concentrado en el aquí y ahora y ¡luchar! con la fuerte vocalista de Butcher Babies, Heidi Shepherd, el impactante sencillo "The Realm Of Chaos" golpea y se dobla mientras diezma con un ataque mosh como ningún otro en "Ecdysis". Destacados notables como "Longing" y "These Walls" saquean con angustia instantánea mientras muestran algunos de los trabajos de guitarra más variados en "Ecdysis", que fluyen entre ritmos agitados, solistas imponentes, efectos técnicos y acordes siniestros, mientras que selecciones como "Everlasting Lethargy", "November" y "Never The Same" cuentan con algunas de las interpretaciones vocales más eclécticas de Lena Scissorhands en medio de un metalcore desgarrado y deslumbrante y pasajes electrónicos deslumbrantes. Ejemplos de composición dinámica y sorprendente se manifiestan con ofertas honestas como el impresionante "Goodbye", el inquietante "Showers" y el amenazante cierre del álbum "Postmortem Pt. 2" (poco avanzado por el interludio electrónico "Nine, Ten"). El finalizador encapsula la inmensa calidad etérea del álbum mientras se conecta al principio como un ouroboros sónico.
Pre-ordena "Ecdysis" AQUÍ.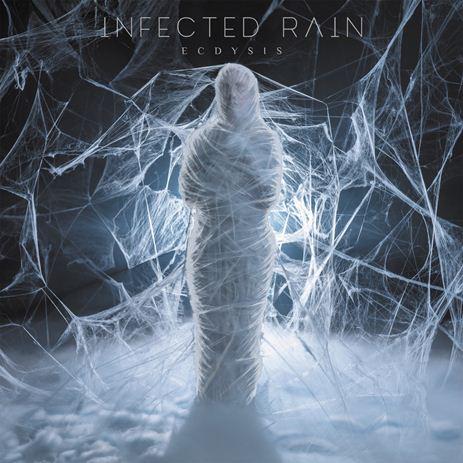 "Ecdysis" tracklisting:
Postmortem Pt. 1
Fighter
Longing
Goodbye
The Realm of Chaos feat. Heidi Shepherd (Butcher Babies)
Everlasting Lethargy
These Walls
Showers
November
Never the Same
Nine, Ten
Postmortem Pt. 2
"Ecdysis" estará disponible en los siguientes formatos:
-CD Digipak
-1 LP Gatefold Negro
-1 LP Gatefold Marbled White / Blue (limitado a 100 – Napalm Worldwide Mailorder solamente)
-1 LP Gatefold Marbled White / Blue w / Slipmat (limitado a 100 – Solo pedido por correo de Napalm RoW)
-CD Digipak + Camisa (solo pedido por correo de Napalm RoW)
-Álbum digital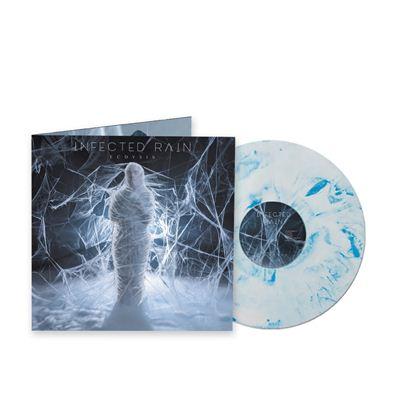 INFECTED RAIN es:
Lena Scissorhands – Voz
Vadim Ojog "Vidick" – Guitarra
Sergey Babici – Guitarra
Vladimir Babici – Bajo
Eugene Voluta – Batería