THE HELLACOPTERS lanza su nuevo single "So Sorry I Could Die"
La banda sueca de rock and roll de alta energía, THE HELLACOPTERS, ha lanzado su nuevo single, "So Sorry I Could Die", incluido en su próximo octavo álbum de estudio, "Eyes Of Oblivion", que saldrá a la venta el 1 de abril.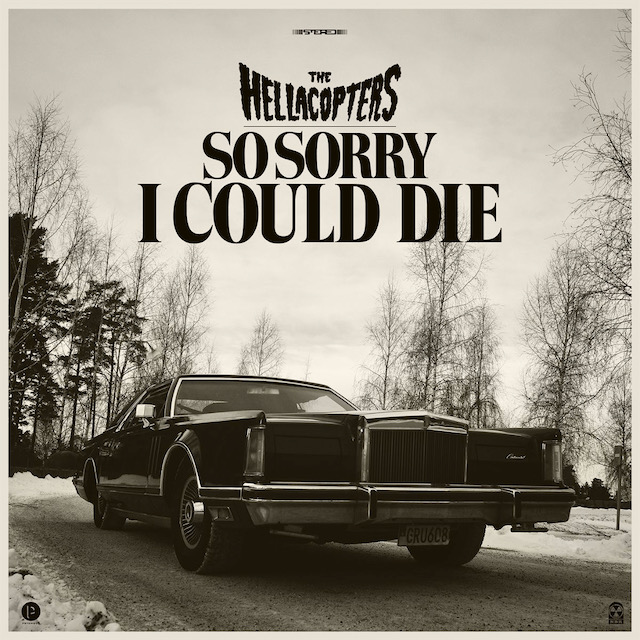 Puedes escuchar el single aquí y ver el vídeo, dirigido por Amir Chamdin y editado por Emil Klinta, a continuación.
Producido por Nicke Andersson y Chips Kisbye (que ha supervisado todos los álbumes de THE HELLACOPTERS desde "High Visibility" en el año 2000), "Eyes Of Oblivion" será el primer álbum completo de la banda desde el lanzamiento de su disco de despedida temporal, "Head Off", en 2008.
Puedes reservar "Eyes Of Oblivion" en varios formatos, incluyendo una buena selección de vinilos de gran calidad, así como una caja limitada de 2 CDs con cuatro temas extra, aquí.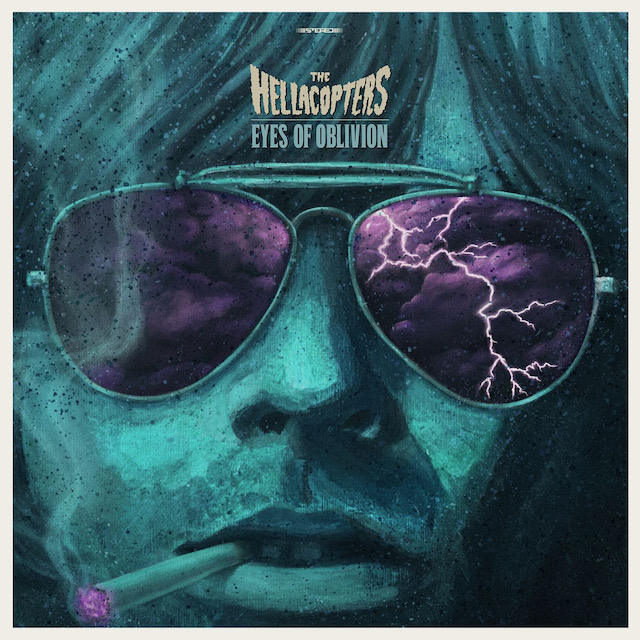 Tracklisting:
"Reap A Hurricane"
"Can It Wait"
"So Sorry I Could Die"
"Eyes Of Oblivion"
"A Plow And A Doctor"
"Positively Not Knowing"
"Tin Foil Soldier"
"Beguiled"
"The Pressure's On"
"Try Me Tonight"
Formatos:
Edición limitada 2CD Box Set (CD Digipak + funda de cartón; incluye posavasos, parche tejido, 2 botones y cuatro temas extra: "Eleanor Rigby" (versión de The Beatles), "Circus" (versión de String Driven Thing), "I Am the Hunted" (versión de GBH), "I Ain't No Miracle Worker" (versión de The Brogues))
CD Jewelcase
Casete (negro / sólo en EE.UU.)
Álbum digital
LP individual con póster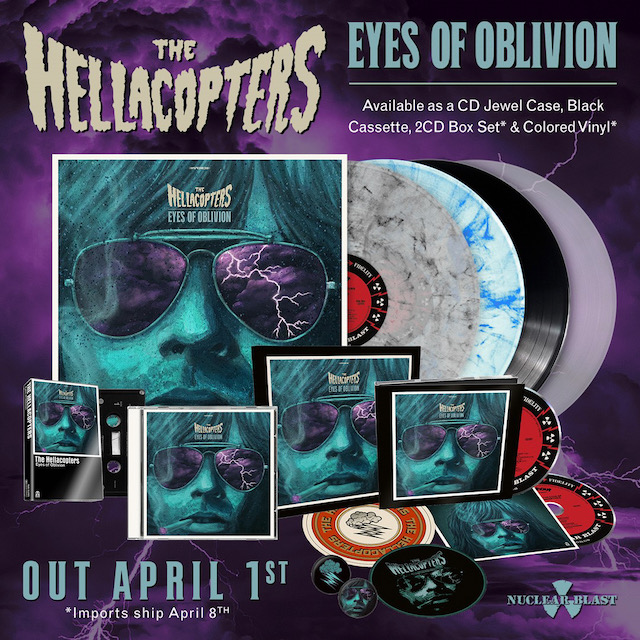 THE HELLACOPTERS fueron formados en 1994 por Nicke Andersson (voz y guitarra), Dregen (guitarra), Kenny Håkansson (bajo) y Robert Eriksson (batería). Por aquel entonces, Andersson era conocido en la escena del metal por su trabajo en la conocida banda sueca de death metal Entombed y Dregen se había labrado una reputación como cofundador y guitarrista de su banda principal Backyard Babies.
Junto a The Hives y Backyard Babies, THE HELLACOPTERS están considerados como una de las bandas de rock suecas más importantes e influyentes de las décadas de 1990 y 2000: consiguieron dos certificaciones de oro, ganaron el Grammy sueco y un premio Kerrang!, han acumulado 100 millones de streams hasta la fecha y han teloneado y girado con gente como The Rolling Stones, Kiss, Black Sabbath, ZZ Top o los Foo Fighters. Han publicado siete álbumes, desde el fuzzed-out & supercharged garage punk en "Supershitty To The Max!" (1996) y "Payin' The Dues" (1997) a un rock'n'roll de alta energía perfectamente elaborado y conmovedor con un fuerte ambiente vintage en los siguientes álbumes, "Grande Rock" (1999), "High Visibility" (2000), "By The Grace Of God" (2002) y "Rock & Roll Is Dead" (2005). En 2008 se publicó un recopilatorio de versiones llamado "Head Off", que marcó el último álbum de la banda antes de disolverse. Además, THE HELLACOPTERS han lanzado casi cuatro docenas de singles, splits y EPs hasta el día de hoy, la mayoría de los cuales obtuvieron el tratamiento de vinilo limitado de 7 pulgadas o 10 pulgadas, lo que los convierte en el sueño de un coleccionista de vinilos… o la peor pesadilla.
THE HELLACOPTERS se reunieron en 2016 para dar unos cuantos conciertos por el 20º aniversario de su álbum de debut, y han demostrado ser una fuerza imparable desde entonces, actuando en el Sweden Rock Festival, Psycho Las Vegas, Download, Hellfest, Roskilde, Ilosaarirock, entre otros. En octubre de 2021 anunciaron que habían firmado un acuerdo con Nuclear Blast Records y que un nuevo álbum estaría en preparación para la primavera de 2022.