FIVE FINGER DEATH PUNCH lanza el vídeo oficial del tema «Judgement Day» del álbum «AfterLife»
FIVE FINGER DEATH PUNCH ha lanzado un vídeo oficial para «Judgement Day«, extraído de su último disco, «AfterLife«. Echa un vistazo a continuación.
«AfterLife» salió a la venta el 19 de agosto de 2022 a través de Better Noise Music.
FIVE FINGER DEATH PUNCH ha anunciado la exclusiva «Wrong Side Of Heaven» 10th Anniversary Vinyl Box Set, que incluye dos de los álbumes más vendidos de FIVE FINGER DEATH PUNCH, prensados en vinilo metálico plateado y metálico dorado, con fundas desplegables y carátulas actualizadas, junto con el álbum en directo «Purgatory (Tales From The Pit)«, agotado hace tiempo.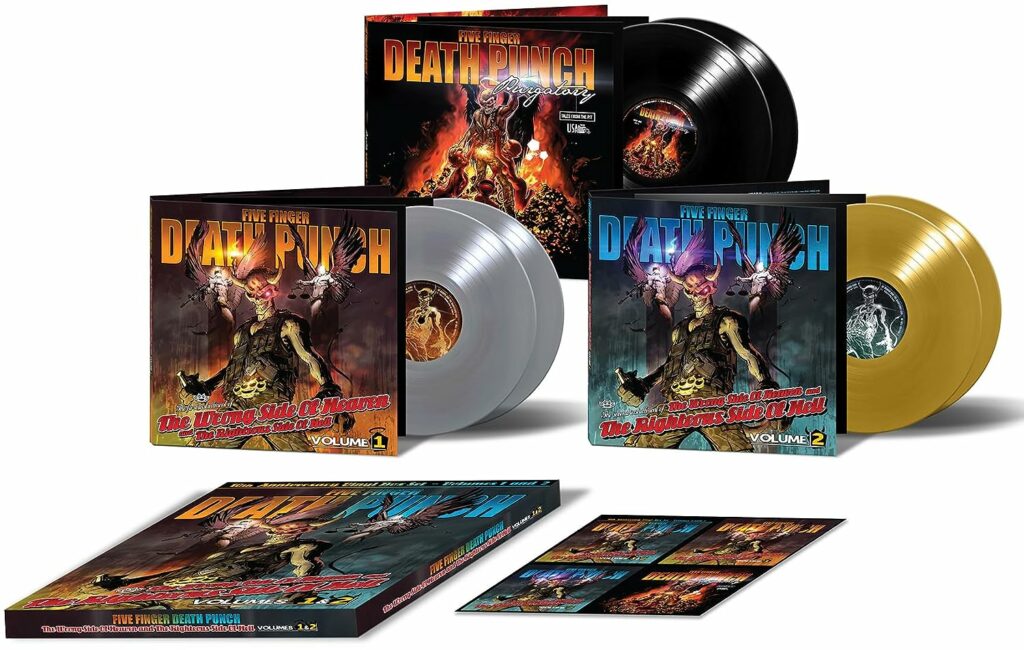 Esta colección de 6 LP contiene seis temas extra y una hoja de pegatinas con 4 calcomanías. Edición limitada. Haz tu pedido aquí.
Tracklisting:
The Wrong Side Of Heaven And The Righteous Side Of Hell: Volume 1
LP 1 / Side A
"Life Me Up" (feat. Rob Halford)
"Watch You Bleed"
"You"
"Wrong Side Of Heaven"
LP 1 / Side B
"Burn MF"
"I.M. Sin"
"Anywhere But Here"
"Dot Your Eyes"
LP 2 / Side A
"M.I.N.E. (End This Way)"
"Mama Said Knock You Out" (feat. Tech N9ne)
"Diary Of A Dead Man"
LP 2 / Side B
"I.M. Sin" (feat. Max Cavalera)*
"Anywhere But Here (feat. Maria Brink)*
"Dot Your Eyes" (feat. Jamey Jasta)
"Burn MF" (feat. Rob Zombie)
*bonus tracks
Purgatory (Tales From The Pit)
LP 1 / Side A
"Intro"
"Under And Over It"
"Burn It Down"
"American Capitalist"
"Hard To See"
LP 1 / Side B
"Coming Down"
"Bad Company"
"White Knuckles"
LP 2 / Side A
"Drum Solo"
"Far From Home"
"Never Enough"
"War Is The Answer"
"Remember Everything"
LP 2 / Side B
"No One Gets Left Behind"
"The Bleeding"
"Burn MF" (Mr. Kane and Nikka Bling Remix, feat. Rob Zombie)*
"Weight Beneath My Sin" (feat. Ryan Clark)*
*bonus tracks
The Wrong Side Of Heaven And The Righteous Side Of Hell: Volume 2
LP 1 / Side A
"Here To Die"
"Weight Beneath My Skin"
"Wrecking Ball"
LP 1 / Side B
"Battle Born"
"Cradle To The Grave"
"Matter Of Time"
LP 2 / Side A
"The Agony Of Regret"
"Cold"
"Let This Go"
LP 2 / Side B
"My Heart Lied"
"A Day In My Life"
"House Of The Rising Sun"