CRAZY LIXX estrenan la nueva canción "Reach Out"
Frontiers Music Srl anunció recientemente el próximo lanzamiento del nuevo álbum de los rockeros suecos CRAZY LIXX, "Street Lethal", el 5 de noviembre. Escuche la canción "Reach Out" a continuación, y reserve / guarde "Street Lethal" en CD / LP / Digital aquí.
La versión LP de "Street Lethal" es un vinilo amarillo de 180g en una funda plegable que es exclusivo de las tiendas web de la etiqueta. Limitado a 300 copias en todo el mundo.
Repleto de coros enormes, ganchos y riffs memorables, y solos de guitarra emotivos y lamentosos, los fanáticos de la banda estarán encantados y emocionados con lo que se ofrece con "Street Lethal". La producción masiva es cortesía de Danny Rexon, quien, en los últimos dos años, realmente se ha convertido en un maestro artesano en el estudio. Con Tobias Lindell (H.E.A.T, Europa, Hardcore Superstar, etc.) manejando la mezcla, este álbum seguramente resonará entre los viejos fanáticos y los nuevos oyentes por igual.
Con "Street Lethal", CRAZY LIXX supera todas las expectativas de nueva música de la banda y supera su propio catálogo venerado y celebrado. Es un álbum seguro, ingenioso y lleno de pasión. Aquí, CRAZY LIXX demuestra sin lugar a dudas que no son solo uno más del grupo, sino que están justo al frente. Nadie hace lo que hace tan bien…
Álbum tras álbum, los rockeros suecos CRAZY LIXX han esculpido continuamente en piedra su reputación como verdaderos líderes del renacimiento del hard rock escandinavo de los 80. Con millones de reproducciones para vídeos populares como "Wild Child" y "Hunter of the Heart" en YouTube, excelentes números de transmisión para canciones como "Blame It On Love", "Hell Raising Women" y "XIII" y "Wild Child" que aparece en la película de terror de Nicolas Cage "Willy's Wonderland", CRAZY LIXX continúan constantemente en su marcha por la dominación mundial.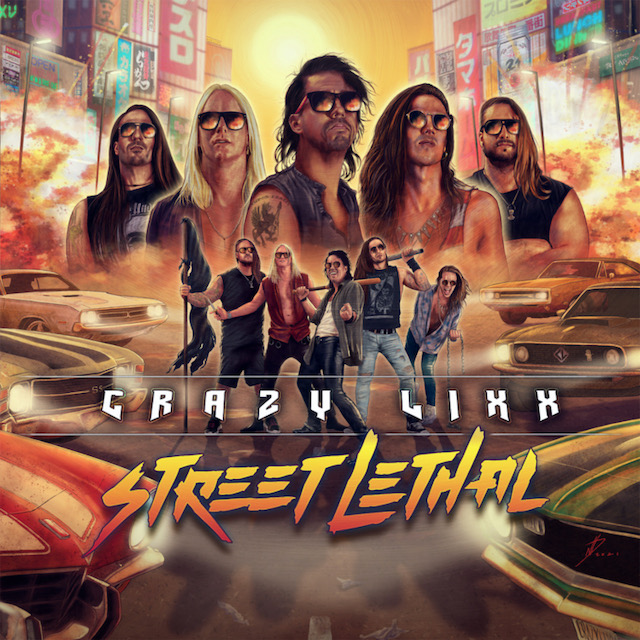 Tracklisting:

"Enter The Dojo"
"Rise Above"
"Anthem For America"
"The Power"
"Reach Out"
"Final Fury"
"Street Lethal"
"Caught Between The Rock N' Roll"
"In The Middle Of Nothing"
"One Fire – One Goal"
"Thief In The Night"
CRAZY LIXX son:
Danny Rexon – Voz
Jens Anderson – Bajo
Joél Cirera – Batería
Chrisse Olsson – Guitarra
Jens Lundgren – Guitarra