BLACK VEIL BRIDES lanza live vídeo para el sencillo "Crimson Skies"
Mientras el mundo está experimentando el lanzamiento del sexto álbum de larga duración de la banda, "The Phantom Tomorrow", BLACK VEIL BRIDES ha lanzado un vídeo en vivo para su último sencillo, "Crimson Skies". Filmado y dirigido por Edwin Daboub, el vídeo es una recopilación de shows capturados en la reciente gira conjunta de la banda por los Estados Unidos.
El vídeo captura la energía y el talento para el espectáculo que Andy Biersack, Jake Pitts, Jinxx, Lonny Eagleton y Christian Coma muestran todas las noches durante la gira y que ha ganado a la banda seguidores leales en todo el mundo.
La portada de "The Phantom Tomorrow" fue creada por Eliran Kantor, conocido por su trabajo con Testament, Hatebreed, Havok y Andy Black, por nombrar algunos. "The Phantom Tomorrow" es producido por Erik Ron (Godsmack, Dance Gavin Dance, Bush) y coproducido por el guitarrista Jake Pitts, y está disponible para ordenar en varias configuraciones de paquetes en phantomtomorrow.com.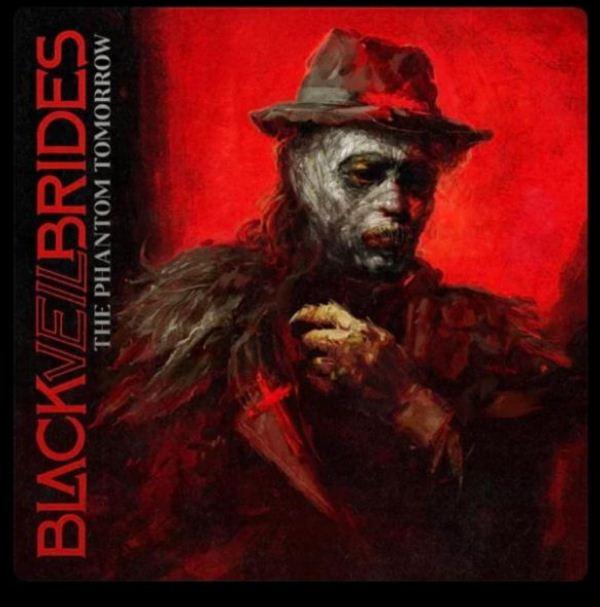 Tracklist:
"The Phantom Tomorrow" (Introduction)
"Scarlet Cross"
"Born Again"
"Blackbird"
"Spectres" (Interlude)
"Torch"
"The Wicked One"
"Shadows Rise"
"Fields Of Bone"
"Crimson Skies"
"Kill The Hero"
"Fall Eternal"
BLACK VEIL BRIDES participará en el reprogramado The In-Between Tour en apoyo de "The Phantom Tomorrow", una gira conjunta con In This Moment. La carrera de 45 fechas concluye en Atlanta, GA, el 21 de noviembre. La lista completa de las fechas de la gira se encuentra a continuación, y toda la información del paquete VIP y las entradas se puede encontrar en blackveilbrides.net.
Octubre
29 – Louisville, KY – Palace Theatre
30 – Columbus, OH – Express Live!
31 – Pittsburgh, PA – Stage AE
Noviembre
2 – Cleveland, OH – Agora
3 – Detroit, MI – The Fillmore
5 – Stroudsburg, PA – Sherman Theater
6 – Montclair, NJ – Wellmont Theatre
7 – Worcester, MA – The Palladium  
9 – Philadelphia, PA – Franklin Music Hall
10 – Silver Spring, MD – The Fillmore
12 – Myrtle Beach, SC – House Of Blues
13 – Cherokee, NC – Harrah's Cherokee Events Center
14 – Nashville, TN – Marathon Music Works
16 – Richmond, VA – The National
17 – Greensboro, NC – Piedmont Hall
19 – Tampa, FL – Hard Rock Events Center
20 – Lake Buena Vista, CA – House Of Blues
21 – Atlanta, GA – The Tabernacle
Como sugiere el nombre de su banda, BLACK VEIL BRIDES evocan visiones trascendentes de un más allá impenetrable, entremezcladas con un enfoque acerado en las pasiones oscuras y los misterios esquivos del aquí y ahora. Una fantasía romántica convocada por primera vez en una pequeña ciudad por el fundador Andy Biersack, un creativo que estaba fascinado con el death rock, la teatralidad y los monstruos (tanto reales como imaginarios). No fue hasta que se mudó a Los Ángeles que la fuerza imparable que es actualmente la banda se concretó.
Las cuentas de Instagram y Twitter de la banda (y sus miembros Andy Biersack, Jake Pitts, Jinxx, Lonny Eagleton, Christian Coma) cuentan con cerca de 10 millones de seguidores entre ellos. Vale, el álbum de larga duración más reciente del grupo, llegó al número 1 en la lista de los mejores álbumes de Hard Rock de Billboard. En los corazones y mentes de sus fans, BLACK VEIL BRIDES representa una falta de voluntad para comprometerse y una resistencia a los críticos (personales y profesionales), alimentada por el mismo fuego que los propios héroes del grupo, los iconoclastas cuya producción creativa, una vez descartada, es ahora canonizado.