ARCH ENEMY estrena el vídeo de su nuevo single "Sunset Over The Empire"
El 29 de julio, ARCH ENEMY publicará su undécimo álbum de estudio, "Deceivers", a través de Century Media Records. Como adelanto del disco, el nuevo single, "Sunset Over The Empire", se puede escuchar en streaming en todo el mundo aquí.
Dirigido por Grupa13, el vídeo de "Sunset Over The Empire" puede verse a continuación.
El fundador y principal compositor de ARCH ENEMY, Michael Amott, comenta:
"¡Contemplad 'Sunset Over The Empire', el cuarto single de nuestro próximo álbum 'Deceivers'! Esta es una canción más rápida con algunos riffs maníacos y un ritmo implacable que puedo imaginar que se convertirá en un "éxito en el foso". Tristemente, es una de esas canciones que parecen sonar más verdaderas con cada día que pasa… "Las palabras se convirtieron en guerra, hermano luchando contra hermano, otra falsa tregua, mientras la gente muere…". El vídeo que acompaña a la canción se rodó en Polonia con el equipo de Grupa13 y no sigue la letra al pie de la letra, sino que tiene un gran mensaje y un gran ambiente por sí mismo. Ah, y estoy encantado de que vayamos a lanzar 'Sunset Over The Empire' como un single físico de edición limitada en vinilo de 7″".
Lanzado hoy, el 7″ de "Sunset Over The Empire" puede adquirirse aquí, donde el 7″ está disponible en las siguientes versiones
vinilo blanco (limitado a 1000 copias; disponible a través de CM Distro Europe)
vinilo naranja transparente (limitado a 500 copias; exclusivo de la banda)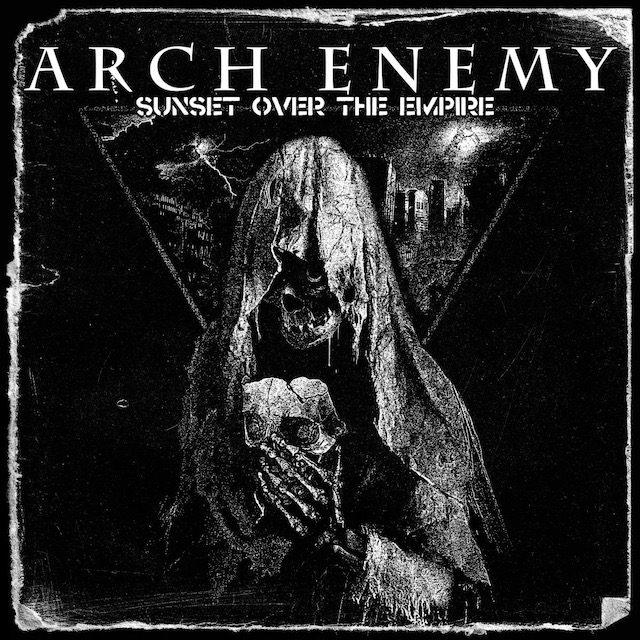 "Sunset Over The Empire" tracklisting:
"Sunset Over The Empire"
"The Judging Eyes"
Una colección de 11 temas despiadadamente pegadizos y despiadadamente violentos, "Deceivers" está a la altura de los más destacados del histórico catálogo de la banda. Haz un pedido anticipado del álbum aquí.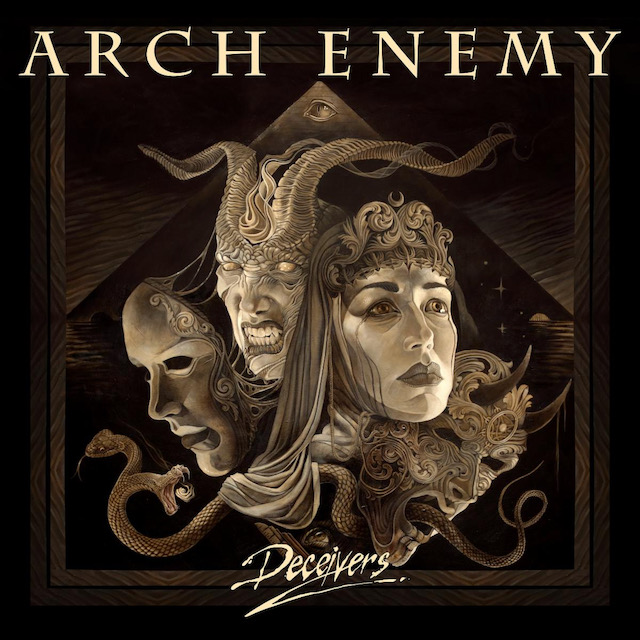 "Deceivers" tracklisting:
"Handshake With Hell"
"Deceiver, Deceiver"
"In The Eye Of The Storm"
"The Watcher"
"Poisoned Arrow"
"Sunset Over The Empire"
"House Of Mirrors"
"Spreading Black Wings"
"Mourning Star"
"One Last Time"
"Exiled From Earth"
ARCH ENEMY son:
Alissa White-Gluz – Voz
Michael Amott – Guitarras
Jeff Loomis – Guitarras
Sharlee D'Angelo – Bajo
Daniel Erlandsson – Batería