THE TROOPS OF DOOM con JAIRO "TORMENTOR" GUEDZ ex guitarrista de SEPULTURA lanzará el álbum "Antichrist Reborn" en abril
La unidad brasileña de death metal, THE TROOPS OF DOOM, ha firmado con el sello portugués Alma Mater Records, fundado por Fernando Ribeiro de Moonspell, para el lanzamiento de su nuevo álbum, "Antichrist Reborn". El álbum se publicará en CD, vinilo y casete a través del sello, y en digital a través de Blood Blast Distribution.
"Antichrist Reborn" fue mezclado por Peter Tägtgren (Hypocrisy, Celtic Frost, Possessed) y masterizado por Jonas Kjellgren (Immortal, Katatonia, Scar Symmetry). La portada fue pintada por Sérgio Oliveira, el artista detrás de la obra de arte "Bestial Devastation" de Sepultura.
Dice la banda:
"Para este primer álbum completo, tenemos el honor de contar con João Gordo (Ratos de Porão), Alex Camargo y Moyses Kolesne (Krisiun) como invitados especiales. Verdaderas leyendas de la música extrema brasileña".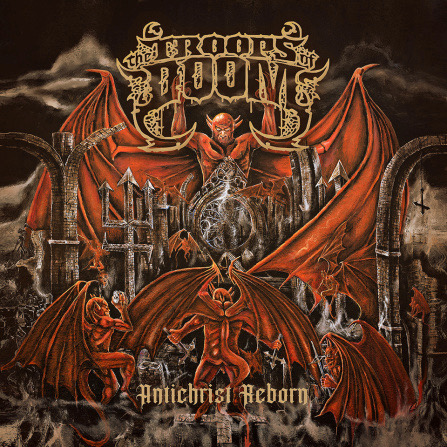 THE TROOPS OF DOOM cuenta con el ex guitarrista de Sepultura Jairo "Tormentor" Guedz, el bajista/vocalista Alex Kafer (Enterro, Explicit Hate, ex-Necromancer), el baterista Alexandre Oliveira (Southern Blacklist, Raising Conviction), y el guitarrista Marcelo Vasco (Patria, Mysteriis, y aclamado artista gráfico para bandas como Slayer, Kreator, Machine Head, Soulfly y Hatebreed).
THE TROOPS OF DOOM revisa la esencia del death metal de los 80, explorando un sonido más primitivo que transporta a sus oyentes a esa época, sin dejar de ser fresco, genuino y ferozmente pesado. Tras sus aclamados EPs "The Rise Of Heresy" (2020) y "The Absence Of Light" (2021), que han sido alabados tanto por la prensa musical internacional como por los fans, la banda se prepara finalmente para el lanzamiento de su primer largo, "Antichrist Reborn". Con un lanzamiento en vinilo a continuación, "Antichrist Reborn" estará disponible como CD digipack y casete el 15 de abril a través de Alma Mater, y editado digitalmente por Blood Blast Distribution.
Echa un vistazo a un teaser a continuación, y permanece atento a más detalles.