LORNA SHORE lanza el vídeo de su nuevo single "Pain Remains II: After All I've Done, I'll Disappear"
El 14 de octubre, LORNA SHORE lanzará su cuarto álbum completo, "Pain Remains", a través de Century Media Records. La banda marca el siguiente capítulo en el viaje épico, que conduce al lanzamiento del nuevo álbum: "Pain Remains II: After All I've Done, I'll Disappear". Actualmente en streaming en todas las plataformas digitales, el vídeo (dirigido por David Brodsky // http://www.mgenyc.com) se puede ver a continuación.
La banda comenta sobre "The Pain Trilogy":
"'The Pain Trilogy' es un cuento de tres partes que se centra en las etapas del dolor y la vulnerabilidad y lo ejemplifica a través de una historia de amor. La primera canción, 'Pain Remains I: Dancing like Flames' comienza con el personaje principal enamorado de la persona de sus sueños. Decide volcarse en esta realidad como un sentido de propósito a pesar de saber que cuanto más se acerca a su objetivo, más parece alejarse. Esto lleva a la segunda canción, 'Pain Remains II: After All I've Done, I'll Disappear'. Esta es la parte en la que la persona se desvanece y el protagonista lucha por aceptar el dolor. Él también desea desaparecer y busca tirarlo todo por la borda. LORNA SHORE apoya la prevención y el apoyo al suicidio. Animamos a todos a hablar de sus problemas y a entablar conversaciones que nos ayuden y reparen a todos. Línea nacional de prevención del suicidio: 800-273-8255″.
No te pierdas la parte final de la trilogía que se desarrollará cuando el álbum salga a la venta el 14 de octubre.
Los pedidos anticipados de "Pain Remains" están disponibles en varios formatos, con el CD Digipak y todas las tiradas iniciales del Gatefold 2LP que vienen con un barniz especial mate/brillante. Haz tu pedido aquí.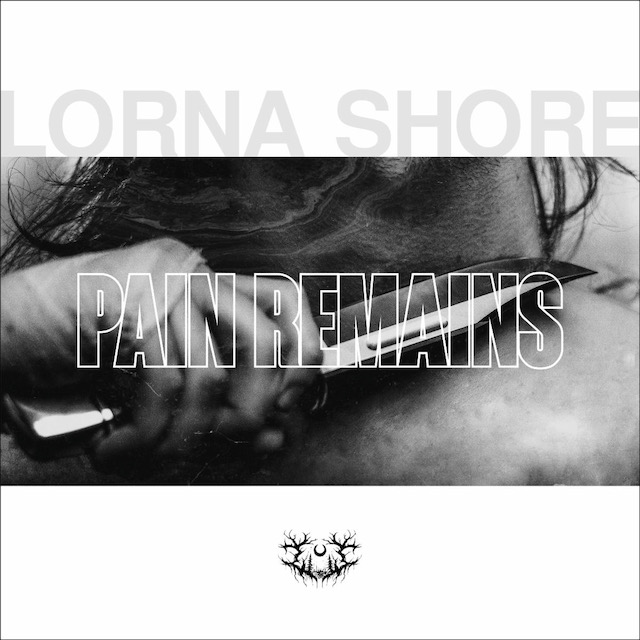 Tracklisting:
"Welcome Back, O' Sleeping Dreamer"
"Into The Earth"
"Sun//Eater"
"Cursed To Die"
"Soulless Existence"
"Apotheosis"
"Wrath"
"Pain Remains I: Dancing Like Flames"
"Pain Remains II: After All I've Done, I'll Disappear"
"Pain Remains III: In A Sea Of Fire"
LORNA SHORE ha anunciado la gira norteamericana de The Pain Remains. La banda estará acompañada por Aborted, Ingested, AngelMaker y Ov Sulfur, comenzando el 21 de octubre en Filadelfia y terminando el 20 de noviembre en Montreal. Se podrán adquirir paquetes de entradas VIP para cada concierto, que incluirán una entrada para el espectáculo, un encuentro con LORNA SHORE, una camiseta VIP exclusiva, una lámina de recuerdo con un cordón, un póster firmado, una bolsa de mano, un pin de esmalte y una entrada anticipada.
"Estamos encantados de celebrar el lanzamiento de nuestro nuevo álbum 'Pain Remains' por todo Estados Unidos junto a algunas de nuestras bandas favoritas. Esta gira nos permite ofrecer un espectáculo que creemos que este disco merece y dar a los fans una experiencia para recordar", afirma el guitarrista de LORNA SHORE, Adam De Micco.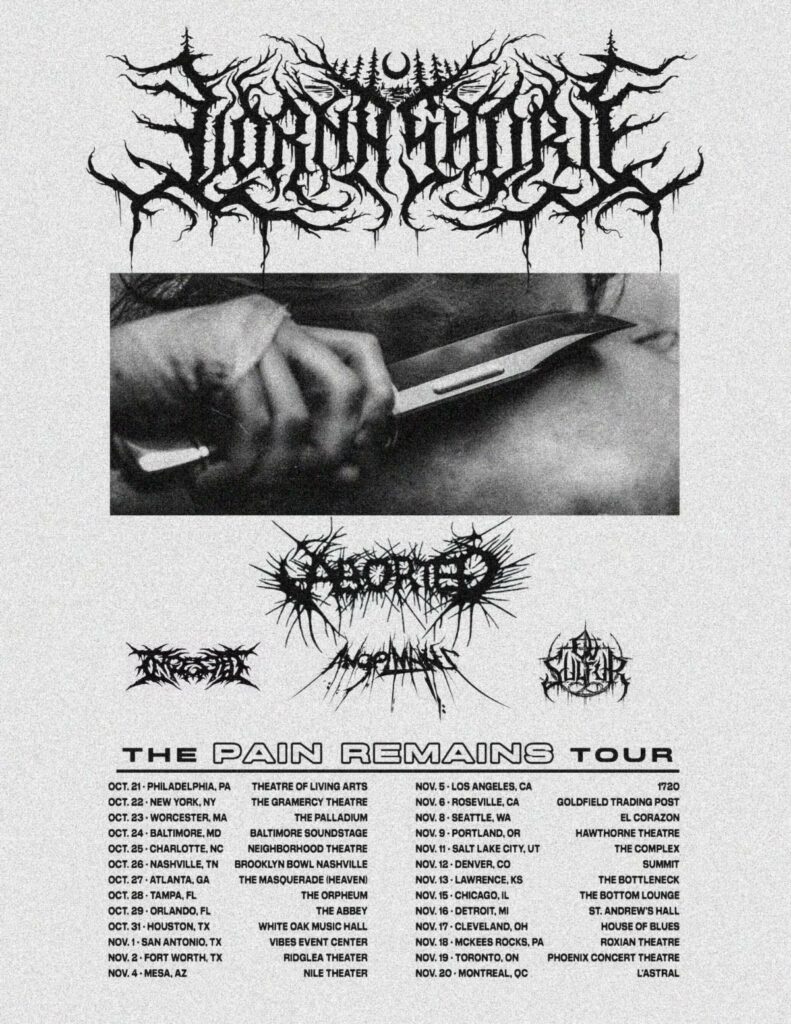 The Pain Remains Tour:
Octubre
21 – Philadelphia, PA – Theatre of Living Arts
22 – New York, NY – The Gramercy Theatre
23 – Worcester, MA – The Palladium
24 – Baltimore, MD – Baltimore Soundstage
25 – Charlotte, NC – Neighborhood Theatre
26 – Nashville, TN – Brooklyn Bowl Nashville
27 – Atlanta, GA – The Masquerade (Heaven)
28 – Tampa, FL – The Orpheum
29 – Orlando, FL – The Abbey
31 – Houston, TX – White Oak Music Hall
Noviembre
1 – San Antonio, TX – Vibes Event Center
2 – Fort Worth, TX – Ridglea Theater
4 – Mesa, AZ – Nile Theater
5 – Los Angeles, CA – 1720
6 – Roseville, CA – Goldfield Trading Post
8 – Seattle, WA – El Corazon
9 – Portland, OR – Hawthorne Theatre
11 – Salt Lake City, UT – The Complex
12 – Denver, CO – Summit
13 – Lawrence, KS – The Bottleneck
15 – Chicago, IL – The Bottom Lounge
16 – Detroit, MI – St. Andrew's Hall
17 – Cleveland, OH – House of Blues
18 – Mckees Rocks, PA – Roxian Theatre
19 – Toronto, ON – Phoenix Concert Theatre
20 – Montreal, QC – L'astral