SLIPKNOT estrena el vídeo de "Yen"
SLIPKNOT ha compartido el vídeo oficial de su nuevo single, "Yen", que ha sido dirigido por el propio M. Shawn 'Clown' Crahan de la banda. "Yen" es la última canción que se publica del nuevo álbum de SLIPKNOT, "The End, So Far", que saldrá a la venta el 30 de septiembre a través de Roadrunner Records.
Tanto el tema como el vídeo son una muestra de la excepcional gama de SLIPKNOT y ven a una de las bandas más populares y profundamente enigmáticas del mundo trazando implacablemente nuevos caminos mientras continúan redefiniendo, revitalizando y reimaginando el alcance de la música rock.
Producido por SLIPKNOT y Joe Barresi, "The End, So Far" está disponible para pre-orden con varias variantes de vinilo disponibles en slipknot1.com. "The End, So Far" incluye el single sorpresa de 2021 de la banda "The Chapeltown Rag" y sigue a su ampliamente celebrado álbum de 2019 "We Are Not Your Kind", que marcó el tercer #1 consecutivo de SLIPKNOT en el Billboard 200. El lanzamiento tuvo un impacto global masivo con debuts #1 en las listas oficiales de álbumes de doce países de todo el mundo, incluyendo el Reino Unido, Australia, Canadá y México, con debuts Top 5 en otros doce países, incluyendo Alemania, Francia y Suecia.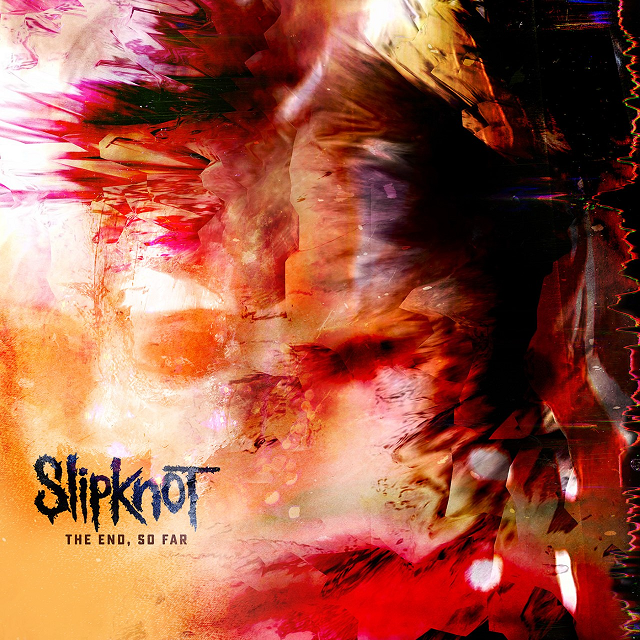 Tracklisting:
"Adderall"
"The Dying Song (Time To Sing)"
"The Chapeltown Rag"
"Yen"
"Hivemind"
"Warranty"
"Medicine For The Dead"
"Acidic"
"Heirloom"
"H377"
"De Sade"
"Finale"
Este otoño, SLIPKNOT se embarcará en la tercera etapa de su popular gira Knotfest Roadshow. La gira, que vuelve a mejorar su espectáculo en directo, comenzará el 20 de septiembre en Nashville, TN, y contará con la presencia de invitados especiales como Ice Nine Kills y Crown The Empire. La gira de otoño también incluirá apariciones en los festivales Louder Than Life de Louisville y Aftershock de Sacramento (itinerario de la gira más abajo). Además, SLIPKNOT pasará el verano atravesando Europa para una serie de festivales internacionales y fechas como cabeza de cartel, incluyendo sus propios festivales Knotfest Alemania y Finlandia.
Para entradas y más información sobre la gira Knotfest Roadshow Fall 2022 de SLIPKNOT y las próximas fechas internacionales, visita slipknot1.com.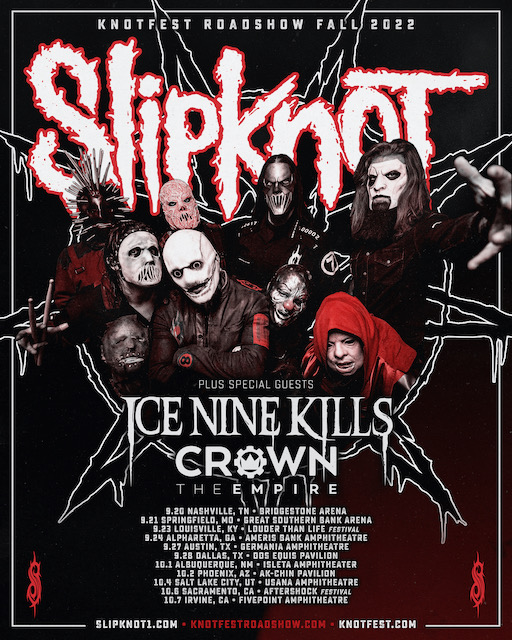 Fechas:
Septiembre
20 – Nashville, TN – Bridgestone Arena
21 – Springfield, MO – Great Southern Bank Arena
24 – Alpharetta, GA – Ameris Bank Amphitheatre
27 – Austin, TX – Germania Insurance Amphitheater
28 – Dallas, TX – Dos Equis Pavilion
Octubre
1 – Albuquerque, NM Isleta Amphitheater
2 – Phoenix, AZ – Ak-Chin Pavilion
4 – Salt Lake City, UT – USANA Amphitheatre
6 – Sacramento, CA – Aftershock Festival
7 – Irvine, CA – FivePoint Amphitheater
(Foto – Anthony Scanga)