OF GODS & MONSTERS feat. SIMON WRIGHT, IRA BLACK, BJORN ENGLEN, KEVIN GOOCHER lanzan el sencillo y vídeo "Bring Out Your Dead"
OF GODS & MONSTERS ha lanzado su sencillo y vídeo debut, "Bring Out Your Dead", de su próximo disco, "Brace For Impact". El sencillo es lanzado por Hellaphonic Music y está disponible en todas las plataformas digitales (iTunes, Spotify). Un vídeo con la letra de seguimiento está programado para ser lanzado a finales de este mes.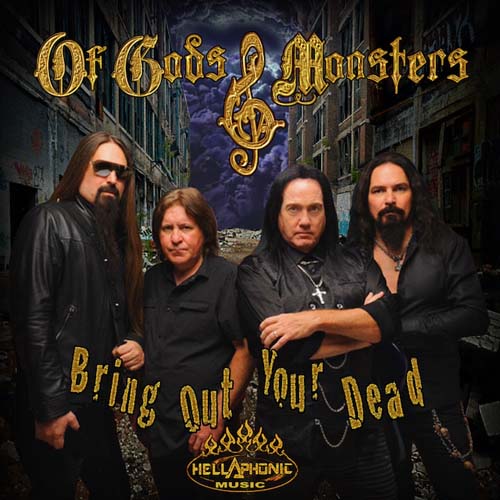 OF GODS & MONSTERS cuenta con el baterista Simon Wright (AC/DC, Dio, UFO), el guitarrista Ira Black (Dokken, Lizzy Borden, Metal Church), el bajista Bjorn Englen (Dio Returns, Soul Sign, Yngwie Malmsteen, Quiet Riot) y miembro fundador, cantante Kevin Goocher (Omen, Phantom-X).
"Bring Out Your Dead" fue producido por Ira Black y Sterling Winfield. Los créditos de Winfield incluyen Pantera, Damage Plan, HellYeah, King Diamond y más; Masterizado por Howie Weinberg cuyos créditos incluyen Metallica, Rammstein, Iron Maiden, Nirvana y más; Vídeo de Dave Stabley.
Goocher dijo a principios de este año:
"Estoy más que emocionado con la nueva alineación. Estos tipos son verdaderos dioses y monstruos en lo que cada uno de ellos hace. Escribir con Ira en particular ha sido algo que nunca antes había experimentado. Trabajar con estos músicos me ha empujado a pensar fuera de la caja. Ha sido emocionante y espero que los oyentes sientan eso".
Su álbum debut, "Brace For Impact", está programado para ser lanzado en la primavera con fechas de gira de seguimiento.
(Foto – Glen La Ferman)