JINJER lanza vídeo para su nuevo single "Disclosure"
JINJER lanzó su nuevo álbum de estudio, "Wallflowers", en agosto a través de Napalm Records, y posteriormente alcanzó la cima de las listas de éxitos de todo el mundo. Además de varios otros primeros lugares, la banda se ubicó en el número 7 en las listas alemanas, en el número 5 en las listas oficiales de álbumes de Rock & Metal del Reino Unido, en el número 1 en las listas de álbumes de los mejores artistas nuevos de Billboard de EE. UU. Y en las listas de álbumes de Hard Music de Canadá. y # 2 en las listas de álbumes de Hard Music de EE. UU.
En medio de su agenda animada e innovadora de giras en apoyo de "Wallflowers", que vio a la banda embarcarse en una gira europea con Hypno5e y sus colegas de Napalm Records, Space Of Variations, y su gira actual casi agotada en América del Norte con Suicide Silence y All Hail The Yeti. JINJER empujó sus límites y grabó un vídeo masivo para la pista del álbum "Disclosure!".
Con una ardiente apertura, "¡Revelación!" corta afilado como una hoja de afeitar sin hacer concesiones. Guitarras distorsionadas, baterías múltiples y una interacción de chillidos invasores y gruñidos profundos despliegan todo el poder del título que encabeza las listas de éxitos. El vídeo raya en un juego mental jugado visualmente, que parece casi cinemáticamente intimidante, transmitiendo la sensación de fuerza a través de la pantalla.
El bajista Eugene afirma:
"La pista 'Disclosure!' y el vídeo en sí es un vídeo muy importante para JINJER. No solo es una de nuestras pistas favoritas en el nuevo álbum, sino también en vivo, nuestro ex guitarrista Dmitriy Oksen protagoniza el vídeo y fue genial trabajar con él nuevamente, incluso si ahora tiene una capacidad diferente".
Eugene en el vídeo:
"Lo creas o no, no siempre es fácil estar en el centro de atención todo el tiempo… con cada éxito que alcanza esta banda hay una gran cantidad de expectativas externas que vienen con cada paso que damos. Desde las opiniones personales a la política y ahora a la pandemia, cada uno de nuestros movimientos es examinado y juzgado por el exterior. Aunque no siempre es divertido, no lo haríamos de otra manera…".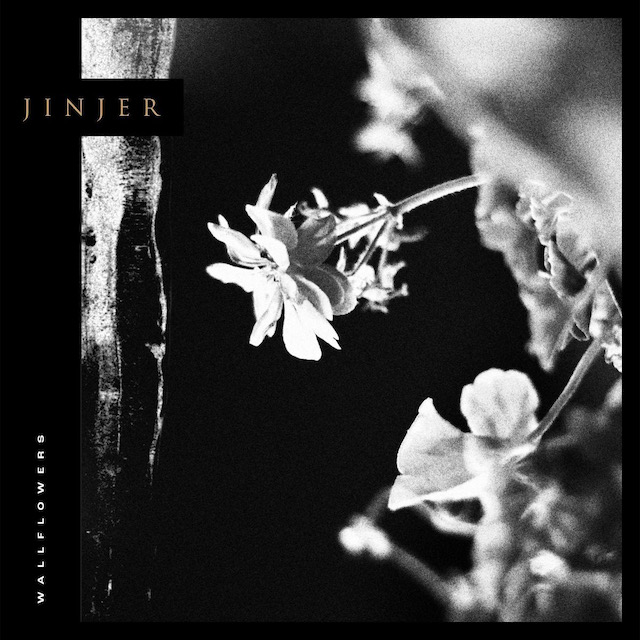 Tracklisting:
"Call Me a Symbol"
"Colossus"
"Vortex"
"Disclosure!"
"Copycat"
"Pearls and Swine"
"Sleep of the Righteous"
"Wallflower"
"Dead Hands Feel No Pain"
"As I Boil Ice"
"Mediator"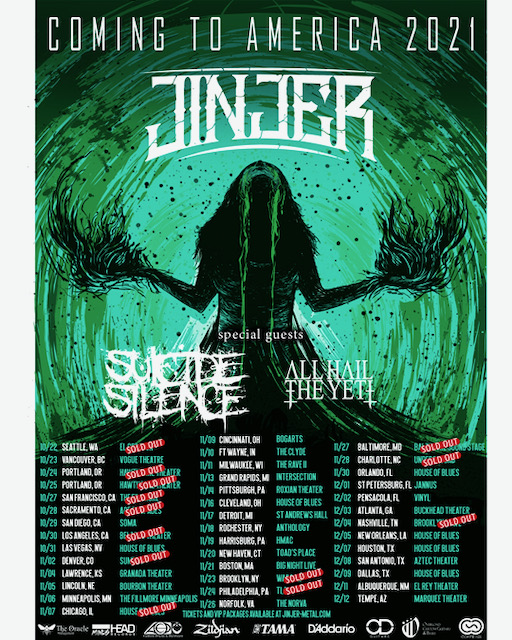 Tour dates:
Noviembre
16 – Cleveland, OH – House of Blues
17 – Detroit, MI – St. Andrews Hall
18 – Rochester, NY – Anthology
19 – Harrisburg, PA – HMAC
20 – New Haven, CT – Toad's Place
21 – Boston, MA – Big Night Live
23 – Brooklyn, NY – Warsaw (Sold Out)
24 – Philadelphia, PA – TLA
26 – Norfolk, VA – The Norva
27 – Baltimore, MD – Baltimore Soundstage (Sold Out)
28 – Charlotte, NC – Underground (Sold Out)
30 – Orlando, FL – House of Blues
Diciembre
1 – Tampa, FL – Jannus
2 – Pensacola, FL – Vinyl
3 – Atlanta, GA – Buckhead Theater
4 – Nashville, TN – Brooklyn Bowl (Sold Out)
5 – New Orleans, LA – House of Blues
7 – Houston, TX – House of Blues
8 – San Antonio, TX – Aztec Theater
9 – Dallas, TX – House of Blues
11 – Albuquerque, NM – El Rey Theater
12 – Tempe, AZ – Marquee Theater
JINJER es:
Tatiana Shmayluk – Voz
Roman Ibramkhalilov – Guitarras
Eugene Abdukhanov – Bajo
Vlad Ulasevich – Batería