IN FLAMES lanzará su decimocuarto álbum de estudio, "Foregone", en febrero; se ha publicado el visualizador del nuevo single "Foregone Pt. 1"
IN FLAMES representan lo mejor del metal: pasado, presente y futuro. Como arquitectos de la nueva ola de Death Metal sueco y proveedores innovadores de groove y melodía, el arte y la influencia de la banda son innegables.
Hoy, la banda comparte las noticias que los fans han estado esperando ansiosamente. El decimocuarto álbum de estudio de IN FLAMES, "Foregone", llegará a través de Nuclear Blast el 10 de febrero.
El vocalista Anders Fridén afirma:
"Al entrar en las sesiones de 'Foregone', queríamos hacer un disco que estuviera fuertemente impulsado por la guitarra, y que tuviera una fuerte base entre el bajo y la batería. Seguimos enfocando la composición de nuestras canciones de la misma manera, como siempre lo hemos hecho, como una yuxtaposición entre la melodía y la agresión. Ese es el ADN de nuestra música. Desde el punto de vista lírico, no faltó inspiración, especialmente el concepto del tiempo".
Continúa:
"La humanidad en su conjunto se vio obligada a frenar y a tomar un respiro. En esa pausa, muchos de nosotros dedicamos tiempo a evaluar y repriorizar. El tiempo es una constante, pero lo que hacemos con él y cómo lo percibimos varía. Sobre todo ahora que el mundo parece ir más rápido que nunca".
Fridén termina diciendo:
"Es una locura que después de todo sigamos aquí y en nuestro decimocuarto álbum. Siento que hemos encontrado un gran equilibrio entre el pasado, el presente y el futuro con 'Forgone'. Esta es una nueva era de IN FLAMES".
La banda también ha compartido el visualizador de "Foregone Pt. 1". Míralo a continuación, y transmite la canción aquí. El visualizador fue creado por Oleg Rooz. El diseñador gráfico ucraniano utilizó una innovadora tecnología de IA para crear los visuales. Al ser una de las primeras bandas que confían en la IA para un vídeo musical, IN FLAMES sigue estando a la vanguardia.
"Pensé que todo lo que hemos pasado en estos últimos años sería un recordatorio de que la vida es preciosa, y que el tiempo no está de nuestro lado", ofrece Fridén. "Por desgracia, siento que nos hemos despertado en un mundo más hostil y sombrío que nunca. El reloj está corriendo y la cuenta atrás ha comenzado…".
"Foregone" también cuenta con ilustraciones diseñadas por Blake Armstrong.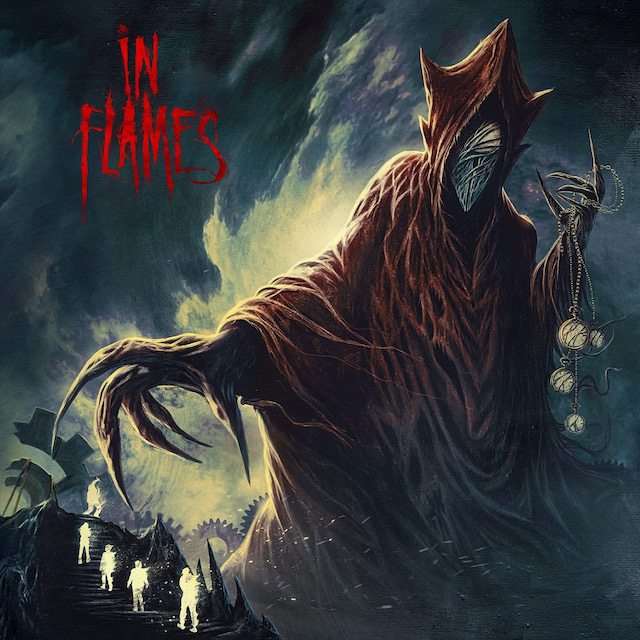 Tracklisting:
"The Beginning Of All Things That Will End"
"State Of Slow Decay"
"Meet Your Maker"
"Bleeding Out"
"Foregone Pt. 1"
"Foregone Pt. 2"
"Pure Light Of Mind"
"The Great Deceiver"
"In The Dark"
"A Dialogue in b Flat Minor"
"Cynosure"
"End The Transmission"
"Foregone" estará disponible en los siguientes formatos:
2LP Negro
2LP blanco con mármol negro
2LP Crystal Clear w/ Red Splatter -Exclusivo para pedidos por correo de Nuclear Blast
2LP Dark Green – Exclusivo Sweden Rock
2LP Crystal Clear – Exclusivo EMP
2LP Gold – Exclusivo Nordic
2LP Gold w/ Black Marble – Nuclear Blast Mail-order + minoristas seleccionados
2LP Rojo – Venta al por menor en EE.UU.
2LP White – Revolver Exclusive (USA)
2LP Sun Yellow – Gimme Radio Exclusive (USA)
2LP Red w/ Black – In Flames Bandshop Exclusive
Boxset – 2LP Picture Disc + CD Digipack + Reloj de bolsillo + Pegatina + Libreto de 28 páginas
Edición limitada en Digipack (con bonus track)
Estuche
Cassette marrón transparente – Nuclear Blast Mail-order Exclusive
Cassette rojo transparente – Exclusivo de In Flames Bandshop
CD Longbox – CD Jewel in a Longbox w/ Sticker & Button
Amarillo oscuro con cassette verde/azul (exclusivo de la NBA)
Tinte verde con cassette blanco (exclusivo de la banda)
Haz tu pedido aquí.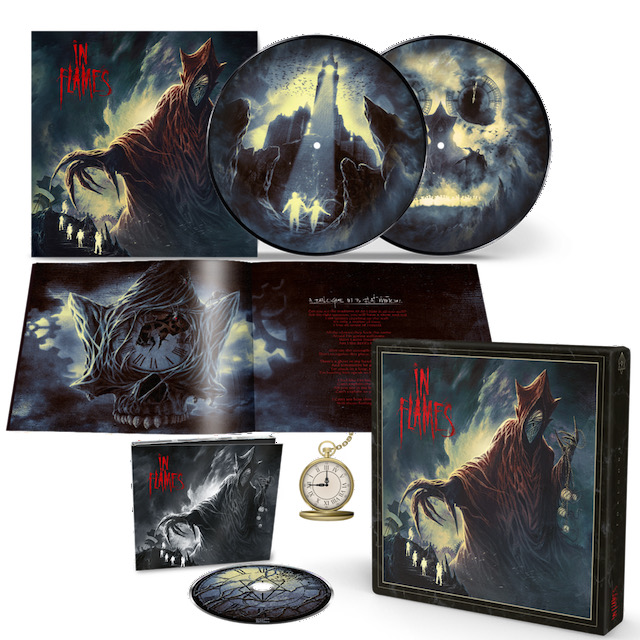 IN FLAMES está actualmente de gira por Estados Unidos antes de embarcarse en su gran gira europea en noviembre. Antes de la gira del año, la potencia del metal sueco transmitirá su actuación en el House Of Blues de Chicago el 23 de septiembre. Consigue las entradas aquí.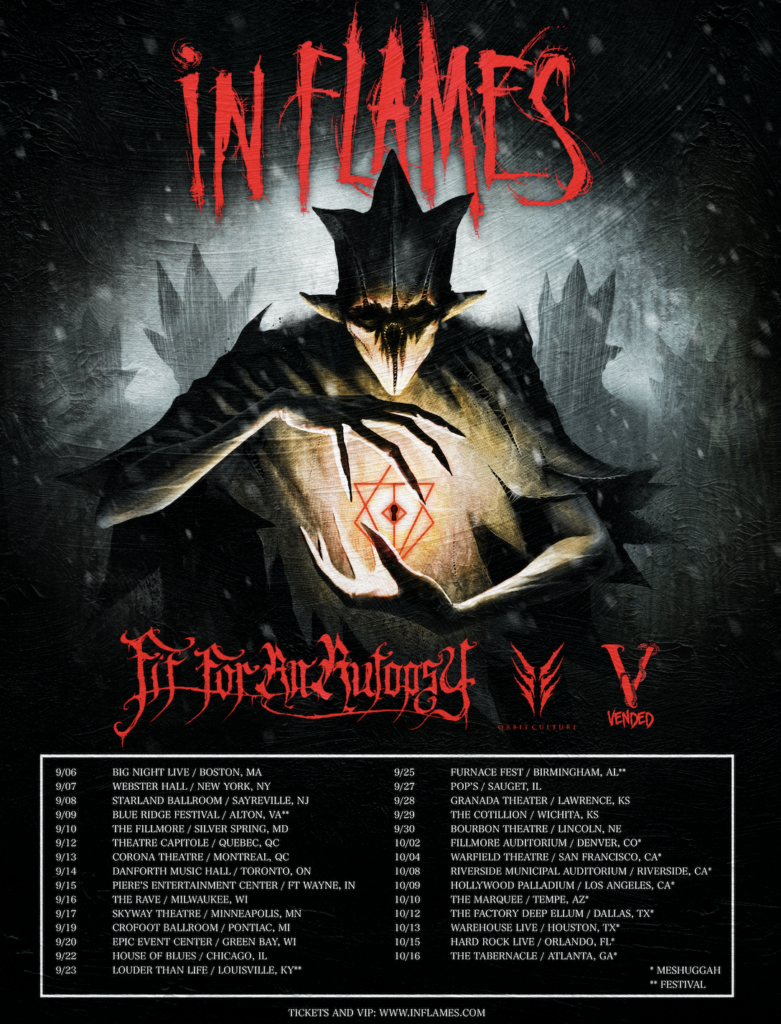 Alineación de IN FLAMES:
Anders Fridén – voz
Björn Gelotte – Guitarra y voz
Chris Broderick – Guitarra
Tanner Wayne – Batería
Bryce Paul – Bajo