CRYSTAL GATES 🇺🇾 firma con Wormholedeath Records: anunciados los detalles del álbum debut
La banda uruguaya de Symphonic Power Metal, CRYSTAL GATES, ha firmado un contrato con el sello europeo Wormholedeath para su álbum "Torment & Wonder: The Ways Of The Lonely Ones", que se lanzará el 29 de julio de 2022 en todo el mundo.
"Torment & Wonder: The Ways Of The Lonely Ones" es el esperado primer álbum de larga duración de Crystal Gates. Un sucesor perfecto de su anterior single "Shadowborn" (2017) y el recordado EP "A Quest For Life" (2015), este nuevo trabajo ofrece más de 50 minutos de las mejores composiciones y la producción más ambiciosa de Crystal Gates hasta la fecha.
Todas las marcas registradas del género están presentes pero no exageradas de una manera cliché. Logrado a través de melodías refrescantes y vibraciones optimistas, el álbum presenta canciones rápidas de Power Metal, melodías pegadizas de tempo medio para cantar, una hermosa balada, algunos pasajes de inspiración progresiva y una epopeya final de 12 minutos que lo repasa todo en una valiente y colorida aventura sónica. Más allá de la propia música, el quehacer humano de búsqueda de sentido es abordado en las letras desde la perspectiva de diferentes personajes, explorando su soledad y encontrando consuelo en breves instantes de claridad y sobrecogimiento.
Esperen una reseña completa y detallada del álbum, muy pronto en The Dark Melody. Mientras pueden chequear esta nota que hicimos hace 2 años donde compartimos detalles de la grabación del disco.
Pueden ver a continuación el emocionante trailer del álbum que incluye varios fragmentos de nuevas canciones:
Crystal Gates es una banda de power metal sinfónico con sede en Letonia formada en Montevideo, Uruguay en 2013 por Benjamín Machín y Carolina Pérez. Después de dos años de escribir, arreglar y grabar, el dúo lanzó su primer trabajo de estudio, el EP de seis canciones "A Quest For Life" en 2015. Grabado y mezclado en Molecula Studios en Montevideo, y masterizado por Mika Jussila en el legendario estudio Finnvox, en Finlandia, el EP fue muy bien recibido por el público y la prensa especializada (pueden encontrar la mini reseña que hicimos en este enlace).
El año del lanzamiento, Crystal Gates se convirtió en una banda completa y tocó en múltiples shows en Uruguay y Argentina. El 2015 concluyó con una gran noticia para la banda, ganando los premios "Mejor Álbum Nacional", "Mejor Portada Nacional" y "Mejor Voz Nacional Femenina" en una encuesta nacional especializada en metal organizada por el destacado productor de metal uruguayo y nuestro media partner, El Lado Oscuro.
El sencillo "Shadowborn" siguió en 2017, atrayendo más atención internacional a la banda y la oportunidad de tocar en espectáculos y festivales más grandes ahora también en Perú y Argentina, compartiendo escenario con bandas como Epica, Xandria, Masterplan, Anneke Van Giersbergen's "The Gentle Storm", Blackoustic, The Agonist y Fates Warning.
Ahora, después de trabajar duro en tiempos difíciles, la banda ha terminado su primer álbum de larga duración: "Torment & Wonder: The Ways Of The Lonely Ones", su esfuerzo más ambicioso hasta la fecha. Con mayor producción, cuatro video singles, un cierre épico de doce minutos y la participación de reconocidos artistas como Sebastian "Seeb" Levermann (mezcla y masterización), Elisa C. Martin (coros y arreglos) y Stan W. Decker (artwork), "Torment & Wonder'' promete un futuro brillante. La banda también apunta a nuevos horizontes al tener a Benjamín ahora establecido en el noreste de Europa. Habiendo firmado recientemente un contrato de management y booking con THP Production con sede en Riga y una distribución acuerdo con el sello italiano Wormholedeath Records, ya se han dado los primeros pasos de un nuevo capítulo en su búsqueda de alcance global.
La banda anunció esta nueva etapa junto a Wormholedeath en un video de agradecimiento que pueden ver a continuación:
A continuación pueden ver la portada y tracklist del álbum.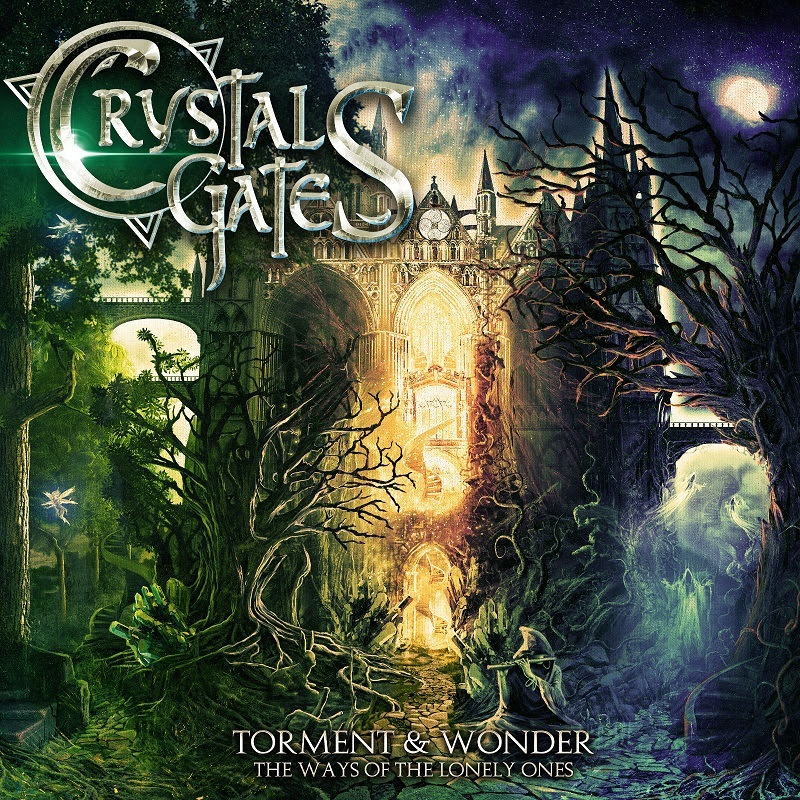 1. The Ways Of The Lonely Ones
2. My Glorious Fall
3. Alive For The Journey
4. A Lonely Dreamer's Wish
5. The Stars Temple
6. Moonshine & Sorrow
7. Winter Ghost
8. Nightmares
9. Soul Of Rain
10. Torment & Wonder
CRYSTAL GATES ONLINE