Los maestros del Death Metal melódico AETHER REALM revelan un nuevo y emocionante vídeo para "Cycle"
AETHER REALM de Carolina del Norte alcanzó nuevos niveles de dominio del death metal melódico con el lanzamiento de su último álbum de larga duración, "Redneck Vikings From Hell", en 2020. Hoy, en anticipación de su próxima gira por Estados Unidos con Unleash The Archers y Seven Kingdoms, la banda ha presentado un nuevo y apasionante vídeo para su triunfal tema "Cycle", con Michael Rumple (Flood District, Lorelei), de "Redneck Vikings From Hell". El álbum obtuvo el puesto #49 entre nuestros Mejores Discos de 2020.
El líder y bajista Vincent "Jake" Jones dice:
"La letra de 'Cycle' me llegó en un lugar desesperado. Estaba tratando de entender por qué todavía experimentaba estos largos episodios de depresión, incluso cuando no parecía haber una razón obvia para que sucediera. Es como si siempre estuviera esperando para acercarse sigilosamente y sacarme del momento, y ninguna cantidad de crecimiento personal o dominio de habilidades o reconocimiento artístico podría evitar que me agarre".
"Así que pensé: si no puedo evitar que aparezca el sentimiento, al menos puedo recordarme de manera tangible que esto es normal para mí. Que he salido de lugares bajos antes, y lo haré nuevamente. Esta canción me ayuda a mantener los pies en el suelo cuando me siento arrogante y me da algo de esperanza cuando me estoy agotando. Fue un placer convertir ese florecimiento y marchitamiento emocional que todos experimentamos de vez en cuando en una estética visual con Jaraad Nageer y Ana Manso".
Mira el nuevo vídeo oficial de "Cycle" AQUÍ.
Como se mencionó anteriormente, AETHER REALM se unirá a los artistas principales Unleash The Archers y otros invitados especiales Seven Kingdoms en una gira por Estados Unidos este otoño, que comenzará en Minneapolis, MN el 1 de septiembre en Cabooze. La gira visitará varias ciudades importantes antes de llegar a su fin en Seattle, WA el 26 de septiembre en El Corazón. Vea a continuación una lista completa de las fechas de la gira.
Fechas de la gira Unleash The Archers, Aether Realm y Seven Kingdoms en EE.UU.:
9/1: Minneapolis, MN @ Cabooze
9/2: Chicago, IL @ Reggies – SOLD OUT
9/3: Detroit, MI @ The Shelter
9/4: Pittsburgh, PA @ Preserving Underground
9/5: Rochester, NY @ Montage Music Hall
9/7: Providence, RI @ Alchemy
9/8: New York, NY @ Le Poisson Rouge
9/9: Baltimore, MD @ Baltimore Soundstage
9/10: Greensboro, NC @ The Blind Tiger
9/11: Atlanta, GA @ The Masquerade (Heaven)
9/12: Orlando, FL @ The Haven
9/14: Austin, TX @ Come and Take it Live
9/15: Dallas, TX @ Gas Monkey Bar & Grill
9/16: Oklahoma City, OK @ 89th Street Collective
9/17: Kansas City, MO @ The Riot Room
9/18: Denver, CO @ Marquis Theatre – SOLD OUT
9/19: Albuquerque, NM @ Launchpad
9/21: Mesa, AZ @ Nile Theater
9/22: Los Angeles, CA @ 1720
9/23: San Diego, CA @ Brick by Brick
9/24: Petaluma, CA @ The Phoenix Theater
9/25: Portland, OR @ Dante's
9/26: Seattle, WA @ El Corazon
Pre-ordene "Redneck Vikings From Hell" AQUÍ.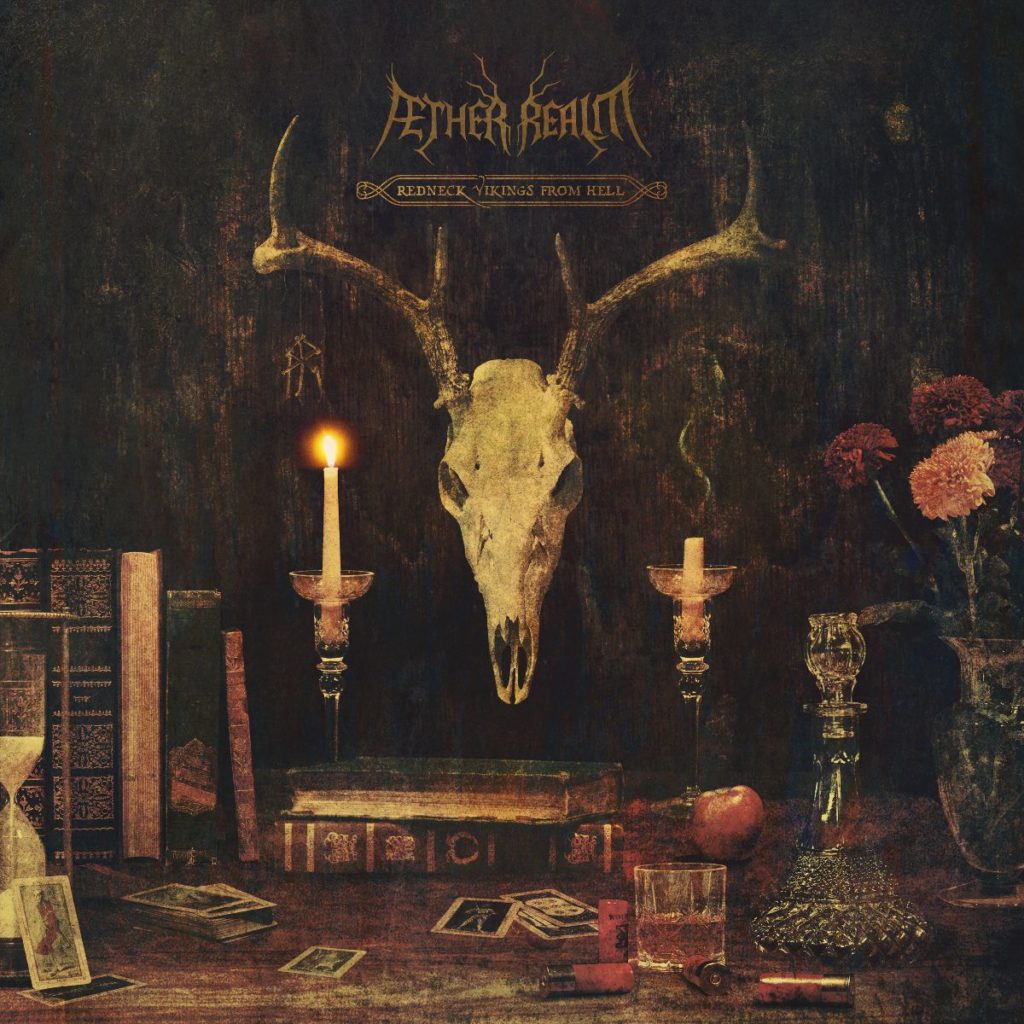 Con "Redneck Vikings From Hell", AETHER REALM mejora su ya distintivo sonido, llevando a los oyentes a una asombrosa montaña rusa de death metal, thrash e incluso trituración neoclásica. Además de ser producido y mezclado por Kile Odell (Motionless in White, Cane Hill), masterizado por Jamie King (Between The Buried And Me, The Contortionist, Scale The Summit) y con la orquestación de Ben Turk de Gloryhammer, "Redneck Vikings From Hell" presenta un tesoro de fantásticos invitados especiales, incluido el guitarrista/banjoista Wayne Ingram (Wilderun), el guitarrista Greg Burgess (Allegaeon), Eric W.Brown (Nekrogoblikon, Vale of Pnath, Swashbuckle, Rainbowdragoneyes) y el vocalista Josh Rieke de YouTube. El álbum también incluye contribuciones de la actriz de doblaje Erica Lindbeck (remake de Final Fantasy VII), la arpista Amy Turk (hermana de Ben Turk), el vocalista Michael Rumple (Ashen Idol, Flood District), el vocalista Zach Williams (Dead Eyes) y el invitado que regresa de AETHER REALM. vocalista y hermana de Vincent "Jake" Jones, Elly Jones.
AETHER REALM es:
Vincent "Jake" Jones – bajo, voz
Heinrich Arnold – guitarra, voz
Tyler Gresham – batería
Donny Burbage – guitarra