NITA STRAUSS lanza el vídeo oficial de «The Golden Trail» con ANDERS FRIDÉN vocalista de IN FLAMES
NITA STRAUSS, guitar hero y fuerza musical de la naturaleza nacida en Los Ángeles, publicará su nuevo álbum, «The Call Of The Void«, el 7 de julio a través de Sumerian Records. Haz tu pedido aquí.
El vídeo de «The Golden Trail«, con Anders Fridén de In Flames, puede verse a continuación.
Dice NITA:
«Realmente orgullosa y agradecida por el equipo que ha sacado adelante este disco a través de dos continentes y múltiples zonas horarias, nada menos que en medio de una gira. Orie McGinness, Patric Ullaeus, Steven Contreras, ¡sois lo máximo! Gracias al dream team Josh Villalta y Eric German por hacer realidad este momento».
Sobre el nuevo álbum, STRAUSS afirma:
«Algunas piezas musicales llegan al mundo con gracia y facilidad. Este álbum no es una de ellas. 'The Call Of The Void' nació pateando y gritando, un trabajo de amor sin duda, pero también de sangre, sudor y muchas lágrimas. No podría estar más orgulloso del resultado final. Hacer este álbum me ayudó a aprender y crecer mucho como músico y compositor, y estoy emocionado de darlo a conocer finalmente al mundo».
«Quería que la continuación de 'Controlled Chaos' fuera emocionante, nueva y fresca, que llevara a los oyentes a un nuevo lugar y que me llevara a mí también a un nuevo lugar como artista. Tenemos algunas colaboraciones increíbles en este álbum con músicos increíbles, así como la música instrumental de guitarra que primero me inspiró a tocar».
En cuanto al título del álbum, STRAUSS continúa:
«¿Has estado alguna vez en la cima de un edificio alto y has tenido el pensamiento fugaz de '… podría saltar ahora mismo'?
Este sentimiento se llama a veces 'La llamada del vacío', también conocido como 'fenómeno de las alturas'. No es un impulso suicida, sino todo lo contrario: una decisión subconsciente de vivir la vida, alejarse de la cornisa y tomar el control. Como bien dijo la investigadora April Smith: 'El impulso de saltar afirma el impulso de vivir'».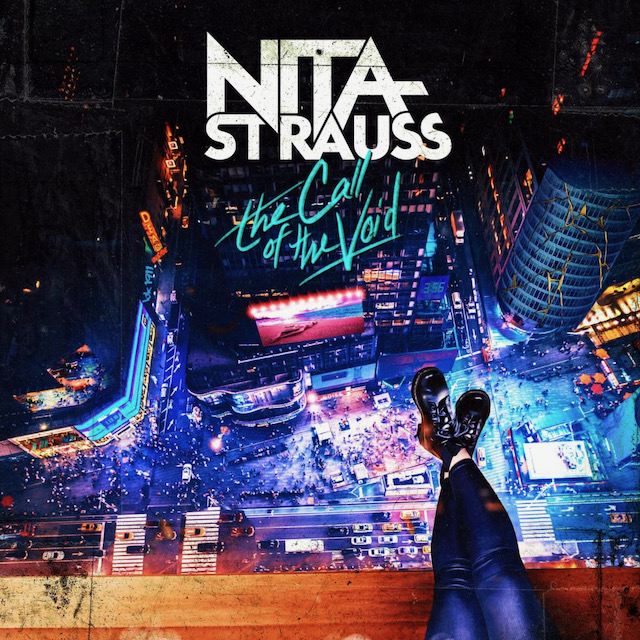 Tracklisting:
«Summer Storm
«The Wolf You Feed» (feat. Alissa White-Gluz)
«Digital Bullets» (feat. Chris Motionless)
«Through The Noise» (feat. Lzzy Hale)
«Consume The Fire»
«Dead Inside» (feat. David Draiman)
«Victorious» (feat. Dorothy)
«Scorched»
«Momentum»
«The Golden Trail» (feat. Anders Fridén)
«Winner Takes All» (feat. Alice Cooper)
«Monster» (feat. Lilith Czar)
«Kintsugi»
«Surfacing» (feat. Marty Friedman)
STRAUSS acaba de anunciar las fechas de su gira norteamericana de verano con el apoyo de Lions At The Gate. La gira Summer Storm comenzará el 13 de junio en Nashville y terminará el 14 de julio en Nueva Orleans. La cantante Kasey Karlsen la acompañará en la gira.
Entradas y opciones VIP para todos los espectáculos en nitastraussvip.com.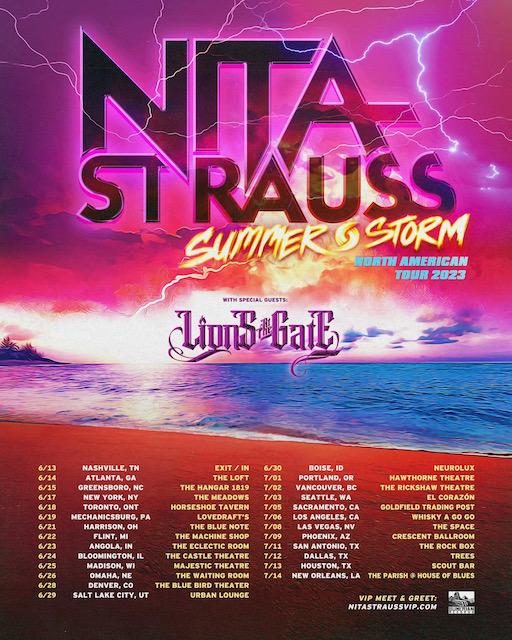 Fechas:
Junio
13 – Nashville, TN – Exit/ In
14 – Atlanta, GA – The Loft
15 – Greensboro, NC – The Hangar 1819
17 – New York, NY – The Meadows
18 – Toronto, ON – Horseshoe Tavern
19 – Mechanicsburg, PA – Lovedrafts
21 – Harrison, OH – The Blue Note
22 – Flint, MI – The Machine Shop
23 – Angola, IN – The Eclectic Room
24 – Bloomington, IL – The Castle Theatre
25 – Madison, WI – The Majestic Theatre
26 – Omaha, NE – The Waiting Room
28 – Denver, CO – The Bluebird Theater
29 – Salt Lake City, UT – Urban Lounge
30 – Boise, ID – Neurolux
Julio
1 – Portland, OR – Hawthorne Theatre
2 – Vancouver, BC – The Rickshaw Theatre
3 – Seattle, WA – El Corazon
5 – Sacramento, CA – Goldfield Trading Post
6 – Los Angeles, CA – Whisky A Go Go
8 – Las Vegas, NV – The Space
9 – Phoenix, AZ – Crescent Ballroom
11 – San Antonio, TX – The Rock Box
12 – Dallas, TX – Trees
13 – Houston, TX – Scout Bar
14 – New Orleans, LA – The Parish at House of Blues