HYPOCRISY revela los detalles del álbum "Worship" y vídeo del primer single "Chemical Whore"
Con los gobiernos admitiendo finalmente que los ovnis existen de hecho, y la humanidad tratando de curarse de un estado de crisis reciente, el momento no podría ser más apropiado para la última incorporación al catálogo de HYPOCRISY: "Worship". Nuclear Blast Records.
Hoy, la banda lanza el vídeo del primer sencillo, "Chemical Whore". Mira el vídeo creado por Nastroe Production y Agata Nigrovskaya, a continuación.
Peter Tägtgren comenta:
"Hemos estado grabando este álbum aquí y allá durante 2 años y ¡ya está hecho! Tal vez estaba esperando el momento adecuado, ya que algunas canciones son incluso más reales ahora que hace un par de años. Gracias a todos por estás esperando. ¡Estamos muy emocionados de anunciar oficialmente que estamos de regreso!".
Han pasado 8 largos años desde el último disco, y los fanáticos de HYPOCRISY pueden sentir la picazón. "Worship" son 11 pistas de musicalidad precisa y feroz. Comúnmente inspirado por la fusión de lo moderno y lo antiguo, HYPOCRISY ha encontrado una vez más una manera de combinar ideas innovadoras con sonido clásico para ofrecer algo que los metaleros pueden consumir con asombro y vigor brutal. Como de costumbre, toda la grabación y mezcla se llevó a cabo en el Abyss Studio AB de Tägtgren en Suecia, mientras que la masterización fue completada por Svante Forsbäck en Chartmakers Audio Mastering. Diseñado por el artista Blake Armstrong (Kataklysm, In Flames, Carnifex, etc.), el arte de "Worship" habla de la historia de la relación entre la humanidad y los extraterrestres.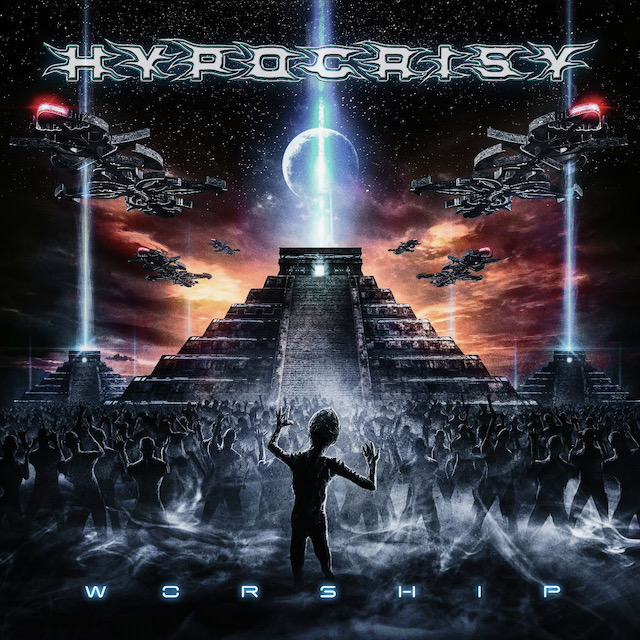 "Worship" tracklisting:
"Worship"
"Chemical Whore"
"Greedy Bastards"
"Dead World"
"We're The Walking Dead"
"Brotherhood Of The Serpent"
"Children Of The Gray"
"Another Day"
"They Will Arrive"
"Bug In The Net"
"Gods Of The Underground"
"Worship" se lanzará el 26 de noviembre a través de Nuclear Blast Records. La adoración estará disponible en los siguientes formatos:
CD Joya
LP
Crystal Clear W / Silver & Black Splatter (Exclusivo en EE. UU.) (Limitado a 600)
Mármol azul / blanco (exclusivo de EE. UU.) (Limitado a 500)
Azul transparente / Negro / Blanco veteado (limitado a 600)
Violeta transparente / mármol negro (limitado a 400)
Negro
Morado (exclusivo para Europa) (limitado a 100)
Crystal Clear (exclusivo para Europa) (limitado a 100)
Casete de tinte púrpura (limitado a 250)
Caja (limitada a 900)
Azul claro con salpicaduras negras
Casete
Pre-ordene / pre-guarde aquí.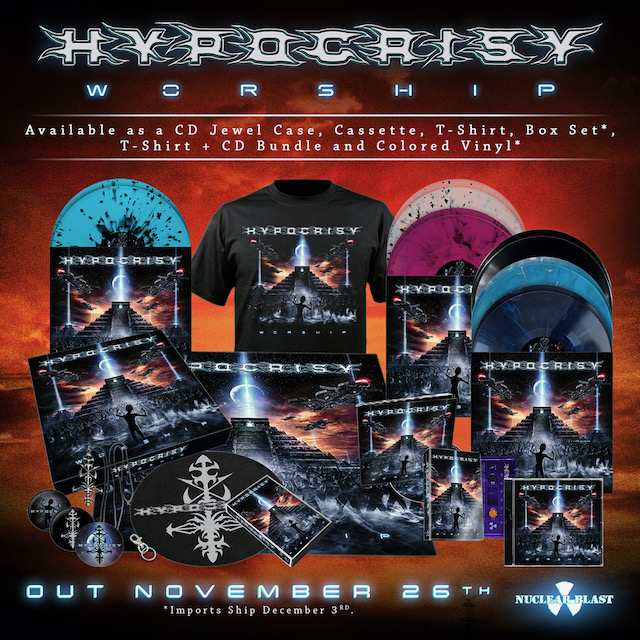 HYPOCRISY es:
Peter Tägtgren – Voz, Guitarras
Mikael Hedlund – Bajo
Reidar Horghagen – Batería
Thomas Elofsson – Guitarrista de sesión