HAMMERFALL lanzan pre-orden para "Renegade 2.0 Anniversary Edition" y el vídeo versión remezclada de "Templars Of Steel"
Hace 21 años, la potencia sueca del heavy metal, HAMMERFALL, viajó a Nashville para grabar su tercer álbum con el legendario productor Michael Wagner, dejando el espacio seguro que era Studio Fredman en Gotemburgo. Fredrik Nordström había grabado los dos discos anteriores, así que, naturalmente, fue un gran cambio para la banda. La experiencia de Wagner y el álbum "Renegade" resultaron geniales, como todos sabemos hoy. Para esta edición de aniversario, la banda sintió que necesitaban cerrar el círculo y hacer que Fredrik remezclara el álbum "Renegade".
El resultado es "Renegade 2.0", que se lanzará a través de Nuclear Blast Records el 12 de noviembre en muchos formatos hermosos y con una nueva obra de arte del álbum hecha por el famoso artista de portada Andreas Marshall, que hace que el corazón de cada fan de HAMMERFALL lata más rápido, y comienza el pedido anticipado hoy día.
Recuerdan Wacken Open Air 2001 cuando diez miles metal heads rugían a lo largo del coro de "Templars Of Steel"? ¿No? Bueno, permítanos refrescar su memoria con este legendario metraje en vivo de ese programa. Una canción como un grito por una revolución del heavy metal que realmente se hizo popular. Hasta el día de hoy, "Templars Of Steel" es un verdadero punto culminante de cada show en vivo de HAMMERFALL y es una pista que no podría encapsular lo que la banda representa como casi ninguna otra.
El líder Joacim Cans recuerda:
"Oscar y yo fuimos a Gran Canaria a escribir y finalizar algunas canciones para el álbum 'Renegade'. En algún lugar de la constante "neblina" todavía recuerdo que Oscar tocó el riff de la canción y me dejó totalmente alucinado. No podía esperar para hundir mis dientes en la obra maestra similar a un himno y probar algunas ideas vocales en mi estudio temporal construido en el baño. Esta canción se convirtió en la pista de apertura de la próxima gira y creó una de las aperturas de espectáculos más geniales de la historia. El puente comenzó a descender lentamente durante la intro pulsante de la canción".
Mira el legendario vídeo en vivo de Wacken 2001 a continuación. Escuche y reserve aquí.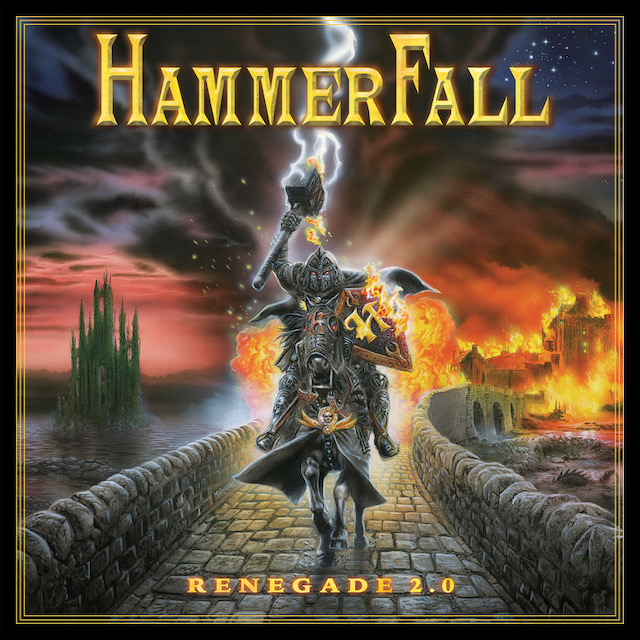 Tracklistings:
Disc 1 (The 2020 Remix) CD, Vinyl, Digital
"Templars Of Steel"
"Keep The Flame Burning"
"Renegade"
"Living In Victory"
"Always Will Be"
"The Way Of The Warrior"
"Destined For Glory"
"The Champion"
"Raise The Hammer"
"A Legend Reborn"
Disc 2 (The Original Album & Bonus Tracks) Vinyl As Bonus LP In Boxset Only
"Templars Of Steel"
"Keep The Flame Burning"
"Renegade"
"Living In Victory"
"Always Will Be"
"The Way Of The Warrior"
"Destined For Glory"
"The Champion"
"Raise The Hammer"
"A Legend Reborn"
Bonus tracks:
"Run With The Devil" (from "Renegade" Single)
"Head Over Heels" (from "Renegade" Single)
"Templars Of Steel" (from "The Templar Renegade Crusades" EP)
"Let The Hammer Fall" (from "The Templar Renegade Crusades" EP)
"Renegade" (from "The Templar Renegade Crusades" EP)
"Hammerfall" (from "The Templar Renegade Crusades" EP)
Disc 3 (The Templar Renegade Crusades DVD) CD/DVD Only
"I Want Out" (Video Montage from Hansen Studios)
"Unchained" (Live in Switzerland)
"Legacy of Kings" (Live in U.S.A.)
"Remember Yesterday" (Live in Japan)
"Warriors Of Faith" (Live in Chile)
"Let The Hammer Fall" (Live in Sweden)
"I Believe" (Live in Sweden)
"Breaking The Law" (Video Montage)
"WireWorld Studios" (The Making of "Renegade")
"Renegade" (Video Clip)
"Always Will Be" (Video Clip)
"Raise The Hammer" (Live in Switzerland)
"Stronger Than All" (Live in Chile)
"Templars Of Steel" (Live in Germany)
"Let The Hammer Fall" (Live in Germany)
"Renegade" (Live in Germany)
"HammerFall" (Live in Germany)
"Heeding The Call" (Live in Sweden, Acoustic Version)
"Gold Album Party"
"A Legend Reborn" (Video Montage)
"Renegade" (Live)
"Slaktmora"
"Castle Garden"
"Bed-Lam"
Making of "Renegade"