ANTHRAX publica el vídeo en directo de "The Devil You Know" del próximo lanzamiento en multiformato del concierto del 40º aniversario en Livestream
ANTHRAX ha lanzado "The Devil You Know", el segundo single/vídeo del concierto Livestream del 40 aniversario de la banda, "Anthrax XL".
El lanzamiento estará disponible en Norteamérica en Blu-Ray / CD / Digital el 15 de julio (Megaforce), y tendrá un lanzamiento digital europeo el 15 de julio (Nuclear Blast), seguido de un lanzamiento en Blu-Ray a finales de este año. Los pedidos anticipados de Anthrax XL pueden realizarse aquí, y puedes ver el vídeo de "The Devil You Know" a continuación.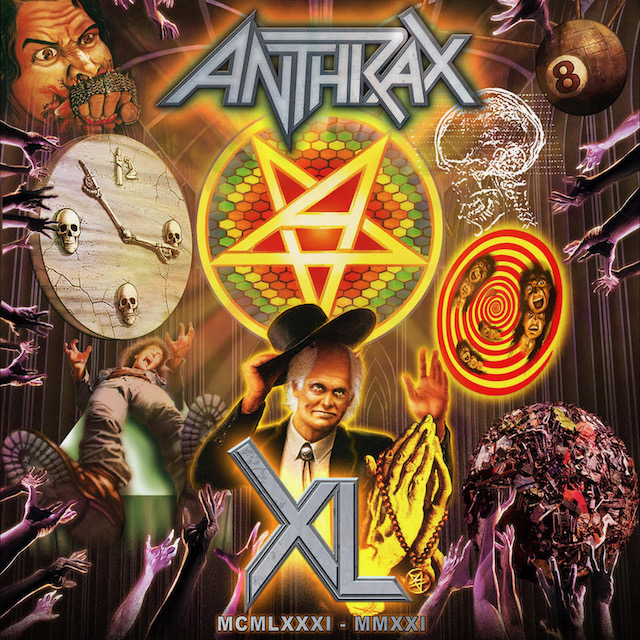 Anthrax XL Blu-Ray / CD / Digital tracklisting:
"Time/Fight Em 'Til You Can't"
"Madhouse"
"Caught In A Mosh"
"Metal Thrashing Mad"
"Got The Time"
"I Am The Law"
"Keep It In The Family"
"Lone Justice"
"The Devil You Know"
"Be All End All"
"Now It's Dark"
"Antisocial"
"In The End"
"Medusa"
"Evil Twin"
"Indians"
"Skeletons In The Closet"
"Blood Eagle Wings"
"Bring The Noise"
"A.I.R."
"Among The Living"
Créditos:
ANTHRAX:
Scott Ian – guitarras
Charlie Benante – batería
Frank Bello – bajo
Joey Belladonna – voz
Jon Donais – guitarras
Producido por Jack Bennett, Mike Monterulo, ANTHRAX
Dirigido por Jack Bennett
Mezclado por Jay Ruston
Duración: 2h 5m 34s
ANTHRAX celebró su 40º aniversario el año pasado, el 18 de julio de 2021, pero debido al COVID, tuvo que cancelar sus planes de gira global, programados para que la banda celebrara su hito con sus fans de todo el mundo. Mientras que la banda está a unos seis meses de su 41º año, la banda – Joey Belladonna, Scott Ian, Frank Bello, Charlie Benante, y el guitarrista Jon Donais deben finalmente salir en esa gira global de aniversario. A finales de julio, ANTHRAX iniciará su gira norteamericana de 26 fechas junto a Black Label Society y con la participación de Hatebreed, y luego se dirigirá al Reino Unido y Europa a finales de septiembre para encabezar una gira de cinco semanas. Las entradas y los paquetes VIP pueden adquirirse en anthrax.com.
(Foto – Travis Shinn)