WIND ROSE revela el lyric vídeo de "Fellows Of The Hammer"
El viernes (10 de junio), la unidad de power metal enano, WIND ROSE, está lista para lanzar su nuevo álbum "Warfront" a través de Napalm Records. Hoy, la banda lanza un lyric vídeo para la canción, "Fellows Of The Hammer". Míralo a continuación:
El quinteto de Pisa (Italia), que se dio a conocer de forma masiva con su explosiva reimaginación viral del himno de Minecraft "Diggy Diggy Hole" (con más de 30 millones de visitas en YouTube hasta la fecha), resurge con diez canciones heroicas para preparar la batalla. La monumental apertura "Of War And Sorrow" da paso a la contundente "Army Of Stone", que hace que la sangre se acelere de inmediato cuando entra el gancho de power y folk metal, una hazaña que WIND ROSE muestra hábilmente a lo largo de "Warfront". No importa lo vasta que sea la tormenta, ni lo helado que sea el frío invernal, el sentido de WIND ROSE para los ganchos sensacionales y los riffs pegadizos, coronados por la inconfundible voz de Francesco Cavalieri, los lleva a la vanguardia de sus contemporáneos oscuros y siniestros sin perder su pesadez y garra únicas.
Poco después de que WIND ROSE lleve su composición al máximo en la multifacética "I Am The Mountain", rápidamente dan un paso atrás para construir un impulso desde la base antes de liberar al oyente en el gran final de "Warfront", "Tomorrow Has Come" – la inigualable historia de la batalla, la atmósfera y la producción de primera categoría se unen para uno de los álbumes de power metal más esperados del año. WIND ROSE ofrece una cantidad ilimitada de aventuras enanas, dramáticos arreglos de orquesta y pura diversión en "Warfront" – valor de repetición garantizado.
WIND ROSE en "Warfront":
"Estamos muy orgullosos de anunciar el lanzamiento de 'Warfront'; es un hito importante para nuestra carrera y un gran cambio de juego en términos de calidad de la composición y los vídeos musicales. Queremos ofrecerte una experiencia de fantasía definitiva, llevándola al siguiente nivel de épica y llevándote al campo de batalla con nosotros".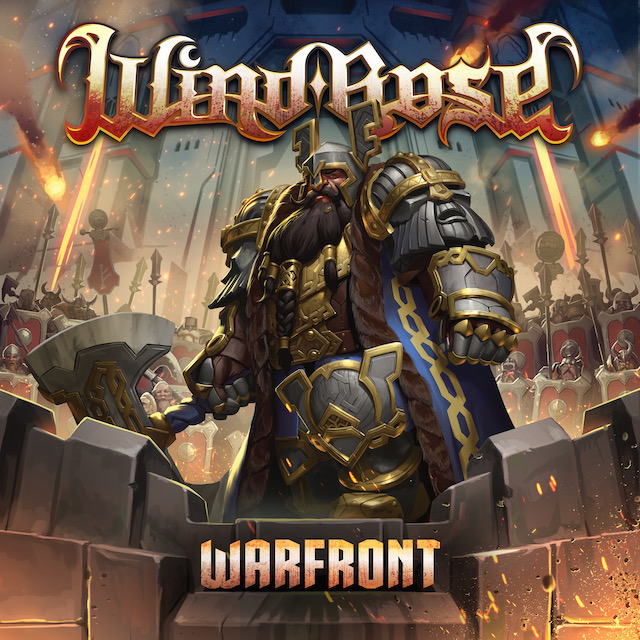 Tracklisting:
"Of War And Sorrow"
"Army Of Stone"
"Tales Of War"
"Fellows Of The Hammer"
"Together We Rise"
"Gates Of Ekrund"
"One Last Day"
"The Battle Of The Five Armies"
"I Am The Mountain"
"Tomorrow Has Come"
"Warfront" estará disponible en los siguientes formatos:
Álbum digital
CD Digisleeve
Edición en caja de madera (limitada a 500)
Digisleeve & Shirt Bundle
1LP Gatefold Negro
1LP Gatefold Gold (limitado a 300)
1LP Gatefold Marbled Red Black (limitado a 300)
Haz tu pedido aquí.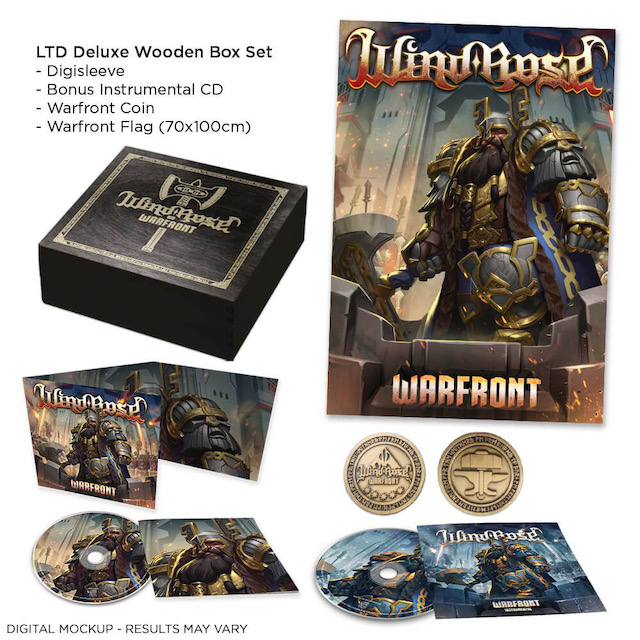 (Foto – Tommaso Barletta, Claudio Falconcini)