STEVE VAI lanza el sencillo y visualizer vídeo "Zeus In Chains"
STEVE VAI y Favored Nations / Mascot Label Group presentan un visualizer oficial de "Zeus In Chains". La composición aparece en el próximo álbum de estudio de VAI, "Inviolate", que se lanzará digitalmente y en CD el 28 de enero. El LP seguirá el 18 de marzo.
STEVE VAI comparte:
"El título de esta canción, 'Zeus In Chains', me lo dijo la canción cuando la estaba escuchando y le pregunté… '¿Cuál es tu nombre?' Esto sucedió durante la fuerte ruptura de la guitarra con la nota alta disonante que ocurre justo antes del solo. Sonaba como Zeus encadenado. Oye, es arte. Puedes inventar lo que quieras y es legítimo".
A lo largo de una carrera de más de 40 años, STEVE VAI ha transformado rutinariamente lo que parecería escandalosamente imposible en algo muy, muy posible… y aún así bastante escandaloso. Desde sus días como el "guitarrista de acrobacias" de Frank Zappa hasta su más reciente trabajo en solitario de exploración y expansión, VAI ha desafiado continuamente las nociones de interpretación y composición de la guitarra tradicional, y en más de una ocasión incluso reinventó el propio instrumento.
El álbum en solitario más reciente y número 13 de VAI, "Inviolate", es una obra de nueve canciones que traspasa los límites de la música instrumental de guitarra. El cuerpo de trabajo presenta su música más enfocada, simplificada y quizás estimulante en años.
"Es muy 'VAI', lo que sea que eso signifique", dice, y luego se ríe. "Alguien más podría ser mejor que yo para explicar qué es eso. Pero es solo música muy honesta. Porque muchos de mis discos son largos y hay muchos conceptos y juegos con historias. Este no tiene nada de eso. Se trata de nueve composiciones totalmente instrumentales bastante densas que quería capturar y grabar para poder salir y tocarlas en vivo para la gente".
En esencia, todo se reduce a encontrar tu propia voz y luego tener el coraje y la convicción de seguir tus instintos musicales y creativos dondequiera que te lleven, algo que VAI nunca ha tenido reparos en su forma de tocar.
"Una de las mejores cosas de la guitarra es que no necesitas ser un virtuoso para expresar tu visión creativa", dice. "Quiero decir, Bob Dylan toca la guitarra perfectamente bien para su expresión. También John McLaughlin. Solo necesita decidir cuánta técnica quiere o necesita para llegar allí. Por mi parte, salí del paracaídas queriendo y necesitándolo todo. Cuando se trata de mi música, no siento que tenga que demostrar nada ni conformarme con nada. Me encanta pensar en ideas creativas y luego usar cualquier habilidad que tenga para manifestarlas".
"Una inspiración inviolable es aquella que te llega completamente pura", explica VAI. "Aparece casi en su totalidad, y hay un reconocimiento de que es adecuado para usted, perfectamente adecuado para usted. No hay excusas en ello. No hay fantasía en ello. Solo hay un reconocimiento de 'sí'. Y luego lo captura de una manera que es auténtica para su creatividad única. Con suerte, eso es lo que he hecho con este disco".
"Inviolate", disponible el 28 de enero, ya está disponible para pre-pedido en varios formatos, aquí.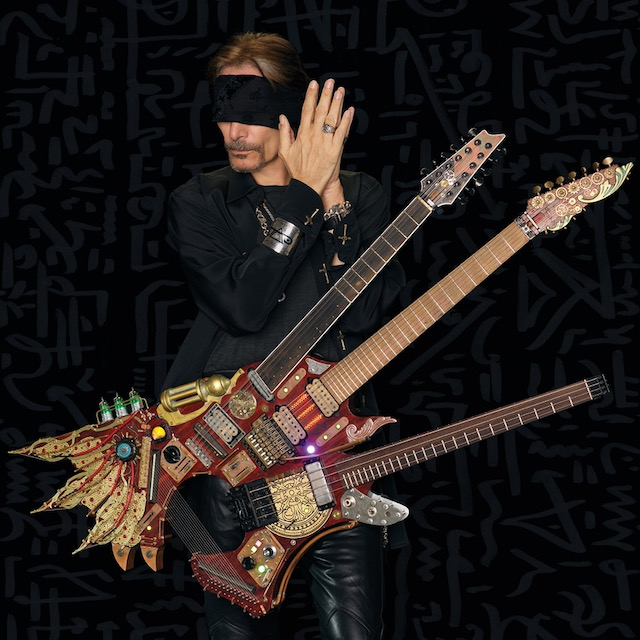 Tracklisting:
"Teeth Of The Hydra"
"Zeus In Chains"
"Little Pretty"
"Candle Power"
"Apollo In Color"
"Avalancha"
"Greenish Blues"
"Knappsack"
"Sandman Cloud Mist"
La gira Inviolate de VAI comenzará en House Of Blues en Las Vegas el 27 de enero y terminará en Los Ángeles el 2 de abril en The Theatre at Ace Hotel. Para boletos, visite Vai.com.
Una variedad de paquetes VIP de EVO Experience están disponibles aquí. Las ofertas de EVO Experience, según el nivel comprado, incluyen guitarras JEM Jr. firmadas; una invitación a una sesión de preguntas y respuestas grupales antes del espectáculo, un encuentro y una foto con STEVE; acceso para ver la prueba de sonido; una visita guiada a los instrumentos y equipo de STEVE; mercancía exclusiva; laminados VIP conmemorativos y acceso a entradas premium.
Esta carrera es la primera excursión de muchas planeadas que juntas son una gira mundial multifacética que llevará al guitarrista y compositor a la mayoría de los continentes del mundo aterrizando en docenas de países. VAI ha estado trabajando en un nuevo álbum de estudio y esos detalles se compartirán de manera inminente. Estas apariciones presentarán un espectáculo completamente nuevo con mucha música nueva, con planes para las actuaciones que se realizarán durante los próximos años.
A VAI se le unirán los miembros de su conjunto de larga data Dave Weiner (guitarra / teclados), Philip Bynoe (bajo) y Jeremy Colson (batería).
VAI comparte:
"Un artista prospera cuando actúa. Ha sido mi vida durante los últimos 49 años, con la excepción de los últimos dos años, por lo que estamos ansiosos por salir y tocar para la gente. Un concierto de música tiene la capacidad de disolver los muchos desafíos que enfrentamos y celebrar una de las cosas buenas de la vida, la música en vivo".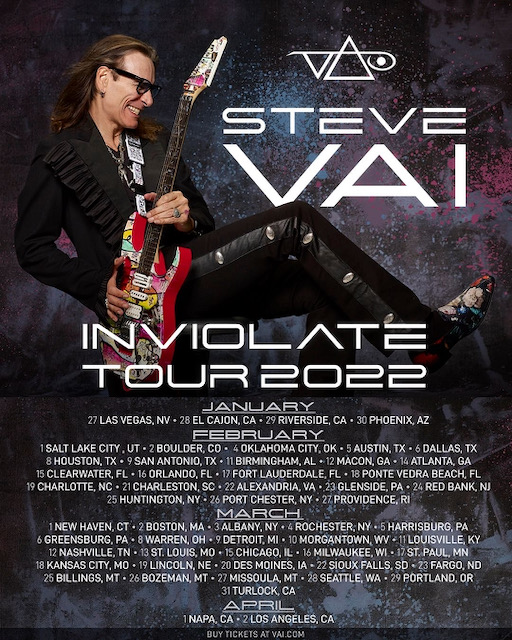 Fechas confirmadas:
Enero
27 – Las Vegas, NV – House Of Blues
28 – El Cajon, CA – The Magnolia
29 – Riverside, CA – Fox Performing Arts Center
30 – Phoenix, AZ – Celebrity Theatre
Febrero
1 – Salt Lake City, UT – The Rockwell at The Complex
2 – Boulder, CO – Boulder Theater
4 – Oklahoma City, OK – Tower Theatre
5 – Austin, TX – Paramount Theatre
6 – Dallas, TX – House Of Blues
8 – Houston, TX – House Of Blues
9 – San Antonio, TX – The Aztec Theatre
11 – Birmingham, AL – Lyric Theatre
12 – Macon, GA – Hargray Capitol Theatre
14 – Atlanta, GA – The Eastern
15 – Clearwater, FL – Bilheimer Capitol Theatre
16  – Orlando, FL – The Plaza Live
17 – Ft. Lauderdale, FL – The Parker
18 – Ponte Vedra Beach, FL – Ponte Vedra Concert Hall
19 – Charlotte, NC – The Fillmore Charlotte
21 – Charleston, SC – Charleston Music Hall
22 – Alexandria, VA – The Birchmere
23 – Glenside, PA – Keswick Theatre
24 – Red Bank, NJ – Count Basie Theatre
25 – Huntington, NY – The Paramount
26 – Port Chester, NY – The Capitol Theatre
27 – Providence, RI – The Strand
Marzo
1 – New Haven, CT – College Street Music Hall
2 – Boston, MA – The Wilbur
3 – Albany, NY – The Egg
4 – Rochester, NY – Kodak Center
5 – Harrisburg, PA – Sunoco Theatre
6 – Greensburg, PA – Palace Theatre
8 – Warren, OH – Packard Music Hall
9 – Detroit, MI – Masonic Cathedral Theatre
10 – Morgantown, WV – Metropolitan Theatre
11 – Louisville, KY – Old Forester's Paristown Hall
12 – Nashville, TN – CMA Theater
13 – St. Louis, MO – The Pageant
15 – Chicago, IL – Copernicus Center
16 – Milwaukee, WI – Pabst Theater
17 – St. Paul, MN – The Fitzgerald Theater
18 – Kansas City, MO – The Uptown Theater
19 – Lincoln, NE – Bourbon Theatre
20 – Des Moines, IA – Hoyt Sherman Place
22 – Sioux Falls, SD – The District
23 – Fargo, ND – Fargo Theatre
25 – Billings, MT – Alberta Bair Theater
26 – Bozeman, MT – The ELM
27 – Missoula, MT – The Wilma
28 – Seattle, WA – Moore Theatre
29 – Portland, OR – Roseland Theater
31 – Turlock, CA – Turlock Community Theatre
Abril
1 – Napa, CA – Uptown Theatre Napa
2 – Los Angeles, CA – The Theatre at Ace Hotel