SHINING BLACK feat. MARK BOALS y OLAF THORSEN anuncian álbum y estrenan el vídeo que da titulo «Postcards From The End Of The World»
Frontiers Music Srl ha anunciado el lanzamiento del segundo álbum de estudio de SHINING BLACK, «Postcards From The End Of The World«, el 18 de marzo.
SHINING BLACK es una banda de metal melódico con el vocalista Mark Boals (Yngwie Malmsteen, Ring Of Fire, Royal Hunt) y el guitarrista Olaf Thorsen (Labyrinth, Vision Divine). El primer sencillo y vídeo del álbum, para la canción principal, salió hoy.
Mire el vídeo a continuación y pre-ordene/guarde Postales del fin del mundo aquí.
Su debut homónimo (2020) mostró técnicas de composición de canciones de metal melódico de vanguardia de Thorsen combinadas con las habilidades vocales sobresalientes de Boals. Thorsen y Boals presentan ahora Postales del fin del mundo, su segundo álbum, que nuevamente destaca la destacada colaboración entre los dos músicos. Este álbum continúa donde lo dejó el debut, que comprende diez canciones de power metal moderno con la combinación de la voz rompepulmones de Boals y las habilidades de guitarra de Thorsen. Completando la formación están Oleg Smirnoff en teclados y piano, Nik Mazzucconi en el bajo y Matt Peruzzi en la batería.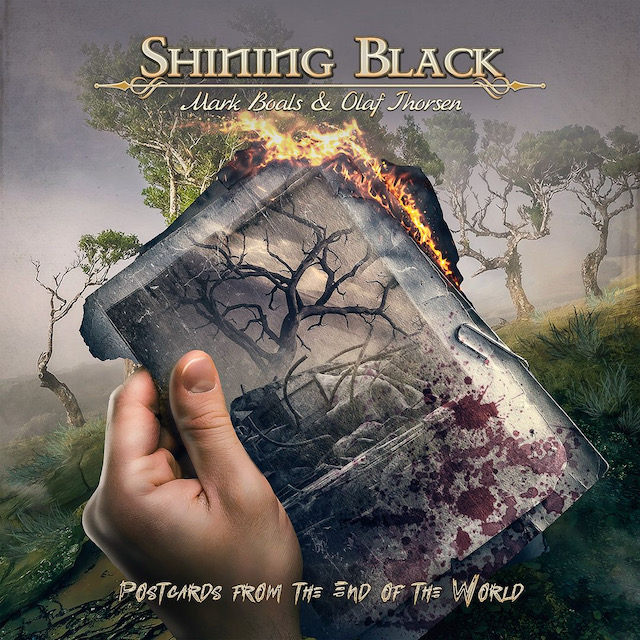 Tracklisting:
«Postcards From The End Of The World»
«Higher Than The World»
«We Are Death Angels»
«Summer Solstice Under Delphi's Sky»
«Like Leaves In November»
«A Hundred Thousand Shades Of Black»
«Faded Pictures Of Me»
«Mirror Of Time»
«Fear And Loathing»
«Time Heals, They Say»
SHINING BLACK es:
Mark Boals – Voz
Olaf Thorsen – Guitarras
Oleg Smirnoff – Teclados y piano
Nik Mazzucconi – Bajo
Matt Peruzzi – Batería