SEVEN SPIRES lanzan nuevo vídeo "The Unforgotten Name" feat. JOHN PYRES
Después de su segundo álbum, "Emerald Seas", SEVEN SPIRES regresará con su tercer álbum, y como mucho, el más ambicioso hasta la fecha, "Gods Of Debauchery", el 10 de septiembre.
Hoy, la banda ha lanzado otro nuevo sencillo y vídeo, "The Unforgotten Name" con John Pyres. Mira el vídeo a continuación y reserva/guarda "Gods Of Debauchery" en CD / LP / Digital aquí.
En el álbum, la banda dice:
"Hay mucha influencia de los videojuegos, las películas y las bandas sonoras de televisión como Skyrim, El señor de los anillos, Star Wars, Lucifer, Piratas del Caribe, películas de Marvel y muchas más, más nuestro amor por el Kamelot clásico, Dimmu Borgir, Fleshgod Apocalypse y la música clásica tardía romántica. La parte más importante de hacer arte es ser fiel a uno mismo, y eso lo hicimos sin disculpas, lo que significó explorar cada rincón de lo que amamos de la música, y constantemente empujando los límites técnicos de nuestra propia musicalidad".
Después del lanzamiento de "Emerald Seas" en febrero de 2020, la banda tenía múltiples espacios de apoyo increíbles alineados para promocionar el disco en la carretera. Estaban preparados y en forma de lucha, listos para llevar su música a las masas y mostrar al mundo de qué se trata. Sin embargo, los planes se cambiaron rápidamente semanas después del lanzamiento del álbum debido a la pandemia del coronavirus y pronto se hizo obvio que las giras se detendrían por un tiempo. Entonces, la banda aprovechó la oportunidad para comenzar a trabajar en su siguiente álbum, que terminó convirtiéndose en la gigantesca obra maestra de más de 70 minutos que es "Gods Of Debauchery". Este álbum, épico en alcance y alcance, muestra una progresión mucho más allá de sus años.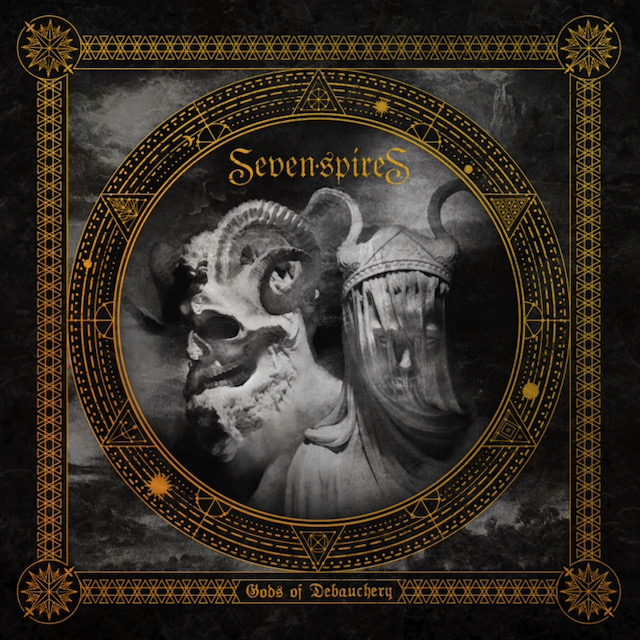 Tracklisting:
"Wanderer's Prayer"
"Gods Of Debauchery"
"The Cursed Muse"
"Ghost Of Yesterday"
"Lightbringer"
"Echoes Of Eternity"
"Shadow On An Endless Sea"
"Dare To Live"
"In Sickness, In Health"
"This God Is Dead"
"Oceans Of Time"
"The Unforgotten Name"
"Gods Amongst Men"
"Dreamchaser"
"Through Lifetimes"
"Fall With Me"
SEVEN SPIERS es:
Adrienne Cowan – Voz y orquestación
Chris Dovas – Batería
Jack Kosto – Guitarras
Peter de Reyna – Bajo
Chris Dovas – Batería