¡JINJER sorprende a los fans con streaming de concierto gratuito esta misma noche!
Los pioneros del groove metal progresivo de Ucrania, JINJER, finalmente lanzaron su primer álbum oficial en vivo, Alive In Melbourne, hoy a través de Napalm Records. El álbum muestra a JINJER en lo que hacen mejor: destrozar multitudes como pocas bandas pueden hacerlo. Grabado el 5 de marzo de 2020 en la etapa australiana de su exitoso Macro World Tour, el espectáculo fue una de las últimas actuaciones de JINJER, así como el resto del mundo debido a la pandemia de Covid-19. Alive In Melbourne presenta 17 de las pistas más exitosas de JINJER, incluidas I Speak Astronomy, Noah, Pit of Consciousness, Words of Wisdom y su revolucionario sencillo Piscis. Ya lo pueden escuchar al completo a continuación: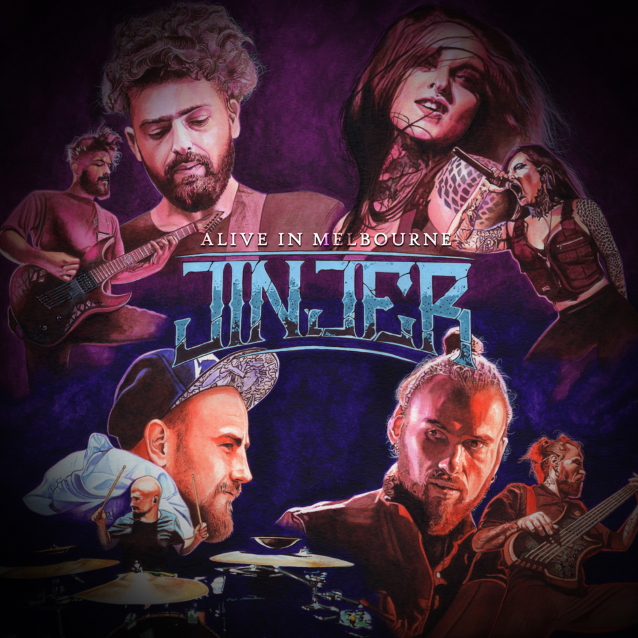 Como un bono adicional y una sorpresa para sus fanáticos, no solo puedes escuchar Alive In Melbourne en su totalidad en todas las plataformas de transmisión, sino que junto con Napalm Records, JINJER también estrenará el video completo del concierto Alive In Melbourne en Youtube ¡GRATIS! Sintonice el canal de Youtube de Napalm Records a las 8 p.m. CET y experimente la energía que JINJER transmite en vivo y de cerca en su propia sala de estar.
Alive In Melbourne no es solo un álbum en vivo, sino un proyecto muy personal del enigmático y franco bajista de JINJER, Eugene:
"Cuando surgió esta idea, nunca pude imaginar que se convertiría en el proyecto en el que se ha convertido. Primero se suponía que sería un solo video o quizás 1 o 2 más, luego se suponía que sería un video de concierto en línea para Knotfest.com…. y ahora, después de 6 meses de planificación, reacción y lucha para hacer llegar este pequeño fragmento de la historia del heavy metal a nuestros fans y amigos: ¡Alive In Melbourne ya está disponible! Desde elegir al artista de la portada Gabriel Nicoletti, hasta escribir la historia muy intensa y personal de la banda en las notas lineales … este álbum no solo fue algo que sentí que nuestros fans se merecían en estos tiempos extraños, sino que también me ayudó a superar algunos de los míos. tiempos más oscuros durante el primer encierro de Covid-19. Este fue un momento en el tiempo que ninguno de nosotros olvidará pronto ".
Mira Alive in Melbourne hoy mismo a las 8pm CET AQUI GRATIS.