BELPHEGOR estrena el vídeo "Virtus Asinaria – Prayer"
El famoso escuadrón europeo de death metal diabólico, BELPHEGOR, anunció recientemente que su nuevo álbum de estudio, "The Devils", saldrá a la venta el 24 de junio a través de Nuclear Blast Records. Hoy, la banda lanza un vídeo atmosférico para el nuevo single, "Virtus Asinaria – Prayer".
"Virtus Asinaria – Prayer" es un cambio de ritmo con su enfoque más sostenido pero intrínsecamente siniestro, atrayéndote lentamente con melodías fascinantes y cantos ceremoniales que indican un destino inminente. El vídeo de la canción se rodó parcialmente en el pintoresco e infame Neudegg Alm en Abtenau, Austria, y puede verse a continuación.
Helmuth afirma:
"Nuestro nuevo vídeo para el tema 'Virtus Asinaria – Prayer' empareja la extraña procesión en vivo de BELPHEGOR con un íntimo ritual de azufre, pasión y sangre. ¡Porque se levantará, cabra hereje de carne y lujuria! Representa lo que BELPHEGOR siempre ha defendido: la libertad y la eterna manifestación espiritual y corporal del pecado carnal en este mundo podrido".
Con "The Devils", los veteranos titanes del death metal diabólico BELPHEGOR dan rienda suelta a su duodécimo álbum de estudio, que demuestra ser uno de los discos más fuertes y elaborados de la carrera del grupo. Mezclado y masterizado en los renombrados Fascination Street Studios por Jens Bogren (Kreator, Rotting Christ, At The Gates), "The Devils" suena absolutamente aplastante y dinámico, llevando la inmensa variedad de los ocho temas a nuevas cotas.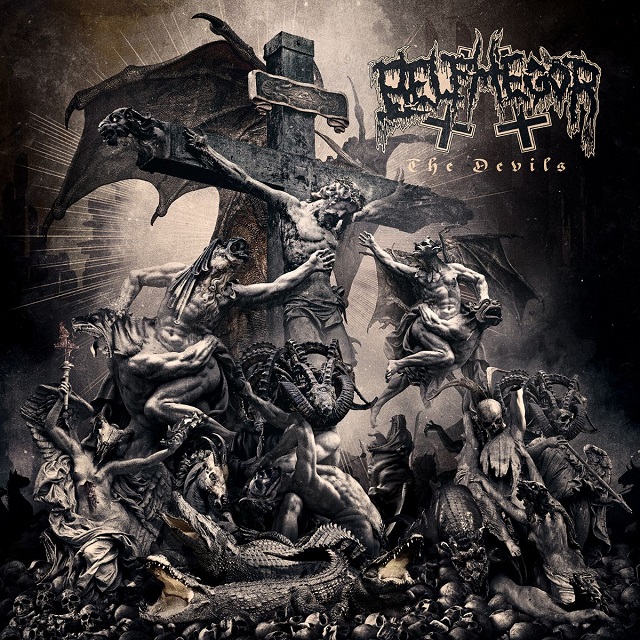 Tracklisting:
"The Devils"
"Totentanz – Dance Macabre"
"Glorifizierung des Teufels"
"Damnation – Höllensturz"
"Virtus Asinaria – Prayer"
"Kingdom Of Cold Flesh"
"Ritus Incendium Diabolus"
"Creature Of Fire"
"Blackest Sabbath 1997" (re-recorded medley of "Blackest Ecstasy" and "Blutsabbath" from 1997's Blutsabbath album)
Formatos:
Álbum digital
CD Digipak
Casete
LP
Negro
Blanco / negro / salpicado claro (ltd. a 300)
Azul / blanco / negro jaspeado (lt. a 300)
Rojo transparente/negro jaspeado (limitado a 300)
Naranja transparente / marrón jaspeado (limitado a 300)
Rojo vino (limitado a 1200)
Bronce (limitado a 1200)
Reserva el álbum "The Devils" aquí.