EMPEROR – "Fire & Demise: Into The Infinity Of Darkness" 14-Tape Box Set disponible para pre-pedido
EMPEROR – "Fire & Demise: Into The Infinity Of Darkness" saldrá a la venta el 30 de abril y ya está disponible para su reserva.
La caja oficial de 14 cintas con los trabajos completos de las leyendas noruegas del black metal, EMPEROR, se presenta en una lujosa y pesada caja envuelta en negro mate con estampado en plata. Esta caja está estrictamente limitada a 1.000 copias numeradas a mano.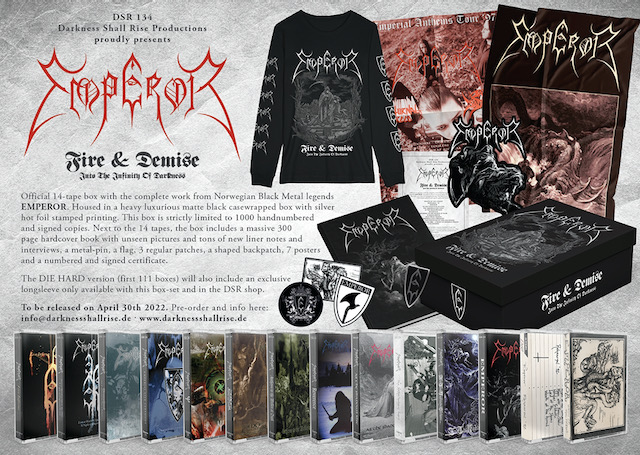 Contenido:
ape 1: Wrath Of The Tyrant
Tape 2: Rehearsal '92
Tape 3: Emperor
Tape 4: In The Nightside Eclipse
Tape 5: The Akkerhaugen Tapes (incl. never heard rehearsal from '95)
Tape 6: As The Shadows Rise
Tape 7: Reverence
Tape 8: Anthems To The Welkin At Dusk
Tape 9: IX Equilibrium
Tape 10: Split With Thorns
Tape 11: Emperial Live Ceremony
Tape 12: Prometheus – The Discipline Of Fire And Demise
Tape 13: Live At Wacken Open Air 2006 – A Night Of Emperial Wrath
Tape 14: Live Inferno
Incluye:
un enorme libro de tapa dura de 300 páginas con muchas fotos inéditas y toneladas de nuevas notas y entrevistas.
pin de metal
3 parches normales
parche trasero con forma
bandera
7 pósters
certificado numerado (firmado por Samoth, Ihsahn y Trym)
Haz tu pedido aquí.