NIGHT DEMON lanza el cover «100 MPH» feat. TIM BAKER de CIRITH UNGOL
El 25 de marzo, los maestros del metal del sur de California, NIGHT DEMON, lanzarán un álbum recopilatorio especial, titulado «Year Of The Demon«, a través de Century Media Records. Compuesta por los cinco sencillos independientes de 7″ de la banda de 2020, esta colección de 10 pistas presenta canciones originales, versiones de canciones y grabaciones en vivo nunca antes escuchadas. Para una primera vista previa del disco, NIGHT DEMON ha lanzado un nuevo sencillo: una versión del cover de el clásico de Cirith Ungol «100 MPH feat. Tim Baker (Cirith Ungol)«. Reserva «Year Of The Demon» aquí.
Jarvis Leatherby (voz / bajo) comenta:
«¡2020 fue sin duda el 'Año del demonio' ​​en muchos sentidos! Nunca en nuestra imaginación más salvaje lanzaríamos (5) sencillos de 7″ en un año calendario, y en ninguna parte entre nuestros fans, imaginación sería una de las bandas de gira más duras de la última década ser marginada (junto con el resto del mundo por este virus que satanizó nuestras vidas. Estamos orgullosos de lanzar finalmente estas canciones como una colección completa e incluir los raros lados B que solo vieron la luz del día en el tocadiscos del coleccionista. Aquí está el 2022 y el futuro que nos trae a todos algo más por lo que esperar. ¡Tenemos mucho más por venir este año!».
Cuando el mundo se detuvo desgarradoramente en marzo de 2020, los extensos planes de gira de NIGHT DEMON se descarrilaron; sin embargo, su llama creativa ardió más que nunca. En la primavera y el verano de 2020, la banda lanzó una serie de cinco sencillos independientes y limitados de 7″, que sus leales legiones devoraron vorazmente; todos los productos físicos se agotaron al instante. Aparte de las canciones originales (que también se lanzaron en formato digital/plataformas de streaming), las grabaciones individuales fueron exclusivas de las ediciones de vinilo de 7″; nunca se han puesto a disposición del público para su compra en ningún otro formato, hasta ahora, con «Year Of The Demon«.
Para los fanáticos de NIGHT DEMON que están hambrientos de material nuevo, 2022 es verdaderamente «el año del demonio». Además de la compilación que saldrá en marzo, la banda se complace en revelar que actualmente están trabajando en un nuevo álbum de estudio, con fecha de lanzamiento programada para el 4 de noviembre de 2022. Estén atentos para más detalles próximamente.
Detalles del formato de «Year Of The Demon«:
-Álbum digital
-Limitado. Edición de CD
-LP negro
-Silver LP [tirada limitada: disponible en Nuclear Blast (100 unidades) y puntos de venta de EE. UU. (1000 unidades)]
-Lilac LP ​​[tirada limitada: disponible en CM Distro (500 unidades)]
-Sky Blue LP [ejecución limitada: exclusiva de la banda (300 unidades)]
Arte de Don Phury: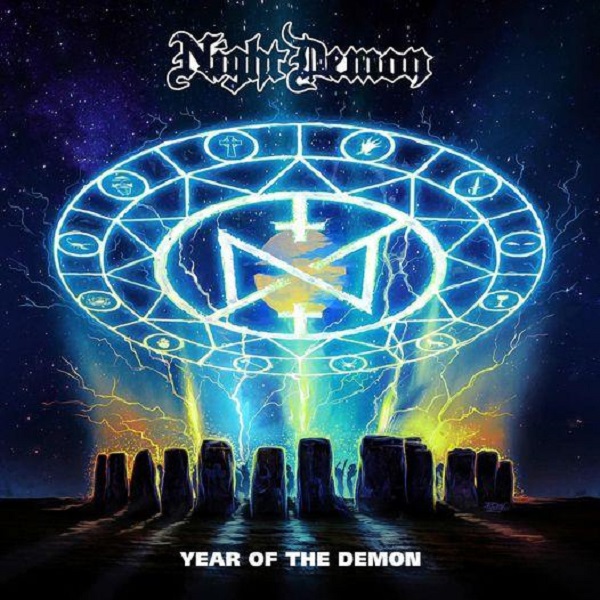 Tracklisting:
"Empires Fall"
"Kill The Pain"
"Are You Out There"
"Vysteria"
"In Trance" (Scorpions cover, live feat. Uli Jon Roth)
"Fast Bikes" (LeGriffe cover)
"100 MPH" (Cirith Ungol cover feat. Tim Baker)
"The Sun Goes Down" (Thin Lizzy cover)
"Wasted Years" (Iron Maiden cover, live)
"Top Of The Bill" (Scorpions cover, live feat. Uli Jon Roth)
(Foto – Peter Beste)