ARCH ENEMY lanza el vídeo de su nuevo sencillo, "Handshake With Hell" de su nuevo álbum, "Deceivers"
El 29 de julio, los maestros del metal extremo ARCH ENEMY lanzarán su undécimo álbum de estudio, "Deceivers", a través de Century Media Records. Para obtener una vista previa del disco, el nuevo sencillo, "Handshake With Hell", se puede transmitir en todo el mundo ahora AQUÍ. Dirigido por Patric Ullaeus, el estreno del vídeo de "Handshake With Hell" está programado para las 9 a. m. PT//12 p. m. ET//6 p. m. CET hoy en:
Michael Amott (Guitarras) comenta:
"Nuestro nuevo sencillo/vídeo 'Handshake with Hell' comenzó con algunos riffs y melodías que pensé que podrían ser adecuadas entre sí, y cuando le mostré las partes que tenía a Daniel (Erlandsson, batería), también sintió que tenía potencial. Trabajamos en una demostración, la desarrollamos mucho más juntos, y una vez que llegamos a un punto en el que sentimos que estaba lista, le enviamos la versión instrumental a Alissa en Canadá. Ella regresó con este enfoque realmente genial de la voces y letras que elevaron la canción aún más. Para mí, es una pista destacada en el nuevo álbum 'Deceivers', que realmente muestra de lo que somos capaces como compositores e intérpretes en 2022: definitivamente es una de las nuevas canciones que ¡Me muero por tocar en vivo durante la gira!".
Alissa White-Gluz agrega:
"Cuando Michael y Daniel me mostraron el instrumental que habían preparado, tuve un montón de ideas vocales para completar la canción. 'Handshake with Hell' tiene una sensación clásica de heavy metal, y se sintió como la correcta. es hora de dar rienda suelta a algunas voces clásicas de heavy metal para que coincidan. ¡Creo que el resultado es realmente interesante y pegadizo!".
Arte del álbum por: Alex Reisfar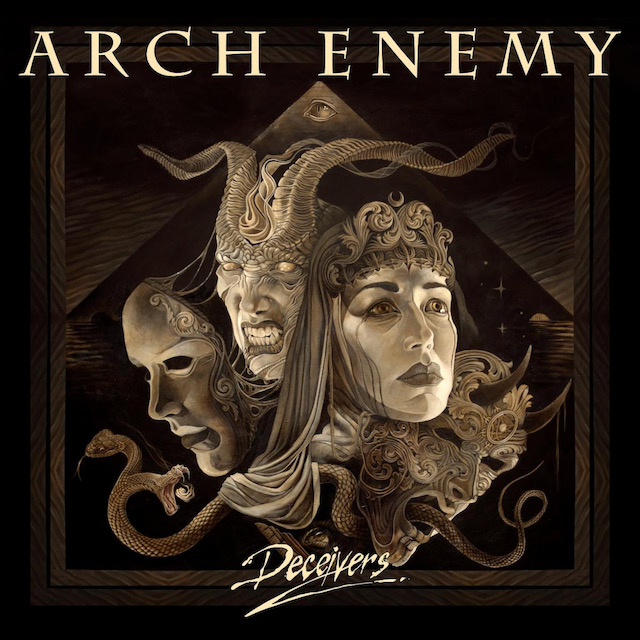 "Deceivers" tracklisting:
Handshake With Hell
Deceiver, Deceiver
In The Eye Of The Storm
The Watcher
Poisoned Arrow
Sunset Over The Empire
House Of Mirrors
Spreading Black Wings
Mourning Star
One Last Time
Exiled From Earth
Los fanáticos pueden reservar "Deceivers" AQUÍ, donde el álbum está disponible en los siguientes formatos:
—Álbum digital
—Limitado. Libro de arte Deluxe 2LP+CD
edición limitada numerada a mano con noble estampado en caliente
LP1: vinilo multicolor (cada diseño es único)
LP2: vinilo de imagen con dos bonus tracks y efecto zootropo
CD: álbum + dos bonus tracks
Artbook de 12" con cuadernillo de 36 páginas incl. liner-notes e impresión de arte
—Limitado. Juego de caja de CD de lujo
Caja plegable del tamaño de un DVD con noble estampado en caliente
CD en embalaje ecológico con dos bonus tracks
Folleto de 32 páginas DIN A5 incl. notas
Bolso de mano
Broche de metal
—Limitado. LP negro y de color 180g
incluido Libreto de 8 páginas + Obi-Strip
—CD de edición especial
embalaje ecológico incl. folleto de 16 páginas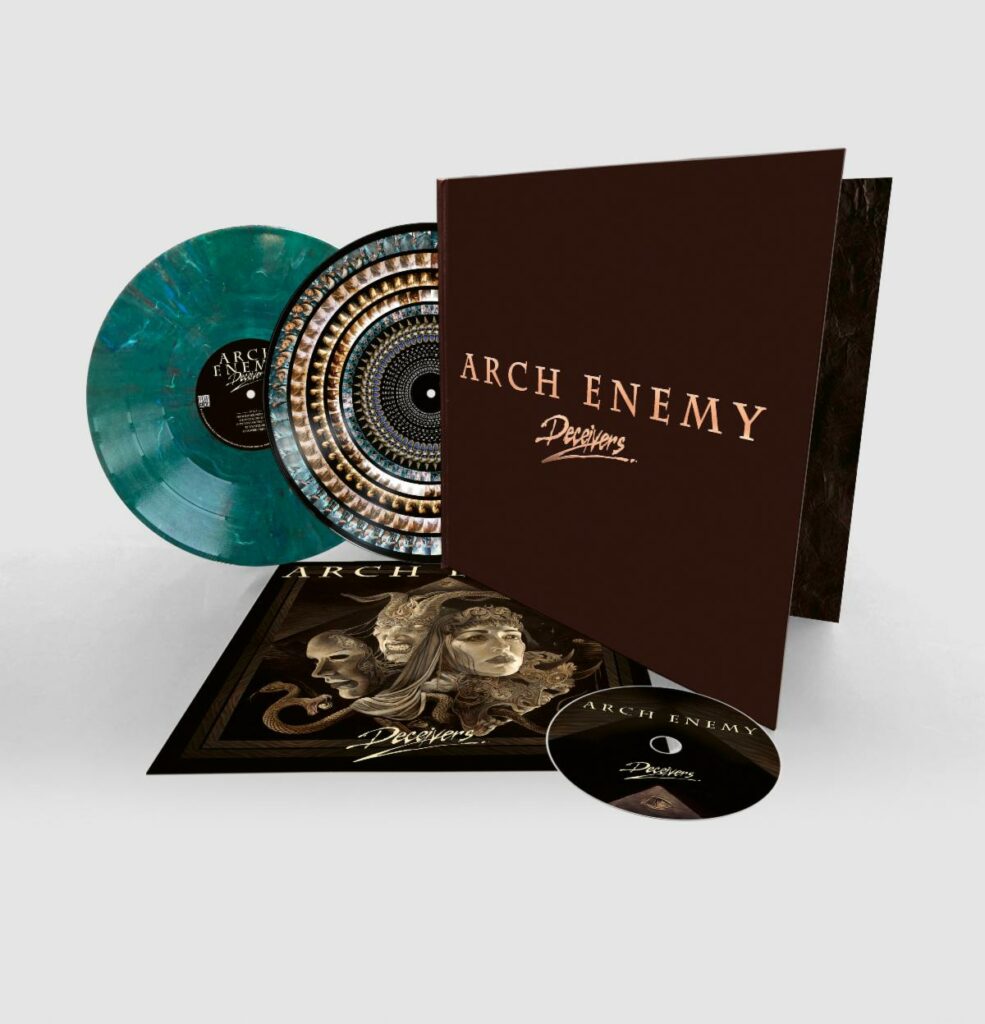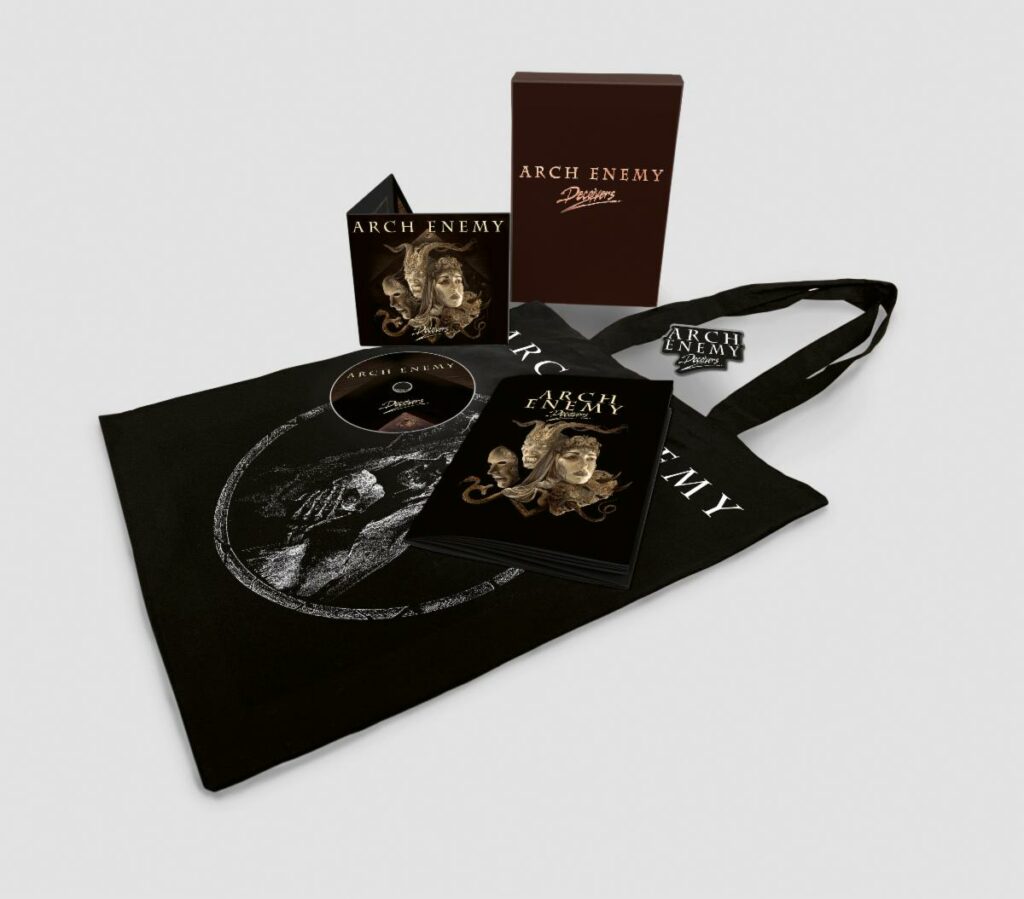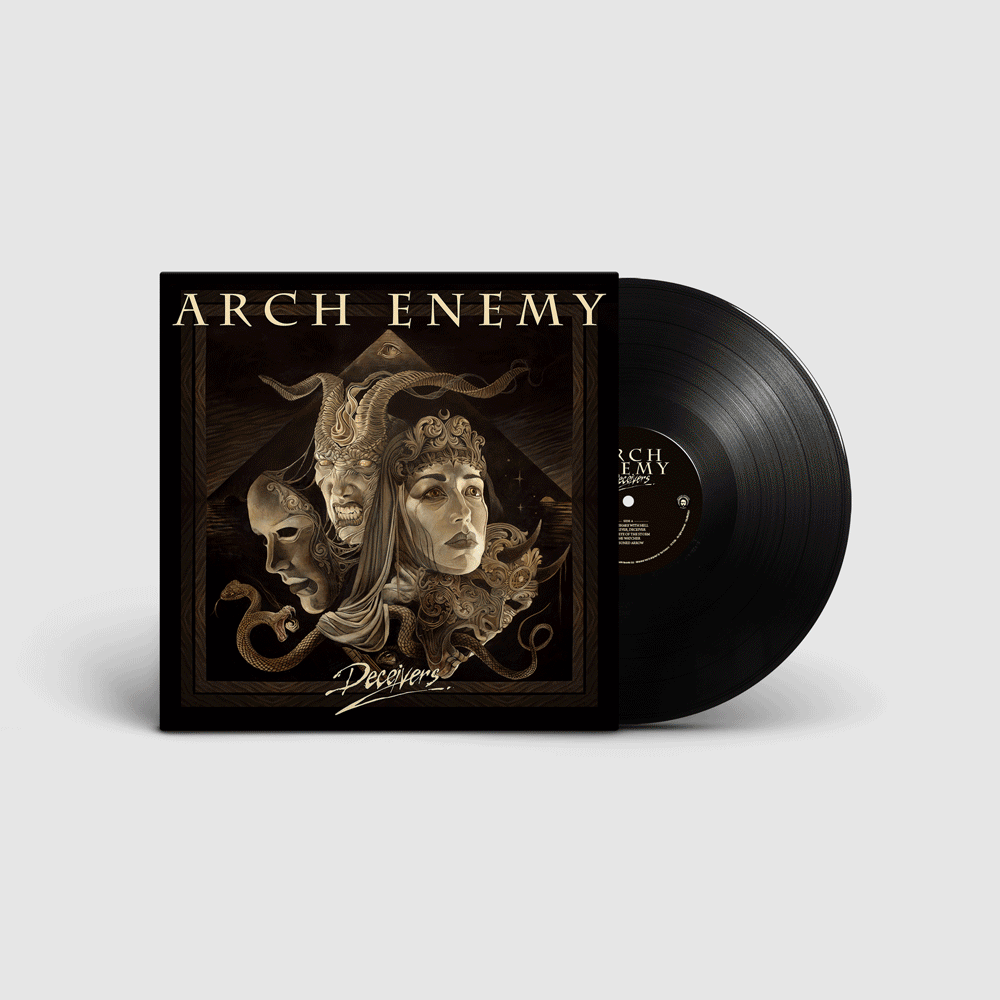 Para otra vista previa de "Deceivers", los fanáticos pueden ver las pistas del álbum lanzadas anteriormente, "Deceiver, Deceiver" y "House Of Mirrors". Sé el primero en escuchar música nueva de ARCH ENEMY guardando previamente el disco en tu plataforma de música favorita aquí.
Una colección de 11 pistas que son despiadadamente pegadizas y despiadadamente violentas, "Deceivers" se encuentra cara a cara con los aspectos más destacados del catálogo histórico de la banda. Rugiendo a la vida con "Handshake With Hell", ARCH ENEMY deja en claro que están sedientos de sangre, y cada canción es un éxito, desde la malhumorada "Poisoned Arrow" hasta la titánicamente antémica "One Last Time". Con más energía que nunca, el quinteto está operando al más alto nivel, entregando una vorágine de riffs duros como diamantes envueltos en melodías cinematográficas, percusión atronadora y voces imponentes. ARCH ENEMY ha demostrado, una vez más, que son imparables.
Arte de portada del single: Hellish Maggot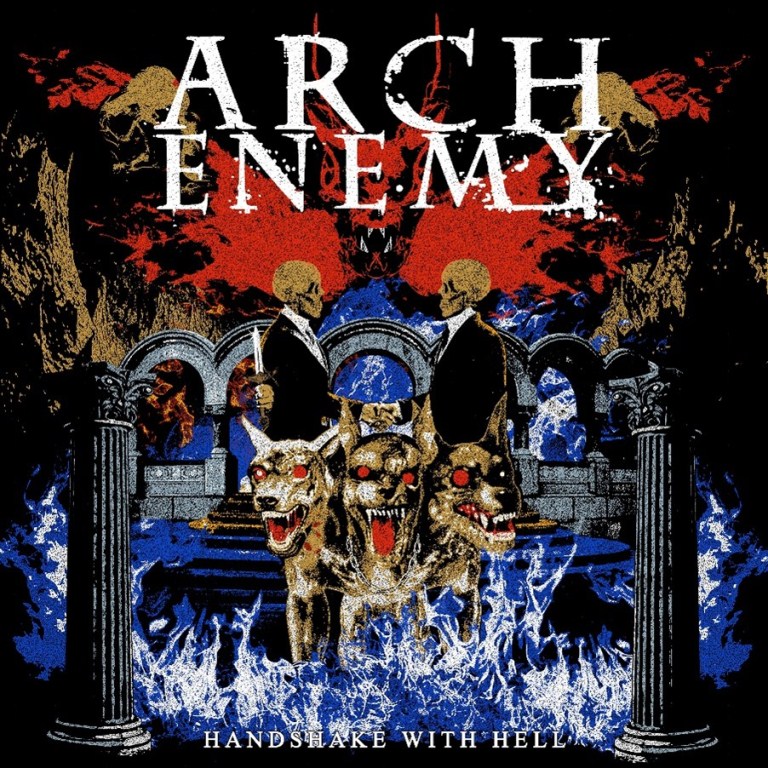 Esta primavera, ARCH ENEMY y Behemoth regresarán a los Estados Unidos para encabezar conjuntamente la gira "The North American Siege 2022" con Napalm Death y Unto Others como invitados especiales, antes de que ARCH ENEMY aparezca en festivales de verano selectos; la gira reprogramada "European Siege 2022" (con ARCH ENEMY, Behemoth, Carcass, Unto Others) comenzará en otoño.
"A pesar de las obvias incertidumbres que todos enfrentan actualmente en el mundo, ¡tenemos bastantes conciertos reservados para este año!" dice Amott. "Estamos encantados de regresar a los escenarios en vivo en América del Norte esta primavera y tocar en festivales europeos selectos en el verano, así como en una gran gira europea a fines de 2022. ¡Es hora, hagámoslo!"
Vea a continuación todas las fechas; Las entradas se pueden comprar en www.archenemy.net.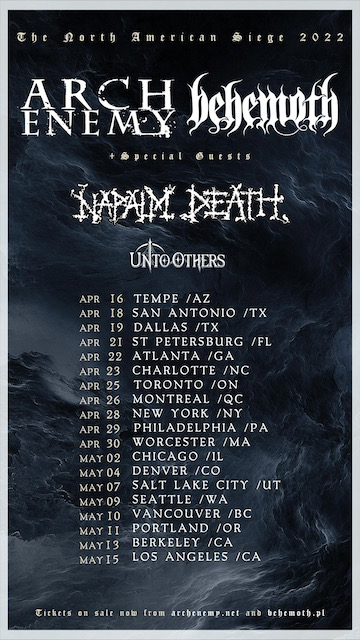 Fechas de la gira "The North American Siege 2022" con ARCH ENEMY y Behemoth + invitados especiales Napalm Death, Unto Others
Apr. 16, 2022 – Tempe, AZ @ Marquee Theatre
Apr. 18, 2022 – San Antonio, TX @ The Aztec Theatre
Apr. 19, 2022 – Dallas, TX @ Amplified Live
Apr. 21, 2022 – St Petersburg, FL @ Jannus Live
Apr. 22, 2022 – Atlanta, GA @ The Eastern
Apr. 23, 2022 – Charlotte. NC @ The Fillmore Charlotte
Apr. 25, 2022 – Toronto, ON @ Rebel
Apr. 26, 2022 – Montreal, QC @ Mtelus
Apr. 28, 2022 – New York, NY @ Terminal 5
Apr. 29, 2022 – Philadelphia, PA @ The Fillmore Philadelphia
Apr. 30, 2022 – Worcester, MA @ Palladium
May 2, 2022 – Chicago, IL @ The Riviera Theatre
May 4, 2022 – Denver, CO @ Ogden Theatre
May 7, 2022 – Salt Lake City, UT @ The Depot
May 9, 2022 – Seattle, WA @ Showbox SoDo
May 10, 2022 – Vancouver, BC @ Vogue Theatre
May 11, 2022 – Portland, OR @ Roseland Theater
May 13, 2022 – Berkeley, CA @ The UC Theatre
May 15, 2022 – Los Angeles, CA @ The Hollywood Palladium
Fechas del festival ARCH ENEMY 2022
Aug. 6, 2022 – Wacken, DE @ Wacken Open Air
Aug. 17-20, 2022 – Dinkelsbuehl, DE @ Summer Breeze Festival
Aug. 18-20, 2022 – Sulingen, DE @ Reload Festival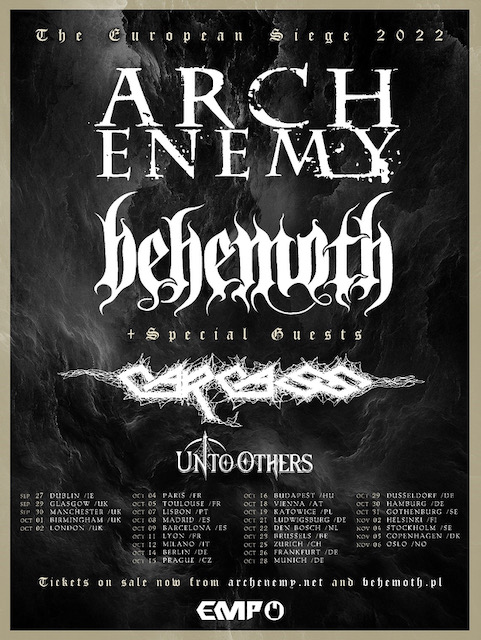 Fechas de la gira "The European Siege 2022" con ARCH ENEMY y Behemoth + invitados especiales Carcass, Unto Others
Sept. 27, 2022 – Dublin, IE @ Olympia Theatre
Sept. 29, 2022 – Glasgow, UK @ O2 Academy Glasgow
Sept. 30, 2022 – Manchester, UK @ O2 Apollo
Oct. 1, 2022 – Birmingham, UK @ O2 Academy Birmingham
Oct. 2, 2022 – London, UK @ O2 Academy Brixton
Oct. 4, 2022 – Paris, FR @ Le Zénith
Oct. 5, 2022 – Toulouse, FR @ Le Bikini
Oct. 7, 2022 – Lisbon, PT @ Coliseu de Lisboa
Oct. 8, 2022 – Madrid, ES @ Palacio Vistalegre
Oct. 9, 2022 – Barcelona, ES @ Palau Sant Jordi
Oct. 11, 2022 – Lyon, FR @ Le Radiant
Oct. 12, 2022 – Milano, IT @ Alcatraz
Oct. 14, 2022 – Berlin, DE @ Columbiahalle
Oct. 15, 2022 – Prague, CZ @ Tipsport Arena
Oct. 16, 2022 – Budapest, HU @ Barba Negra
Oct. 18, 2022 – Vienna, AT @ Gasometer
Oct. 19, 2022 – Katowice, PL @ Spodek
Oct. 21, 2022 – Ludwigsburg, DE @ MHP Arena
Oct. 22, 2022 – Den Bosch, NL @ Mainstage Brabanthallen
Oct. 23, 2022 – Brussels, BE @ Forest National
Oct. 25, 2022 – Zurich, CH @ Samsung Hall
Oct. 26, 2022 – Frankfurt, DE @ Jahrhunderthalle
Oct. 28, 2022 – Munich, DE @ Zenith
Oct. 29, 2022 – Düsseldorf, DE @ Mitsubishi Electric Halle
Oct. 30, 2022 – Hamburg, DE @ edel-optics.de Arena
Oct. 31, 2022 – Gothenburg, SE @ Partille Arena
Nov. 2, 2022 – Helsinki, FI @ Ice Hall
Nov. 4, 2022 – Stockholm, SE @ Annexet
Nov. 5, 2022 – Copenhagen, DK @ Forum
Nov. 6, 2022 – Oslo, NO @ Sentrum Scene
ARCH ENEMY es:
Alissa White-Gluz – Voz
Michael Amott – Guitarras
Jeff Loomis – Guitarras
Sharlee D'Angelo – Bajo
Daniel Erlandsson – Batería
Crédito de la foto: Katja Kuhl