TIMO TOLKKI'S AVALON lanza el vídeo de 'The Fire And The Sinner' con JAKE E, BRITTNEY SLAYES
Frontiers Music Srl lanzará el cuarto álbum de TIMO TOLKKI'S AVALON, "The Enigma Birth", el 18 de junio. Una vez más, con una gran cantidad de talentosos vocalistas invitados, el álbum muestra las habilidades del maestro de la guitarra finlandés una vez más. Hoy, se ha lanzado el segundo sencillo del álbum, "The Fire And The Sinner", con Jake E (ex-AMARANTHE, CYRHA) y Brittney Slayes (UNLEASH THE ARCHERS). Mira el vídeo a continuación.
Durante el año pasado, Timo comenzó a trabajar en canciones y una vez más se conectó con Aldo Lonobile (SECRET SPHERE, ARCHON ANGEL, SWEET OBLIVION) para crear música para un nuevo álbum. El nuevo disco, "The Enigma Birth", al igual que los álbumes anteriores de AVALON, cuenta con un elenco de vocalistas absolutamente impresionante, que incluye a James LaBrie (DREAM THEATER), Jake E (ex-AMARANTHE, CYRHA), Marina La Torraca (PHANTOM ELITE, EXIT EDEN), Brittney Slayes (UNLEASH THE ARCHERS), Raphael Mendes (ICON OF SIN), Fabio Lione (RHAPSODY, ANGRA, ETERNAL IDOL), Caterina Nix (CHAOS MAGIC) y la estrella vocal de YouTube Pellek.
Con Lonobile supervisando la producción, el trabajo principal de "The Enigma Birth" se completó en el invierno de 2020. El álbum resultante es una vez más todo lo que se puede esperar de uno de los verdaderos maestros del arte. Tienes las canciones rápidas de la marca Tolkki con ganchos súper pegadizos, canciones de ritmo medio sobresalientes y un par de baladas de gran potencia en la mezcla para un álbum maravillosamente equilibrado.
El concepto de la serie de ópera de metal AVALON nació en la segunda mitad de 2012 cuando el compositor, productor y guitarrista finlandés Timo Tolkki, una de las verdaderas figuras del género del power metal moderno, decidió seguir adelante con su carrera post-STRATOVARIUS. Quería trabajar en un proyecto que le permitiera expresar su creatividad musical dentro del género del metal clásico, al mismo tiempo que traspasaba los límites.
El álbum debut, "The Land Of New Hope", fue lanzado en mayo de 2013 y entró en las listas de álbumes nacionales en siete países europeos, incluida una entrada al Top 10 en el país de origen de Tolkki, Finlandia. El álbum contó con las actuaciones de numerosos cantantes y músicos de renombre internacional como Michael Kiske (HELLOWEEN), Elize Ryd (AMARANTHE), Russell Allen (SYMPHONY X), Sharon Den Adel (WITHIN TEMPTATION), Tony Kakko (SONATA ARCTICA), Alex Holzwarth (RHAPSODY), Jens Johansson (STRATOVARIUS, RAINBOW) y Derek Sherinian (SONS OF APOLLO, ex-DREAM THEATER).
Tolkki pronto comenzó a trabajar en un lanzamiento de segundo año, "Angels Of The Apocalypse", que salió aproximadamente un año después del debut. En el segundo capítulo, reunió a la legendaria alineación de STRATOVARIUS "Dreamspace", con un elenco vocal increíble que incluyó a Floor Jansen (NIGHTWISH), Simone Simons (EPICA), Fabio Lione (ETERNAL IDOL, RHAPSODY, ANGRA), David DeFeis (VIRGIN STEELE), Zak Stevens (ARCHON ANGEL, SAVATAGE), Elize Ryd (AMARANTHE) y Caterina Nix (CHAOS MAGIC).
Timo pasó un tiempo fuera después del lanzamiento del segundo álbum, por lo que para el tercer álbum, después de consultar con Frontiers, se decidió mutuamente llamar al productor Aldo Lonobile para que supervisara la grabación. El nuevo lanzamiento de TIMO TOLKKI'S AVALON que siguió, "Return To Eden", fue un éxito rotundo. Una vez más, presentó el sonido y las melodías característicos de Tolkki en ese estilo perfecto de power metal. El increíble elenco vocal que aparece esta vez incluye a la reconocida cantante holandesa Anneke Van Giersbergen (ex-THE GATHERING), Zak Stevens (ex-SAVATAGE), Todd Michael Hall (RIOT V), Mariangela Demurtas (TRISTANIA, ARDOURS) y Eduard Hovinga (ex- ELEGY).
TIMO TOLKKI'S AVALON – The Enigma Birth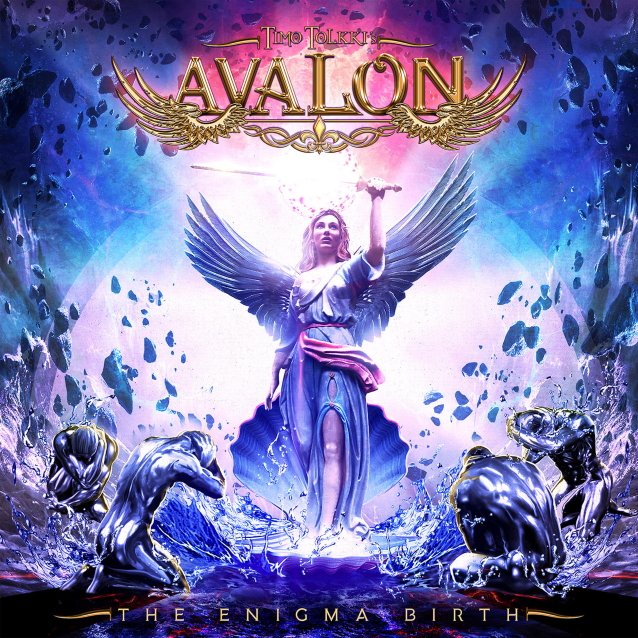 Tracklist:
The Enigma Birth (feat. Pellek)
I Just Collapse (feat. Caterina Nix)
Memories (feat. Caterina Nix, Brittney Slayes)
Master Of Hell (feat. Raphael Mendes)
Beautiful Lie (feat. James LaBrie)
Truth (feat. Jake E)
Another Day (feat. Marina La Torraca)
Beauty And War (feat. Raphael Mendes)
Dreaming (feat. Fabio Lione)
The Fire And The Sinner (feat. Jake E, Brittney Slayes)
Time (feat. Marina La Torraca)
Without Fear (feat. Fabio Lione)
Lineup:
Timo Tolkki – Guitarra
Andrea Arcangeli – Bajo
Marco Lazzarini – Batería
Antonio Agate – Teclados, Orquesta
Guitarras adicionales de Federico Maraucci y Aldo Lonobile
Cantantes:
Jake E
Marina La Torraca
James LaBrie
Fabio Lione
Rafael Mendes
Caterina Nix
Pellek
Brittney Slayes