TEMPLE OF VOID comparte su nueva canción "The Transcending Horror"
El debut en Relapse de la fuerza death-doom de Detroit TEMPLE OF VOID, "Summoning The Slayer", sale a la venta el 3 de junio. Hoy, TEMPLE OF VOID comparte el tercer single, "The Transcending Horror", que se puede escuchar a continuación, o en las plataformas de streaming aquí.
El quinteto con sede en Michigan, formado por Alex Awn (guitarras), Don Durr (guitarras), Mike Erdody (voz), Jason Pearce (batería) y Brent Satterly (bajo), se ha concentrado durante los dos últimos años en ampliar su marca de death-doom oxidado y artísticamente brutal con partes iguales de proceso e imaginación. El resultado es un álbum que se siente masivo pero sepulcral, exploratorio pero distinguible, como si estuviera hecho en las profundidades e inspirado por todas las cosas (mental y físicamente) que vienen con su esfuerzo subterráneo. "Summoning The Slayer" evoluciona espeluznantemente TEMPLE OF VOID.
Producido, mezclado y masterizado por Arthur Rizk (Power Trip, Sumerlands, Candy), "Summoning The Slayer" combina influencias de larga data y un grupo de vectores no metálicos en enormes columnas de peso y desolación. Los temas centrales "Deathtouch", "Hex, Curse, & Conjuration" y "The Transcending Horror" muestran el death-doom de Temple Of Void en sus puntos más altos y sus masivos y aplastantes puntos más bajos. Pero el cuarto álbum del grupo es más que eso. El final del álbum, "Dissolution", es un ejemplo de cómo los de Detroit se extienden, con motivos de rock/canción de autor de los años 70 que recuerdan a The Moody Blues y a Nick Drake. Líricamente, "Summoning The Slayer" evita los tópicos del terror con un debate psicológico más profundo y amplio sobre el ser. El viaje definitivo del death-doom metal de TEMPLE OF VOID se ha completado.
"Summoning The Slayer" sale el 3 de junio en LP/CD/CS/Digital. Los pedidos físicos a través de Relapse.com están disponibles aquí. Descargas digitales/streaming en esta ubicación.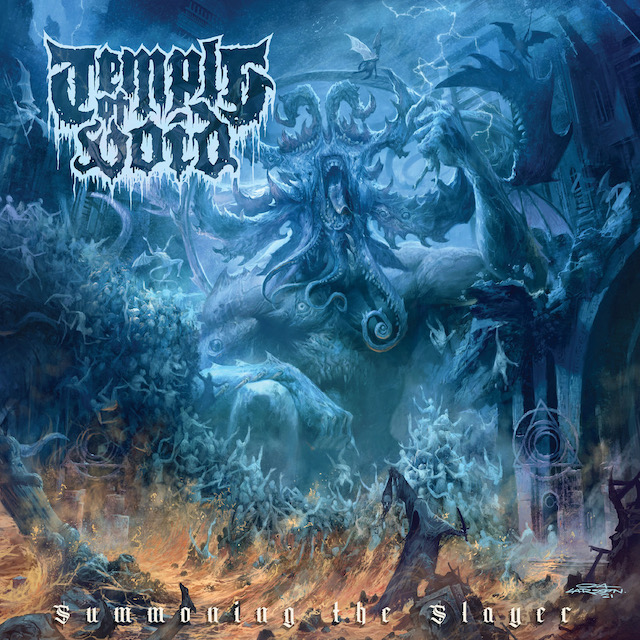 Tracklisting:
"Behind The Eye"
"Deathtouch"
"Engulfed"
"A Sequence Of Rot"
"Hex, Curse, & Conjuration"
"The Transcending Horror"
"Dissolution"
(Foto – Brian Sheehan)