RIVERS OF NIHIL revela detalles para su nuevo álbum, 'The Work'; lanza el vídeo del primer sencillo, "Clean"
El 24 de septiembre, RIVERS OF NIHIL lanzará su cuarto álbum de larga duración, "The Work", a través de Metal Blade Records. Para una primera vista previa del álbum, a continuación se puede ver un vídeo del nuevo sencillo "Clean" (dirigido por Mike Truehart).
RIVERS OF NIHIL de Reading, Pensilvania nunca ha encajado perfectamente en una caja, pero con "Where Owls Know My Name" de 2018, trascendieron todas las etiquetas que se les aplicaron. Al regresar en 2021 con "The Work", se han adentrado más en un nuevo territorio, entregando un álbum que es tan cerebral como visceral, y que cubre un rango sonoro asombroso, colocándolos definitivamente en una categoría propia. Indiscutiblemente una colección muy densa y pesada, "The Work" es demasiado dinámico para ser considerado un disco exclusivamente de metal, y hay una calidez genuina que se nota, particularmente en "Wait" y en el magnífico "Maybe One Day", y la banda incluyó voces mucho más limpias junto con los gritos que atraviesan muchas de las pistas más pesadas. Cortesía de su amigo Zach Strouse, el saxofón agrega una vez más capas adicionales de atmósfera a la colección, utilizando saxofones barítono, soprano y alto con gran efecto.
Con guitarras y sintetizadores/teclas grabadas en el estudio de la casa de Uttley, la banda luego regresamos para el tercer álbum consecutivo con Carson Slovak y Grant McFarland en Atrium Audio para hacer batería, voz, bajo, saxo y mezcla.
"Hemos hecho tantas sesiones con esos chicos que son básicamente una extensión de nuestra banda en este momento. Por lo general, saben lo que nos gusta, y siempre los alentamos a que nos asen para hacer las cosas mejor", dice el guitarrista Brody Uttley.
Junto a la banda, James Dorton de Black Crown Initiate proporcionó algunas voces en "Episode", Grant McFarland tocó el violonchelo en "The Void From Which No Sound Escapes" y el amigo de Uttley, Stephan Lopez, ayudó con todas las grabaciones de campo, una parte integral de las texturas sonoras del disco.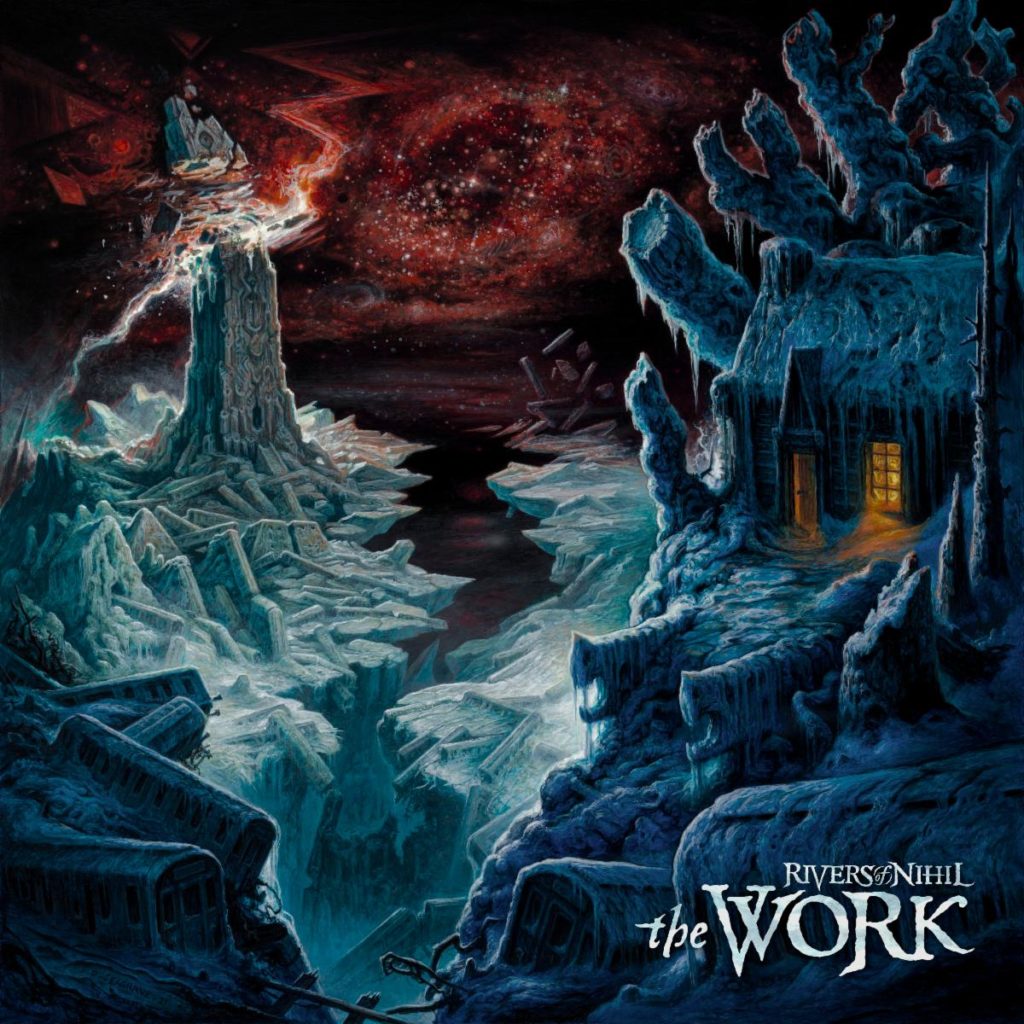 "The Work" tracklisting:
"The Tower (Theme from "The Work")"
"Dreaming Black Clockwork"
"Wait"
"Focus"
"Clean"
"The Void from Which No Sound Escapes"
"MORE?"
"Tower 2"
"Episode"
"Maybe One Day"
"Terrestria IV: Work"
"The Work" se puede pre-ordenar aquí en los siguientes formatos:
digipak-CD
Juego de caja de lujo (la caja de tapa dura incluye: CD digipak (con pista extra), vinilo azul con salpicaduras en blanco y negro, libro de fotos de 52 páginas, tapete y contenido de descarga exclusivo)
Vinilo negro de 180 g (exclusivo de la UE)
Vinilo plateado con salpicaduras de azul y negro (exclusivo de la UE – limitado a 500 copias)
Vinilo natural transparente con salpicaduras de negro y rojo (exclusivo de la UE – limitado a 300 copias)
Vinilo transparente con salpicaduras de color blanco y turquesa (exclusivo de Kings Road – limitado a 200 copias)
Vinilo derretido rojo / blanco (exclusivo de EMP – limitado a 200 copias)
Vinilo naranja transparente con remolinos negros (exclusivo de Eyesore – limitado a 300 copias)
Vinilo jaspeado plateado / negro (exclusivo de Impericon – limitado a 200 copias)
Vinilo galaxy azul agua / amarillo canario (exclusivo de EE.UU.)
Vinilo galaxy blanco / azul cian (exclusivo de EE.UU.)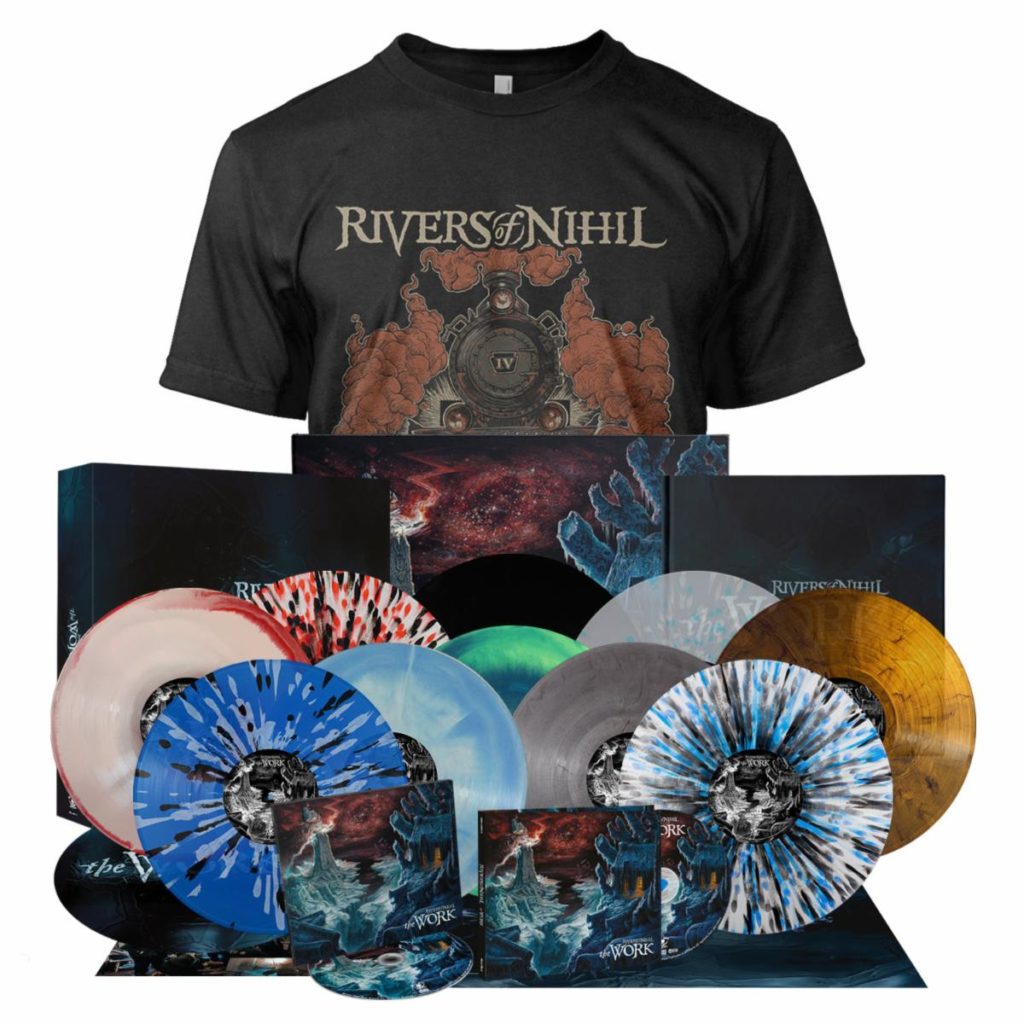 RIVERS OF NIHIL son:
Jake Dieffenbach – voz principal
Brody Uttley – guitarra solista, teclados
Adam Biggs – bajo, coros
Jon Topore – guitarra rítmica
Jared Klein – batería, coros