PHILOSOPHOBIA con miembros antiguos y actuales de KAMELOT y PAIN OF SALVATION lanzan el vídeo "Between The Pines"
El vídeo de "Between The Pines", el nuevo single del quinteto internacional de metal progresivo PHILOSOPHOBIA, formado por miembros actuales y antiguos de Kamelot, Pain Of Salvation, Wastefall, y más, se puede ver a continuación… El single es el último adelanto del álbum de debut homónimo de la banda, que está a punto de salir a la venta este mes a través de Sensory Records.
PHILOSOPHOBIA reúne al vocalista Domenik Papaemmanouil, al bajista Kristoffer Gildenlöw, al batería Alex Landenburg, al teclista Tobias Weißgerber y al guitarrista Andreas Ballnus. La banda se está preparando para publicar su álbum debut homónimo a través de Sensory Records, la principal elección de la banda para su publicación, junto con el regreso de Kristoffer Gildenlöw al prog metal en los escenarios de todo el mundo desde su salida de Pain Of Salvation.
Junto con el ingeniero de grabación y productor Phil Hillen (Powerwolf, Kamelot, Alyssa White Gluz), PHILOSOPHOBIA grabó una experiencia de una hora de duración que abarca una amplia gama de texturas; desde melodías sombrías hasta temas de heavy prog metal, pasando por montañas rusas instrumentalmente artísticas. "Philosophobia" fue masterizado por Alan Douches (Fates Warning, Redemption, Mastodon) en West West Side Music en Nueva York, y completado con un arte de portada concebido por Ballnus y creado por Björn Gooßes/Killustrations.
El vídeo de "Between The Pines" fue editado por Andreas Ballnus, que escribe con el estreno del vídeo:
"'Between The Pines' trata líricamente de la situación entre un padrastro y su hijastro. En apariencia, se llevan muy bien. Pero en el fondo el chico es muy inseguro por las experiencias con su padre biológico. El padrastro recuerda cuando era niño y jugaba en el bosque. Un lugar donde todo el dolor se había ido. Un lugar donde había tranquilidad y paz. El lugar entre los pinos. Se eligió como single porque muestra otra cara de PHILOSOPHOBIA. No es tan pesada ni compleja como los otros temas del álbum. Casi con un estribillo pop. Otra faceta de PHILOSOPHOBIA".
En 2007, los viejos amigos Andreas Ballnus (Perzonal War) y Alex Landenburg (Kamelot, Cyrha, Mekong Delta) tuvieron la idea de crear un álbum conceptual de prog metal. Tras grabar unas cuantas maquetas, Landenburg se unió a Annihilator como su batería de gira, mientras que Ballnus se convirtió en el guitarrista del antiguo vocalista de Iron Maiden, Paul Dianno. Con ambos de gira por todo el mundo durante años, lamentablemente tuvieron que posponer su aventura prog por falta de tiempo.
En 2018, Ballnus se puso en contacto con Kristoffer Gildenlöw (ex-Pain Of Salvation, Kayak) para un proyecto de libro que había escrito; los dos pronto se hicieron amigos y cuando Kristoffer escuchó las demos que Ballnus y Landenburg habían grabado, quedó alucinado con la calidad de las canciones, y en ese momento nació PHILOSOPHOBIA. Completados por el mago de los teclados Tobias Weißgerber y el vocalista Domenik Papaemmanouil (Wastefall), las grabaciones para el álbum debut de la banda comenzaron en 2020 contra todo pronóstico.
Landenburg y Ballnus se dirigieron a los estudios SU2, en el sur de Alemania, y grabaron nueve canciones, de las cuales ocho entraron en el álbum. De hecho, seis de ellas seguían siendo las mismas canciones que se escribieron en 2007. Los dos seguían pensando que esas canciones eran intemporales y merecían ser grabadas para la versión final del álbum.
Sensory Records publicará "Philosophobia" en CD y en todas las plataformas digitales del mundo el 24 de junio. Puedes encontrar pedidos anticipados en formato físico en la tienda web del sello aquí, y visitar Bandcamp para la versión digital estándar aquí y la digital de alta resolución de 24 bits aquí.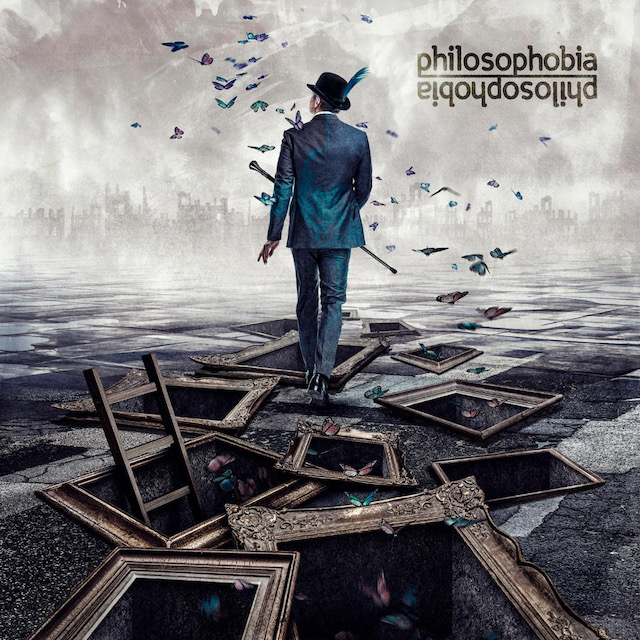 Tracklisting:
"Thorn In Your Pride"
"I Am"
"Time To Breathe"
"Between The Pines"
"As Light Ceased To Exist"
"Thirteen Years Of Silence"
"Voices Unheard"
"Within My Open Eyes"
PHILOSOPHOBIA es:
Kristoffer Gildenlöw – bajo
Alex Landenburg – batería
Domenik Papaemmanouil – voz
Andreas Ballnus – guitarras
Tobias Weißgerber – teclas