METALLICA lanza vídeo oficial en vivo de "Creeping Death" del concierto sorpresa de San Francisco
El 16 de septiembre, METALLICA realizó un concierto sorpresa en The Independent en San Francisco, CA. La banda ahora ha lanzado el vídeo a continuación, con su interpretación de "Creeping Death":
Un mensaje de METALLICA:
"Después de dos años fuera de la carretera, METALLICA tocó su primer show la semana pasada frente a una audiencia en vivo, en el lugar muy íntimo de San Francisco, The Independent. Solo 400 fanáticos tuvieron la suerte de asistir a este 'pop-up ', pero afortunadamente para el resto de nosotros, el audio del show se está transmitiendo o está disponible para su compra. Experiméntelo usted mismo en todo su esplendor de alta fidelidad. Hay CD y descargas digitales de alta resolución disponibles, o puede obtener el streaming ilimitado de todo el catálogo de Live Metallica en nugs.net".
Compra el show (audio) en esta ubicación.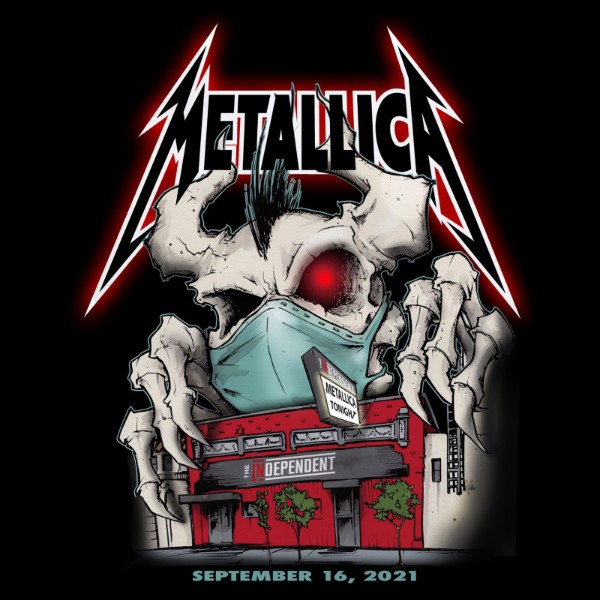 Setlist:
"Whiplash"
"Ride the Lightning"
"The Memory Remains"
"Now That We're Dead"
"Holier Than Thou"
"No Leaf Clover"
"Sad But True"
"Moth Into Flame"
"Fade to Black"
"For Whom the Bell Tolls"
"Creeping Death"
"One"
"Master of Puppets"
Encore:
"Battery"
"Fuel"
"Seek & Destroy"