MANIMAL lanza lyric vídeo oficial del nuevo single "Chains Of Fury"
El 3 de diciembre, la potencia del metal de Gotemburgo, MANIMAL, lanzará su próximo álbum de estudio, "Armageddon". ¡Han compartido un lyric vídeo de su nuevo single "Chains Of Fury", que enfatiza perfectamente el sonido característico de la banda de puro acero!
La lealtad de MANIMAL a las influencias tradicionales del heavy metal es evidente, aunque su último y muy aclamado álbum de 2018, "Purgatorio", fue un excelente ejemplo de power metal moderno y que marca tendencia, caracterizado por entusiasmo musical, talento excepcional y nuevas ideas. Como era de esperar de una banda que afirma que Judas Priest, King Diamond y Queensrÿche son las principales influencias en su sonido desde el día 1, el próximo álbum de MANIMAL es un homenaje enérgico y directo a la música que los inspiró durante los últimos 20 años.
La evolución de la banda entre el próximo "Armageddon" y su primer álbum, "The Darkest Room", lanzado en 2009, es incuestionable. Su composición se ha vuelto más estricta, fuerte y audaz, y han mejorado a pasos agigantados como músicos. "Armageddon" muestra su amplia gama de un sonido pesado como el infierno, y uno que probablemente ganará los verdaderos corazones tanto de la vieja escuela como de todos los fanáticos del metal moderno.
Después de los sencillos lanzados anteriormente "Forged In Metal", "The Inevitable End", la épica canción que da título al álbum y, recientemente, el estruendoso abridor del álbum "Burn In Hell", ¡hoy MANIMAL ha lanzado otra pista asesina tomada de "Armageddon"!.
"Creo que esta se destaca un poco del resto de las canciones del álbum". Comenta el vocalista Samuel Nyman. "Tiene un ritmo demoledor, casi hipnotizador, y probablemente sea uno de los temas más pesados ​​que hayamos lanzado. Y el mensaje que trae es claro: ¡libérate de tus cadenas de furia!".
"Una vez más, hemos estado trabajando con el talentoso Andy Pilkington de Very Metal Art para visualizar la canción y creo que esta vez también ha logrado capturar la esencia misma de la canción".
Mira el lyric video de "Chains Of Fury" a continuación.
"Armageddon" estará disponible en formatos LP, CD y Digital. Opciones de reserva disponibles aquí.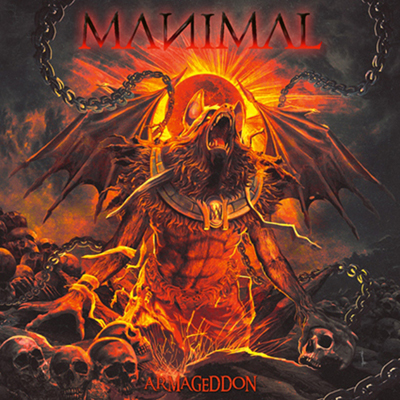 Tracklisting:
"Burn In Hell"
"Armageddon"
"Slaves Of Babylon"
"Forged In Metal"
"Chains Of Fury"
"Evil Soul"
"Path To The Unknown"
"Master Of Pain"
"Insanity"
"The Inevitable End"