LAMB OF GOD revela detalles de su nuevo álbum «Omens»
Los arquitectos del New Wave Of American Heavy Metal anuncian el nuevo álbum «Omens«, que será lanzado el 7 de octubre a través de Epic Records.
La banda LAMB OF GOD ya tiene en el horno al sucesor de su álbum homónimo. Programado para ser lanzado el 7 de octubre, «Omens» promete ser un álbum feroz y absurdamente agresivo. El primer single «Nevermore» será lanzado este viernes (10 de junio).
Pre-salva el single aquí.
La banda promocionará el nuevo álbum con una gira masiva por Estados Unidos con Killswitch Engage como invitados especiales en todas las fechas. También tendremos otras bandas apoyando esta gira en otras regiones del país como Baroness, Motionless In White, Spiritbox, Animals As Leaders así como Suicide Silence y Fit For An Autopsy. La gira de «Omens» comenzará el 9 de septiembre en Brooklyn e irá hasta el 20 de octubre. Casi un mes después, el 18 de noviembre, Lamb Of God continuará su gira por Europa con las leyendas del thrash metal Kreator e los invitados especiales Thy Art Is Murder y Gatecreeper. A continuación, todas las fechas de la gira por Europa.
«Omens» es una mirada pesimista sobre todas las luchas internas que están sucediendo en el mundo y sin duda es el álbum más furioso que la banda ya lanzó hasta ahora.
«El mundo está loco y sigue cambiando. 'Omens' es una reacción al actual estado del mundo», explica D. Randall Blythe. «Es un álbum absurdamente cabreado». Hace una pausa para enfatizar: «Es un álbum extremadamente cabreado».
«Omens» es también el álbum más diverso de la banda. El grupo grabó el álbum en vivo en Henson Recording Studios (antiguo A&M Studio) en Los Angeles, California. Un estudio que dio origen a clásicos de The Doors, Pink Floyd, The Ramones, Soundgarden y muchos otros.
«El trabajo entre nosotros nunca ha sido tan bueno», explica el guitarrista Mark Morton. «Puedes escucharlo en 'Omens'. Puedes verlo en nuestras presentaciones en vivo y si te quedas por cinco minutos a nuestro lado, puedes sentirlo».
La pre-venta del álbum «Omens» ahora está disponible aquí repleto de material exclusivo, incluida una variedad de vinilo de color autografiado, t-shirts, sudaderas y muchos CD autografiados con una portada de color alternativa. Todos los CD y LP físicos tendrán códigos de acceso únicos para ver nuestra transmisión en vivo del documental «The Making Of Omens«, que será lanzado la semana del lanzamiento del álbum.
Pre-venta para «Omens» aquí.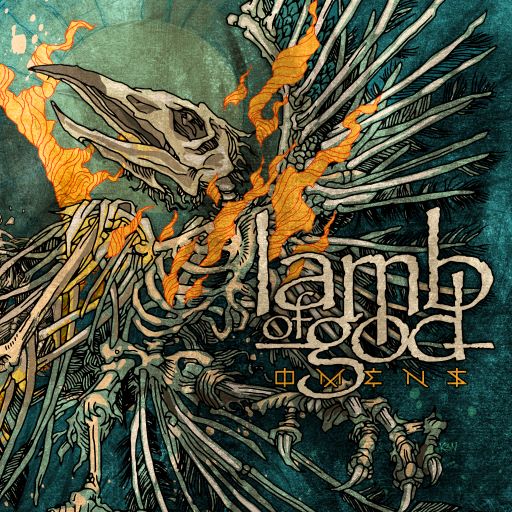 LAMB OF GOD – «Omens«
FECHA LANZAMIENTO: 7 octubre, 2022
01. Nevermore
02. Vanishing
03. To The Grave
04. Ditch
05. Omens
06. Gomorrah
07. Ill Designs
08. Grayscale
09. Denial Mechanism
10. September Song
«Omens» estará disponible en los formatos:
Álbum Digital
CD Jewelcase
LP (Negro)
LP (Blanco/Celeste Marmolado)
LP (Azul/Blanco/Negro Marmolado)
LP (Clear)
LP (Clear Cristal/Plateado/Negro Marmolado)
LP (Brilla en la oscuridad)
LP (Naranja / Negro Marmolado)
LP (Plateado)
LAMB OF GOD en Shows en Festival Europeos 2022
05.08. RO Rasnov – Rockstadt Extreme Fest
07.08. BE Lokeren – Lokerse Festival
09.08. SK Ljubljana – Cvetličarna
10.08. HU Budapest – Barba Negra Track
12.08. FI Turku – Knotfest
14.08. UK Walton-on-Trent – Bloodstock Open Air
20.08. DE Sulingen – Reload Festival
21.08. NL Eindhoven – Dynamo Metalfest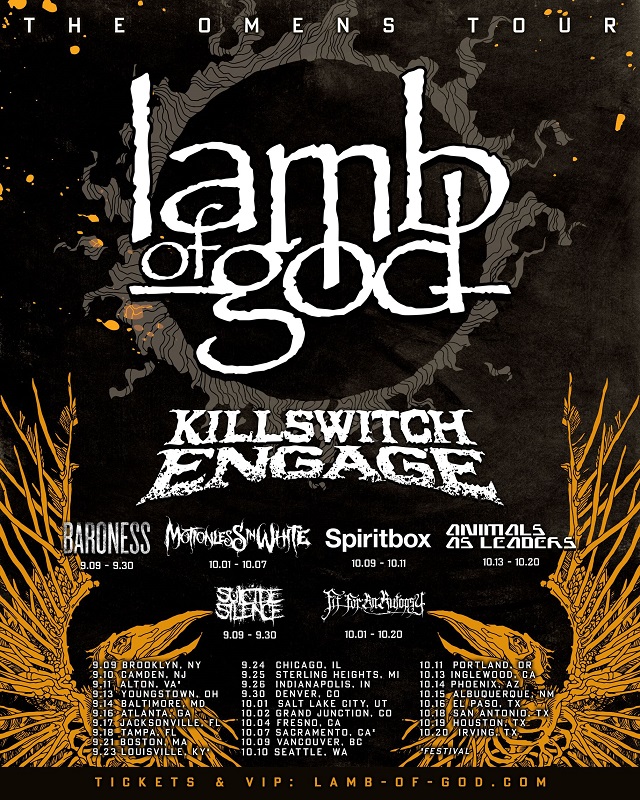 Las fechas de la gira de The Omens son las siguientes:
LAMB OF GOD con Killswitch Engage, Baroness, Suicide Silence
Septiembre
9 – Brooklyn, NY – Coney Island 
10 – Camden, NJ – Freedom Mortgage Pavilion
11 – Alton, VA – Blue Ridge Music Festival 
13 – Youngstown, OH – Youngstown Foundation Amphitheater
14 – Baltimore, MD – Chesapeake Employers Insurance Arena
16 – Atlanta, GA – Coca Cola Roxy 
17 – Jacksonville, FL – Daily's Place
18 – Tampa, FL – MidFlorida Credit Union Amphitheatre
21 – Boston, MA – MGM Music Hall at Fenway
23 – Louisville, KY – Louder Than Life Festival (*No KSE, No Suicide Silence)
24 – Chicago, IL – Huntington Bank Pavilion at Northerly Island 
25 – Sterling Heights, MI – Michigan Lottery Amp at Freedom Hill 
26 – Indianapolis, IN – TCU Amphitheater at White River State Park 
30 – Denver, CO – Fillmore Auditorium
LAMB OF GOD con Killswitch Engage, Motionless In White, Fit For An Autopsy
Octubre
1 – Salt Lake City, UT – The Great SaltAir
2 – Grand Junction, CO – Amphitheater at Las Colonias Park  
4 – Fresno, CA – Exhibit Hall at Selland Arena
7 – Sacramento, CA – Aftershock Festival (*sin Fit For An Autopsy)
LAMB OF GOD con Killswitch Engage, Spiritbox, Fit For An Autopsy
Octubre
9 – Vancouver, BC – Doug Mitchell Thunderbird Sports Centre  
10 – Kent (Seattle), WA – Accesso ShoWare Center
11 – Portland, OR – Theater Of The Clouds
 
LAMB OF GOD con Killswitch Engage, Animals As Leaders, Fit For An Autopsy
Octubre 
13 – Inglewood, CA – YouTube Theater 
14 – Phoenix, AZ – Arizona Federal Theater 
15 – Albuquerque, NM – Isleta Amphitheater
16 – El Paso, TX – UTEP Don Haskins Center
18 – San Antonio, TX – Freeman Coliseum 
19 – Houston, TX – 713 Music Hall 
20 – Irving, TX – The Pavilion at Toyota Music Factory 
STATE OF UNREST TOUR 2022
LAMB OF GOD | KREATOR
con invitados especiales: Thy Art Is Murder y Gatecreeper
18.11. DK Copenhagen – Forum Black Box
19.11. SE Stockholm – Fryshuset Arenan
21.11. FI Oulu – Teatria
22.11. FI Helsinki – Ice Hall Black Box
24.11. PL Warsaw – Stodola
26.11. DE München – Zenith
27.11. DE Berlin – Columbiahalle
29.11. NL Tilburg – O13
30.11. BE Brussels – AB
02.12. DE Ludwigsburg – MHP Arena
03.12. DE Essen – Grugahalle
04.12. DE Saarbrücken – Saarlandhalle
06.12. ES Madrid – Riviera 07.12. ES Barcelona – Razzmatazz
09.12. DE Wiesbaden – Schlachthof
10.12. DE Hamburg – Edel Optics Arena
11.12. DE Leipzig – Haus Auensee
13.12. UK London – O2 Academy Brixton
14.12. UK Glasgow – O2 Academy
15.12. UK Birmingham – O2 Academy
16.12. UK Bristol – O2 Academy
18.12. UK Manchester – Manchester Academy
20.12. FR Paris – L'Olympia
21.12. CH Zurich – Samsung Hall
(Foto: Travis Shinn)