La banda de Death Metal brasileña/holandesa CRYPTA lanza el tercer sencillo, "Dark Night Of The Soul"
La potencia del death metal brasileño/holandés CRYPTA está lista para reabrir los portales del infierno presentando el tercer sencillo, "Dark Night Of The Soul", de su próximo álbum debut, junto con un vídeo oficial de reproducción de la banda completa.
El nuevo single entrega un mensaje audaz de pura dureza, atmósfera peligrosa y subraya el alto nivel de potencia y experiencia de sus exitosos proyectos pasados ​​y actuales, mejorando las influencias de los géneros clásicos y modernos del death metal.
El álbum debut de CRYPTA saldrá este viernes, ¡descendiendo sobre la tierra como un meteoro apocalíptico! "Echoes of the Soul" fue grabado en enero de 2021 en el Family Mob Studio (Brasil), mezclado por Arthur Rizk (Code Orange, Powertrip, etc.) y masterizado por el famoso Jens Bogren (Opeth, Dimmu Borgir, Sepultura, etc.). La obra de arte de la portada fue creada por Wes Benscoter, quien es internacionalmente famoso por sus impresionantes versiones de bandas como Slayer, Kreator, Black Sabbath y muchas más.
Mira/escucha "Dark Night Of The Soul" AQUÍ:
¡Ordene el emocionante álbum debut "Echoes Of The Soul" AHORA!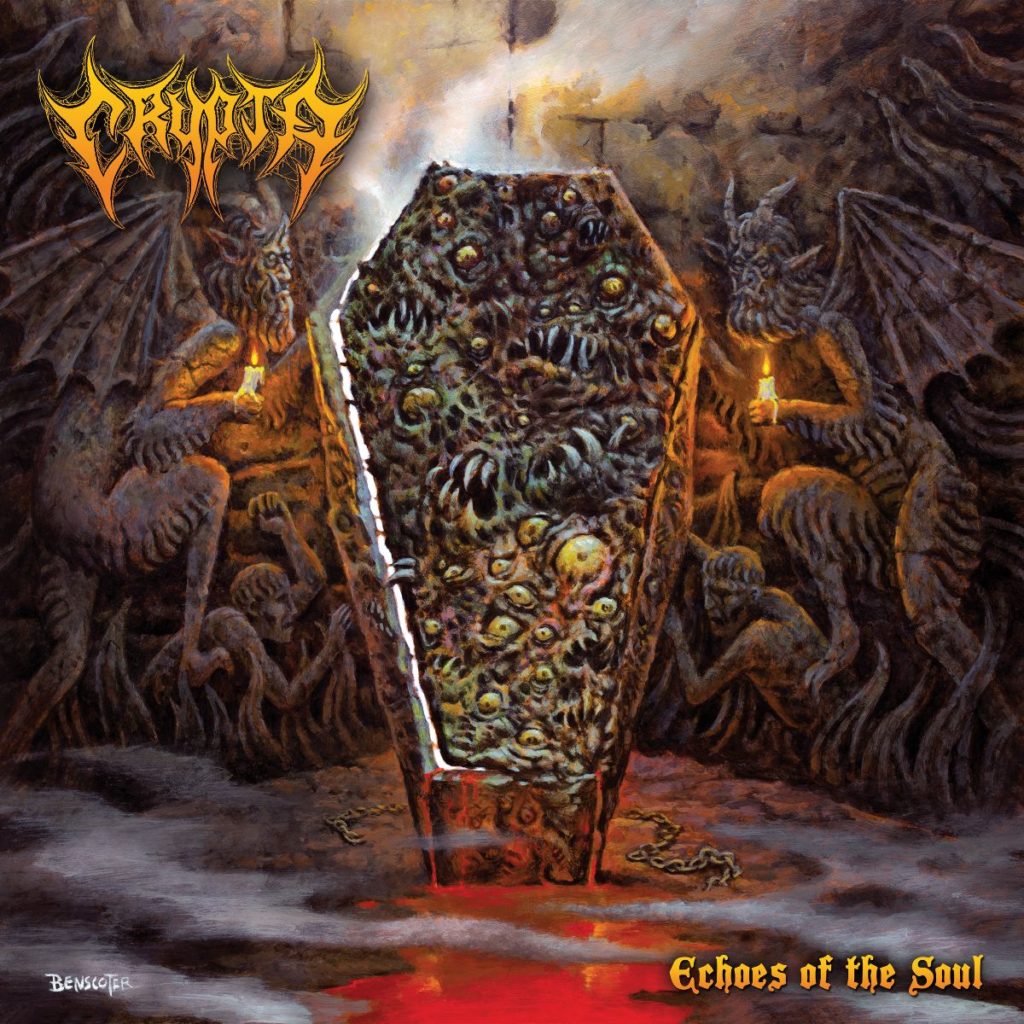 "Echoes Of The Soul" tracklist:
Awakening
Starvation
Possessed
Death Arcana
Shadow Within
Under the Black Wings
Kali
Blood Stained Heritage
Dark Night of the Soul
From the Ashes
Atmosféricamente oscura y amenazante, la intro de 55 segundos "Awakening" prepara al oyente para la inminente ferocidad de "Echoes Of The Soul", que dispensa combustible turbio y ardiente en la máquina del death metal. Su significativa textura sónica derivada de varios subgéneros de death metal y rastros de thrash clásico se hace evidente al instante cuando comienza el álbum, lo que refleja el aura infernal y viciosa que el debut de 10 pistas está a punto de desatar. CRYPTA desata poderosos demonios sónicos y nutre la energía acumulada y explosiva con furiosos riffs de guitarra, el inconfundible color vocal de Fernanda Lira y la amenazante batería de Damettos. Temas como "Starvation", "Kali" y "Blood Stained Heritage" provocan una tormenta incontrolable de pura rabia y beligerancia, mientras que ofertas como "Under The Black Wings" y "Dark Night Of The Soul" transmiten un mensaje de pura dureza en peligrosos atmósfera. "Death Arcana" proporciona a su oyente una visión más profunda del dominio sónico de CRYPTA y cautiva con solos en expansión que recuerdan a épocas anteriores, pero aderezado con un toque moderno.
"Echoes Of The Soul" estará disponible en los siguientes formatos:
Estuche para CD
Puerta plegable de vinilo 1LP negro
1 LP Vinilo Gatefold Rojo Dorado ++ AGOTADO ++
1 LP Vinilo Gatefold Red Black Marbled – limitado a 300 copias en todo el mundo
1 LP Vinilo Gatefold Mármol Naranja Transparente Negro + Parche – limitado a 200 copias en todo el mundo ++ AGOTADO ++
Casete de música negro – estrictamente limitado ++ AGOTADO ++
Álbum digital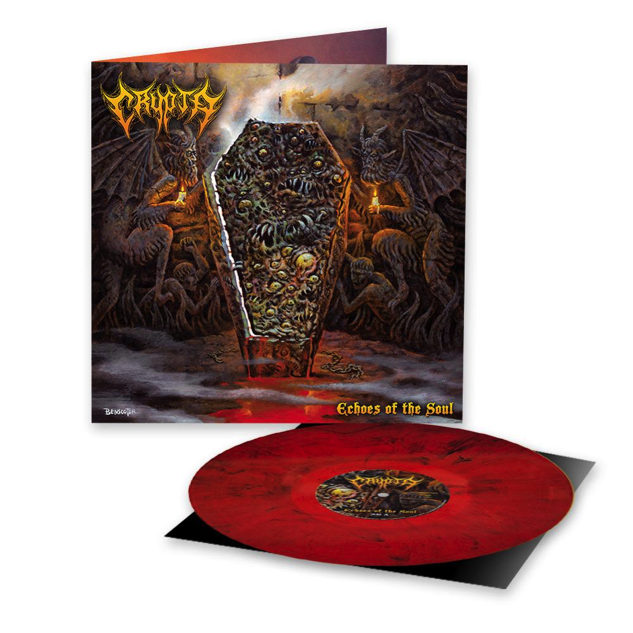 CRYPTA son:
Fernanda Lira – Voz, Bajo
Sonia Anubis – Guitarra
Tainá Bergamaschi – Guitarra
Luana Dametto – Batería