KRISIUN lanza el lyric vídeo de su nueva canción "War Blood Hammer"
Los pesos pesados del death metal brasileño, KRISIUN, acaban de lanzar su nuevo álbum de estudio, "Mortem Solis", en todo el mundo a través de Century Media Records.
Para celebrar el lanzamiento del nuevo álbum, la banda acaba de lanzar un lyric vídeo para su tema, "War Blood Hammer", creado por Cloud Music Typography. Míralo a continuación.
"'War Blood Hammer' sigue el mismo camino de los otros 3 singles que hemos lanzado para 'Mortem Solis', tal vez un poco más orientado a la tecnología, pero tratamos de sonar lo más brutal, agresivo y natural que podemos, pero evitando todas las herramientas artificiales como la edición de rejilla, emuladores, plugins, metrónomos. Todo se grabó para dar a la gente la verdadera sensación de death metal de principios de los 90. No es perfecto, pero sí pesado. El death metal de hoy en día me parece demasiado melódico, demasiado artificial. Las bandas son técnicas pero no brutales o agresivas. Queremos traer de vuelta la verdadera vibración del death metal pero con un enfoque moderno y que KRISIUN se identifique allí", afirma el guitarrista Moyses Kolesne sobre "War Blood Hammer".
Para "Mortem Solis", el trío – los hermanos Alex Camargo (bajo/voz), Max Kolesne (batería) y Moyses Kolesne (guitarra) – grabaron su nuevo material localmente en Family Mob Studio (Ratos De Porão, Crypta) en São Paulo, Brasil y mezclado/masterizado con Mark Lewis (Kataklysm, Deicide, The Black Dahlia Murder, etc.) en Nashville, Tennessee.
"Mortem Solis" viene con un artwork diseñado por Marcelo Vasco (Slayer, Venom, Dark Funeral).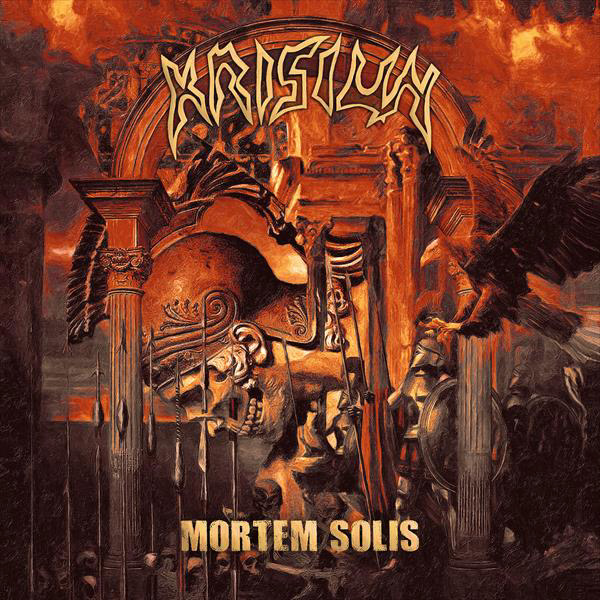 Tracklisting:
"Sworn Enemies"
"Serpent Messiah"
"Swords Into Flesh"
"Necronomical"
"Tomb Of The Nameless"
"Dawn Sun Carnage" (Intro)
"Temple Of The Abattoir"
"War Blood Hammer"
"As Angels Burn"
"Worm God"
"Death Of The Sun" (CD Bonus Track)
"Mortem Solis" – que en latín significa "Muerte del Sol" – está disponible como una edición limitada en Digipak (con el tema extra exclusivo "Death Of The Sun"), como Álbum Digital, y como LP en vinilo de 180g en las siguientes variantes:
LP negro – Ilimitado
Transparent Orange LP – Limitado a 300x copias a través de CM Distro & Webshop Europe
Clear LP – Limitado a 300x copias a través de EMP
LP dorado – Limitado a 300x copias vía Nuclear Blast
Pídelo aquí.
(Foto – Maya Melchers)