IN FLAMES lanza su nuevo single y video "State Of Slow Decay"; la banda vuelve a firmar con Nuclear Blast
Hoy, dos pesos pesados del metal internacional celebran una ampliación de su alianza: Las leyendas suecas del metal IN FLAMES han vuelto a firmar con Nuclear Blast, ampliando su asociación a nivel mundial. Como una de las bandas de metal más influyentes de todos los tiempos, la noticia presagia algunos planes emocionantes para las leyendas de Gotemburgo, que pronto se pondrán en marcha.
Marcus Hammer, director general de Nuclear Blast, afirma:
"Estamos muy contentos de dar la bienvenida a IN FLAMES de nuevo a la familia NBR a nivel mundial. Este es el mensaje para el mundo del metal: Una nueva obra maestra del metal está a punto de caer y podéis garantizar que no hay decadencia visible. Todo lo contrario. IN FLAMES y Nuclear Blast lo van a petar juntos, una vez más y con más fuerza que nunca".
Nathan Barley Phillips, Senior A&R, comenta:
"Como un dedicado Jesterhead de larga data, me da un gran placer representar a IN FLAMES mientras se embarcan en este emocionante nuevo capítulo de su ilustre carrera. No puedo esperar a que todos ustedes escuchen lo que esta increíble banda tiene preparado".
Tras esta innovadora noticia, IN FLAMES ha lanzado un nuevo y aplastante single titulado "State Of Slow Decay". La canción, que se estrenó en directo en el festival Sweden Rock, viene acompañada de un vídeo que muestra a la banda interpretando su nuevo tema en un escenario poco convencional. Míralo a continuación.
"Siempre hemos hecho lo nuestro sin ninguna presión del mundo exterior, PERO estar de vuelta con Nuclear Blast en todo el mundo nos ha inspirado sin duda a escribir un montón de material nuevo que incluye el pasado, el presente y el futuro", comenta el frontman Anders Fridén. "'State Of Slow Decay' incluye todo aquello por lo que IN FLAMES son conocidos. Pero es más que una canción, es una jodida declaración. No podría estar más feliz de lanzar esto como una muestra de lo que está por venir".
IN FLAMES se embarcará en una gira por Estados Unidos este mes de septiembre. Todas las fechas están abajo. Los paquetes VIP están disponibles aquí.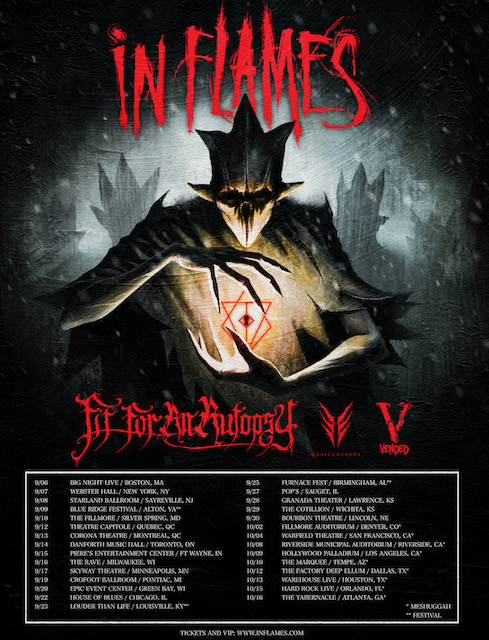 Fechas de la gira:
Septiembre
6 – Boston, MA – Big Night Live
7 – New York, NY – Webster Hall
8 – Sayreville, NJ – Starland Ballroom
9 – Alston, VA – Blue Ridge Festival**
10 – Silver Spring, MD – The Fillmore
12 – Quebec, QC – Theatre Capitole
13 – Montreal, QC – Corona Theatre
14 – Toronto, ON – Danforth Music Hall
15 – Ft. Wayne, IN – Piere's Entertainment Center
16 – Milwaukee, WI – The Rave
17 – Minneapolis, MN – Skyway Theatre
19 – Pontiac, MI – Crofoot Ballroom
20 – Green Bay, WI – Epic Event Center
22 – Chicago, IL – House of Blues
23 – Louisville, KY – Louder Than Life**
25 – Birmingham, AL – Furnace Fest**
27 – Sauget, IL – Pop's
28 – Lawrence, KS – Granada Theater
29 – Wichita, KS – The Cotillion
30 – Lincoln, NE – Bourbon Theatre
Octubre
2 – Denver, CO – Fillmore Auditorium*
4 – San Francisco, CA – Warfield Theatre*
8 – Riverside, CA – Riverside Municipal Auditorium*
9 – Los Angeles, CA – Hollywood Palladium*
10 – Tempe, AZ – The Marquee*
12 – Dallas, TX – The Factory Deep Ellum
13 – Houston, TX – Warehouse Live*
15 – Orlando, FL – Hard Rock Live*
16 – Atlanta, GA – The Tabernacle*
* con Meshuggah
** Fecha en festivales
IN FLAMES es:
Anders Fridén – Voz
Björn Gelotte – Guitarra y voz
Chris Broderick – Guitarra
Tanner Wayne – Batería
Bryce Paul – Bajo