IMMOLATION estrena el vídeo musical de "Blooded"; el álbum "Acts Of God" ya está disponible
Los gigantes del death metal neoyorquino, IMMOLATION, han lanzado su última e inmensa creación, "Acts Of God". El undécimo álbum de estudio es el siguiente capítulo de la epopeya del death metal de IMMOLATION. Con cinco largos años transcurridos desde "Atonement", "Acts Of God" muestra vigorosamente la capacidad de IMMOLATION para crear constantemente sonidos fascinantes, sin dejar de mantener sus pies firmemente arraigados en la vieja escuela, el Death Metal de Nueva York por el que son reconocidos.
Para celebrar el lanzamiento, la banda ofrece a los fans el vídeo de "Blooded". Míralo a continuación.
El vocalista y bajista Ross Dolan comenta:
"¡Por fin, después de 5 largos años, estamos emocionados de desatar toda la furia de nuestro nuevo álbum 'Acts Of God' sobre el mundo! Agradecemos a todos nuestros fans en todo el mundo por su paciencia y apoyo eterno durante los últimos años. Creemos que este es uno de nuestros álbumes más fuertes y oscuros hasta la fecha y esperamos que todos lo disfruten. Estamos deseando tocar estas canciones en directo y veros a todos en la primera parte de la gira 'Acts Of God'. ¡Mucho más por venir! Disfrutad de nuestro nuevo vídeo para 'Blooded'".
"Acts Of God" contó con el regreso de un viejo amigo y compañero de grabación, Paul Orofino, de Millbrook Studios, mientras que la mezcla y el masterizado fueron realizados por Zack Ohren, de Castle Ultimate Studios. Para la portada, la banda contrató a Eliran Kantor para que creara una nueva e inquietante obra maestra con los colores apagados y las imágenes etéreas que caracterizan el arte de IMMOLATION. Las piezas de arte dentro del folleto fueron creadas por Santiago Jaramillo de Triple Seis Design.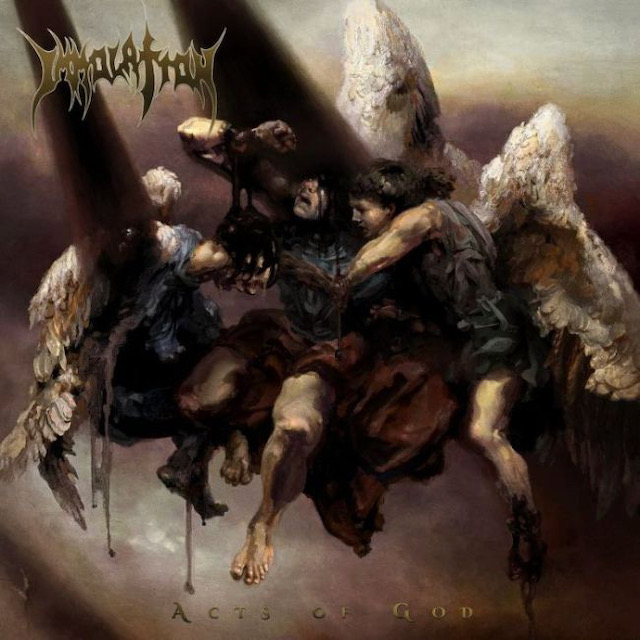 Tracklisting:
"Abandoned"
"An Act of God"
"The Age of No Light"
"Noose of Thorns"
"Shed the Light"
"Blooded"
"Overtures of the Wicked"
"Immoral Stain"
"Incineration Procession"
"Broken Prey"
"Derelict of Spirit"
"When Halos Burn"
"Let the Darkness In"
"And the Flames Wept"
"Apostle"
"Acts Of God" está disponible en los siguientes formatos:
CD Joya
Camiseta
Doble LP
– Negro
– Amarillo sol + negro jaspeado (limitado a 300)
– Crystal Clear/Black Marbled (Limitado a 300)
– Crystal Clear W/ Gold Splatter (Limitado a 1800)
– Gold W/ Black Splatter (Limitado a 300)
Cassette
– Ahumado
– Dorado (Limitado a 150)
– Gris (Exclusivo de Decibel; limitado a 100)
CD (Jewel) + paquete de camisetas
Longbox (limitado a 500)
– CD (Jewel)
– Pegatina
– Botón
Pide tu copia de "Acts Of God" aquí.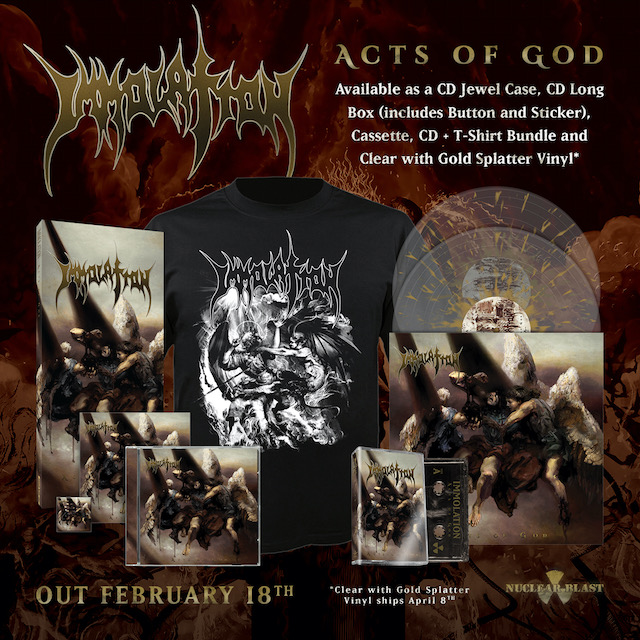 IMMOLATION iniciará su gira Acts of God North American Tour 2022 esta noche, 18 de febrero, en Richmond, Virginia. La gira de 24 fechas hará paradas en Orlando, Seattle y Montreal antes de concluir el 19 de marzo en el Irving Plaza de Nueva York.
Se unirán a la banda en la gira Imperial Triumphant (2/18-3/13), Mortiferum (2/18-3/18), y Black Anvil (3/15-3/19). El último concierto en casa incluirá actuaciones de Demolition Hammer, Mortician y Funeral Leech. La lista completa de fechas se puede ver a continuación.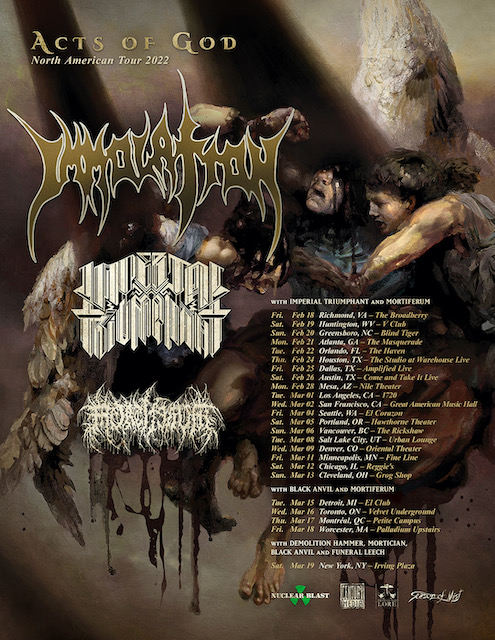 Febrero (con Imperial Triumphant y Mortiferum)
18 – Richmond, VA – The Broadberry
19 – Huntington, WV – V Club
20 – Greensboro, NC – Blind Tiger
21 – Atlanta, GA – The Masquerade
22 – Orlando, FL – The Haven
24 – Houston, TX – The Studio at Warehouse Live
25 – Dallas, TX – Amplified Live
26 – Austin, TX – Come and Take It Live
28 – Mesa, AZ – Nile Theater
Marzo (con Imperial Triumphant y Mortiferum)
1 – Los Angeles, CA – 1720
2 – San Francisco, CA – Great American Music Hall
4 – Seattle, WA – El Corazon
5 – Portland, OR – Hawthorne Theater
6 – Vancouver, BC – The Rickshaw
8 – Salt Lake City, UT – Urban Lounge
9 – Denver, CO – Oriental Theater
11 – Minneapolis, MN – Fine Line
12 – Chicago, IL – Reggie's
13 – Cleveland, OH – Grog Shop
Marzo (con Black Anvil y Mortiferum)
15 – Detroit, MI – El Club
16 – Toronto, ON – Velvet Underground
17 – Montréal, QC – Petite Campus
18 – Worcester, MA – Palladium Upstairs
Marzo (con Demolition Hammer, Mortician, Black Anvil y Funeral Leech)
19 – New York, NY – Irving Plaza
Entradas disponibles aquí.
Alineación:
Ross Dolan – bajo/voz
Robert Vigna – guitarra
Steve Shalaty – batería
Alex Bouks – guitarra