DESERTED FEAR lanza el single y vídeo "Reborn Paradise"
El trío alemán de death metal melódico, DESERTED FEAR, ha lanzado el segundo sencillo, "Reborn Paradise", de su próximo lanzamiento, "Doomsday", que saldrá el 4 de marzo a través de Century Media Records. Una vez más, Mirko Witzki asumió las funciones de filmación, dirección y edición del nuevo vídeo.
La filmación del video contó con el apoyo del Deutsch-Deutsches Museum Mödlareuth, proporcionando el escenario perfecto para una canción que trata un tema serio del pasado alemán. Mira el clip a continuación.
"Hoy lanzamos 'Reborn Paradise', otra nueva canción de nuestro álbum 'Doomsday', que se lanzará el 4 de marzo de 2022. Para la filmación del vídeo, fuimos a una época que parece haber sido olvidada hace mucho tiempo, pero que nunca debe ser olvidada". afirma DESERTED FEAR.
El baterista de DESERTED FEAR, Simon Mengs, agrega:
"Crecimos en un pequeño pueblo en la zona rural de Turingia. Aunque no experimentamos conscientemente la revolución pacífica y la caída del muro interior alemán, nuestra socialización tuvo lugar aquí. Con las historias de la generación anterior, también absorbimos el espíritu de la RDA y la frustración por un estado autoritario en el que se pensaba una cosa y había que decir otra".
"Para la filmación del vídeo, profundizamos una vez más en la historia de la dictadura de la RDA. Increíble lo pequeños que siempre se mantuvieron los eventos en consideración de muchos cientos de muertos y miles de personas encarceladas. Campos de minas y cañones de resorte contra los propios ciudadanos, esto no se ha discutido lo suficiente con nuestra generación. Además, una parte de nuestra sociedad parece haber olvidado ya lo que significaba la libertad de expresión y la libertad de viajar en la RDA…", continuó Fabián.
Mahne afirma además:
"Lo que sucede en las guerras y en las fronteras parece muy lejano para muchas personas en nuestro país y es alarmante cómo la gente habla de los refugiados sin empatía. La gente muere en las fronteras, huyendo y con la esperanza de una vida mejor, ¡entonces como ahora!".
La nueva obra maestra de DESERTED FEAR fue grabada, mezclada y masterizada por el propio Fabian Hildebrandt de la banda en Eisensound Studio.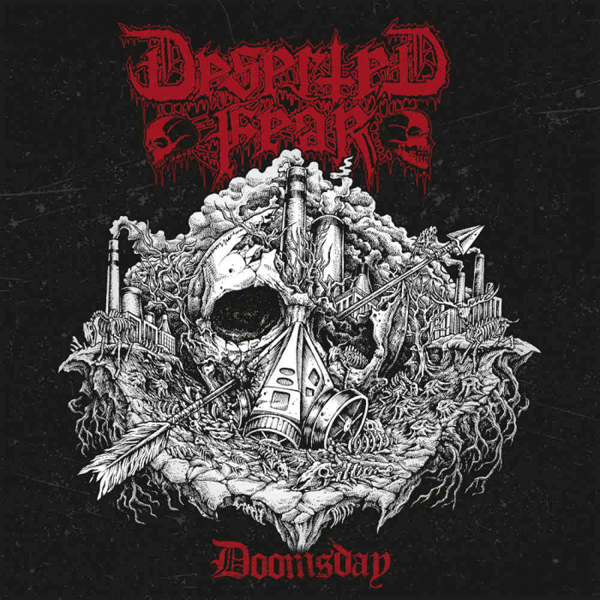 Tracklisting:
"Intro"
"Part Of The End"
"Idols Of Triumph"
"Follow The Light That Blinds"
"Fall From Grace"
"At Its End"
"Reborn Paradise"
"The One Desire"
"Call Of Emptiness"
"Voices Of Fire"
"Doomsday"
La primera edición de CD Digipak de Ltd. del álbum viene con un posavasos especial para bebidas y los sencillos lanzados anteriormente "Funeral Of The Earth" y "Artifacts Of The Black Rain" como bonus tracks. Las ediciones LP del álbum vienen en vinilo de 180 g, con portada desplegable e incluyen un póster de tamaño A2. Estas son las variantes disponibles y limitaciones para el formato LP:
Ltd. Gatefold negro LP y póster – Ilimitado
Ltd. Gatefold verde oscuro LP y póster – 300x copias a través de CM Distro y Webshop Europe
Ltd. Gatefold transp. LP azul claro y póster – 300x copias a través de EMP
Ltd. Gatefold Colored Re-Vinyl LP & Poster – 300x copias a través de Band
El pedido anticipado de "Doomsday" está en marcha, así que asegúrate de obtener tu copia del álbum y también escucha la versión digital de la nueva canción aquí.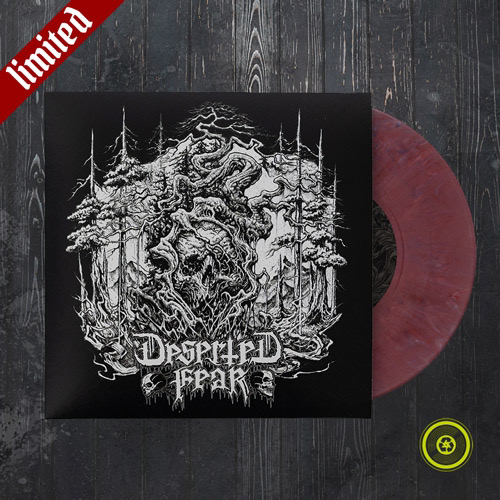 Comenzando con el lanzamiento de "Doomsday" en marzo, DESERTED FEAR tocará una serie de shows exclusivos de lanzamiento de álbumes en toda Alemania.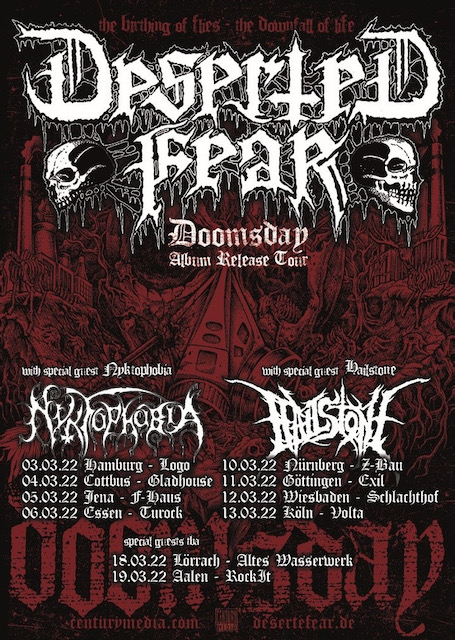 Fechas:
Marzo
3 – Hamburg, Germany – Logo (with Nyktophobia)
4 – Cottbus, Germany – Gladhouse (with Nyktophobia)
5 – Jena, Germany – F-Haus (with Nyktophobia)
6 – Essen, Germany – Turock (with Nyktophobia)
10 – Nürnberg, Germany – Z-Bau (with Hailstone)
11 – Göttingen, Germany – Exil (with Hailstone)
12 – Wiesbaden, Germany – Schlachthof (with Hailstone)
13 – Köln, Germany – Volta (with Hailstone)
18 – Lörrach, Germany – Altes Wasserwerk
19 – Aalen, Germany – Rock It
DESERTED FEAR son:
Manuel "Mahne" Glatter – Voz/Guitarra
Simon Mengs – Batería
Fabián Hildebrandt – Guitarra
(Foto – Manuel Glatter)