DARKENED, con miembros de GRAVE y MEMORIAM, estrenan "Blood" de "The Black Winter", que saldrá en mayo
Edged Circle Productions ha anunciado el 27 de mayo como la fecha de lanzamiento internacional del segundo álbum de la élite del death metal pan-international DARKENED, "The Black Winter", en formato CD y LP de vinilo.
Si bien DARKENED tuvo un comienzo nada auspicioso con el EP "Into The Blackness" durante el verano de 2019, fue el álbum debut de la banda, "Kingdom Of Decay", donde literalmente explotaron en la escena. Orgulloso y puro death metal, nada más pero definitivamente nada menos, no fue en absoluto sorprendente que DARKENED causara un impacto inmediato dada su alineación en ese debut de larga duración: El batería Andy Whale (Memoriam, Bolt Thrower), el vocalista Gord Olson (Ye Goat-Herd Gods / Demisery), los guitarristas Linus Nirbrant (A Canorous Quintet / This Ending) y Hempa Brynolfsson (Excruciate / Ordo Infernus), y el nuevo bajista Tobias Cristiansson (Grave / Dismember). Pacientes y castigadores, demostraron que la verdadera composición de canciones aturde y aplasta cuando es practicada por maestros del oficio del death metal.
Ahora, tal y como presagiaron a principios de este año con el exitoso EP "Mourn The Dying Light", DARKENED llega con su enorme segundo álbum, "The Black Winter". Inmediatamente, su sonido característico está en su lugar – riffs claros y aplastantes, surcos como un tanque, una sensibilidad general devoradora de mundos – pero si se profundiza, se encontrará que DARKENED expande sus ya considerables poderes. Lo más destacado es la sorprendente cantidad de atmósfera que se explora en "The Black Winter", fiel a su nombre. La amplitud resultante es, de alguna manera, tan sofocante como la densidad ya característica de la banda; ya sea en el propio riffing o en los sutiles toques de sintetizador que hay debajo, el álbum tiene un aspecto único pero unificado. A partir de ahí, los giros melancólicos y la melodía melancólica se integran a la perfección en la embestida sonora de DARKENED, que alternativamente lleva la agresión a niveles asesinos y el doom a las profundidades más oscuras; dicho de otro modo, todo aquí suena enorme. Y el mérito es de Linus Nirbrant, que se encargó de la producción de "The Black Winter", así como de la mezcla y masterización de Dan Swanö en Unisound – ¡no se encontrará un disco de death metal más claro y aplastante este año!
A medida que estos tiempos finales adquieren una silenciosa resignación, es muy apropiado que DARKENED proporcione la banda sonora con "The Black Winter". La portada, cortesía de Juanjo Castellano Rosado (Unleashed, The Black Dalhia Murder, Gates Of Ishtar), y el tracklisting son los siguientes: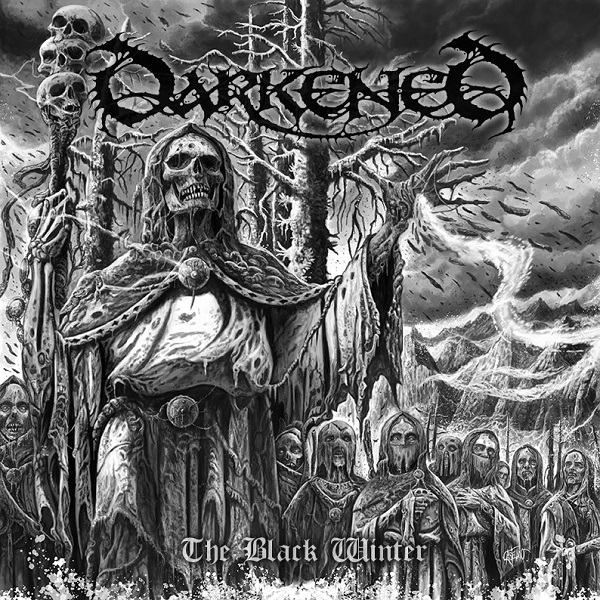 Tracklisting:
"Premonitions"
"Blood"
"Flayed"
"Terminal Lucidity"
"Black Winter"
"Fearful Quandary"
"Swallowed By The World"
"Plague Of Despair"
"Regret"