CROBOT comparte el vídeo oficial de "Golden"
CROBOT y Mascot Records / Mascot Label Group han lanzado el vídeo oficial de "Golden" del álbum "Feel This" de la banda. Míralo a continuación.
El cantante Brandon Yeagley dice:
"'Golden' es un homenaje a un Dios que se fue demasiado pronto. Cuando llegamos a la letra, queríamos colectivamente que fuera un homenaje a Chris Cornell. Estamos muy influenciados por todo lo que él y Soundgarden han hecho. Hemos hecho la canción en honor a su legado".
"Feel This" se publicó el 3 de junio. Con decenas de millones de streams, innumerables shows y aclamación global, Brandon Yeagley [voz], Chris Bishop [guitarra], Tim Peugh [bajo] y Dan Ryan [batería] realizan su visión como nunca antes en su quinto álbum de estudio de larga duración. El lanzamiento sigue al álbum "Motherbrain" del Top 10 de Heatseekers de 2019, cuyos streams acumulados han superado los 30 millones. Veintiún millones de los cuales fueron para el goliath single "Low Life", un Top 10 en la radio de Rock Activo, con una carrera de 29 semanas en la lista de Billboard Mainstream Rock.
Hicieron olas con "Legend of the Spaceborne Killer" [2012], "Something Supernatural" [2014] y "Welcome To Fat City" [2016]. Sin embargo, "Motherbrain" [2019] representó un punto de inflexión. Han cruzado los Estados Unidos, y el mundo, al estilo de los guerreros de la carretera, tocando con gente como Anthrax, Black Label Society, Chevelle, Clutch, Volbeat, Halestorm y más. ¡Han iluminado los carteles de los festivales y del crucero anual Shiprocked! Cruise, Rocklahoma, Aftershock y el Jericho Cruise, entre otros.
"Hacemos girar los bolsillos de nuestros pantalones y dormimos en nuestra furgoneta durante la mitad del año. Para algunos, eso puede parecer una miseria, pero para nosotros, ¡es el paraíso!", dice el líder.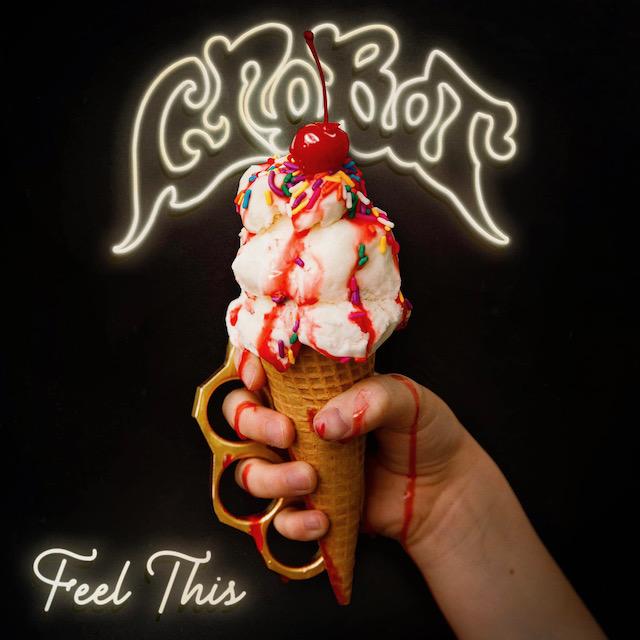 Tracklisting:
"Electrified"
"Dizzy"
"Set You Free"
"Better Times"
"Golden"
"Without Wings"
"Livin' On The Streets"
"Into The Fire"
"Dance With The Dead"
"Holy Ghost"
"Never Break Me"
"Staring Straight Into The Sun"
CROBOT se subirá al autobús de la fiesta con Airbourne y Blues Pills, pasando por Francia, España, Italia, Suiza, Alemania, Austria, Bélgica, Países Bajos y terminando en el Reino Unido tres días antes de Navidad, con una parada principal en la República Checa en el camino.
Hablando de la gira, Brandon Yeagley dice:
"Ha pasado mucho tiempo, pero estamos muy emocionados de incendiar escenarios extranjeros con el poder del riff. ¡Nuestros amigos de Airbourne han reunido una alineación asombrosa junto con Blues Pills para asegurar que podamos apagar todas nuestras preocupaciones y riffear hasta que salga el sol! Bueno, al menos hasta que las salas nos echen".
Fechas de la gira:
Noviembre
28 – Zenith – Paris, France
Deciembre
1 – Vistalegre Arean – Madrid, Spain
2 – Sant Jordi – Barcelona, Spain
3 – Cubec – Bilbao, Spain
5 – Alcatrazz – Milan, Italy
6 – Halle 622 – Zurich, Switzerland
7 – Zenith – Munich, Germany
9 – Gasometer – Berlin, Germany
10 – Columbiahalle – Berlin, Germany
11 – Strahov 007 – Prague, Czech Republic (headline show)
12 – Porche Arena – Stuggart, Germany
14 – Palladium – Cologne, Germany
15 – Stadthalle – Hamburg, Germany
16 – Cirque Royal – Brussels, Belgium
19 – 013 – Tilburg, Netherlands
21 – Victoria Warehouse – Manchester, UK
22 – Brixton Academy – London, UK
(Foto – Wombat Fire)