BLACK LABEL SOCIETY lanza el vídeo "You Made Me Want To Live"
El undécimo álbum de estudio de BLACK LABEL SOCIETY, "Doom Crew Inc", ya está a la venta a través de MNRK Heavy. La banda ha lanzado un vídeo para el tema del álbum, "You Made Me Want To Live". Míralo a continuación:
La caja de "Doom Crew Inc.", limitada a 2.000 copias en todo el mundo, incluye un disco de vinilo con imágenes, una tarjeta de letras firmada por Zakk Wylde, un CD de caja larga y mucho más. Mira el vídeo de la caja:
El álbum de 12 pistas es tanto un homenaje al equipo de carretera de la banda "el primero en sangrar, el último en irse", como un saludo a la legión cuyo apoyo, que se remonta a 1998, rivaliza con el del KISS Army. El cuarteto de hard-rock-metal, pesado, bluesero y temerariamente desquiciado, es en parte una horda invasora y en parte un carnaval ambulante que convoca una cacofonía cargada de cafeína en los discos y en el escenario.
Las canciones son odas a la celebración y al luto, las bandas sonoras de noches de júbilo y días desconcertantes grabados en el estudio casero de Zakk, el Black Vatican. En este álbum, Zakk intercambia solos y partes de guitarra gemela con Darío Lorina, respaldado por el estruendo del bajista de toda la vida, John "J.D." DeServio, y el potente batería Jeff Fabb.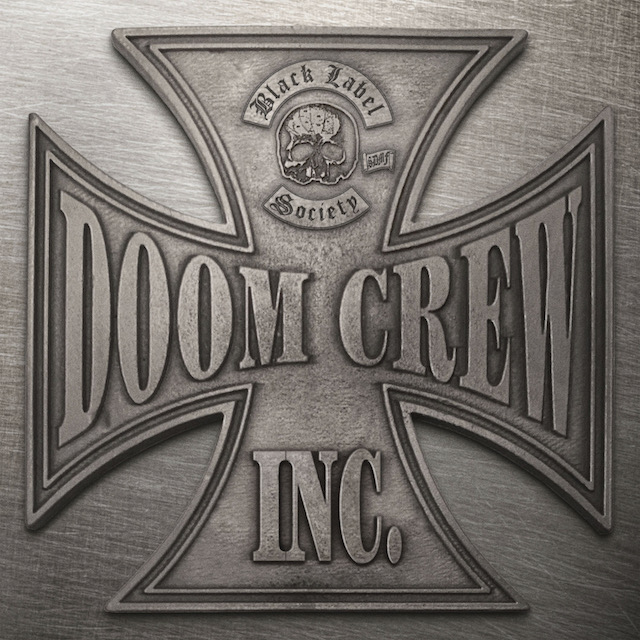 "Doom Crew Inc." tracklisting:
"Set You Free"
"Destroy & Conquer"
"You Made Me Want To Live"
"Forever And A Day"
"End Of Days"
"Ruins"
"Forsaken"
"Love Reign Down"
"Gospel Of Lies"
"Shelter Me"
"Gather All My Sins"
"Farewell Ballad"
BLACK LABEL SOCIETY iniciará una gira por Estados Unidos el 30 de abril en San Diego, California. La gira incluirá invitados especiales como Nita Strauss, Black Stone Cherry y Jared James Nichols.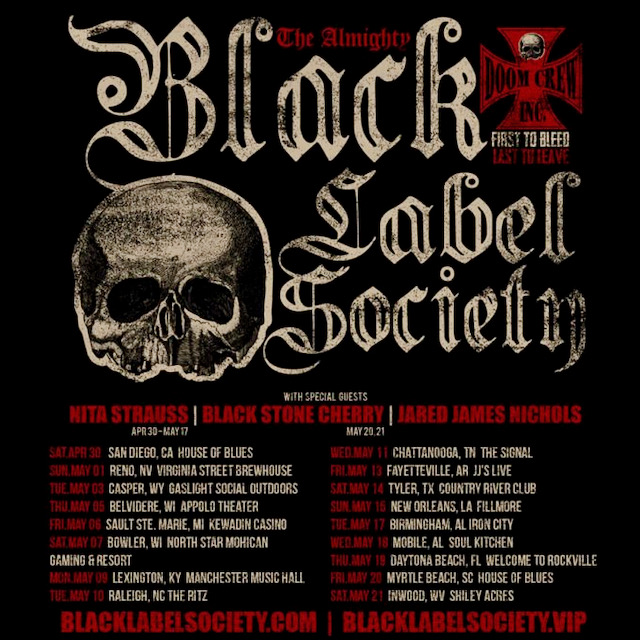 Fechas de la gira:
Abril (con Nita Strauss, Jared James Nichols)
30 – San Diego, CA – House Of Blues
Mayo (con Nita Strauss, Jared James Nichols)
1 – Reno, NV – Virginia Street Social Outdoors
3 – Casper, WY – Gaslight Social Outdoors
5 – Belvidere, IL – Apollo Theater
6 – Sault Ste. Marie, MI – Kewadin Casino
7 – Bowler, WI – North Star Mohican Gaming & Resort
9 – Lexington, KY – Manchester Music Hall
10 – Raleigh, NC – The Ritz
11 – Chattanooga, TN – The Signal
13 – Fayetteville, AR – JJ's Live
14 – Tyler, TX – Country River Club
15 – New Orleans, LA – Fillmore
17 – Birmingham, AL – Iron City
Mayo (con Jared James Nichols)
18 – Mobile, AL – Soul Kitchen
19 – Daytona Beach, FL – Welcome to Rockville
Mayo (con Black Stone Cherry, Jared James Nichols)
20 – Myrtle Beach, SC – House Of Blues
21 – Inwood, WV – Shiley Acres
Este verano, Anthrax y BLACK LABEL SOCIETY llevarán algo del mejor thrash y heavy metal a 24 ciudades norteamericanas cuando inicien una gira de cinco semanas el martes 26 de julio en el Van Buren de Phoenix, AZ, que terminará en Filadelfia en el Fillmore el domingo 28 de agosto. Ambas bandas serán titulares. Hatebreed, que celebra el 20º aniversario del álbum "Perseverance", será el invitado especial.
BLACK LABEL SOCIETY y Anthrax han compartido escenarios de festivales y actuaciones puntuales en numerosas ocasiones, pero esta es la primera vez que estas dos bandas saldrán de gira juntas.
"Zakk ha sido un amigo y una inspiración para mí como guitarrista, compositor y creador de barbas desde que nos conocimos en 1988″, dijo Scott Ian de Anthrax. "Hemos tenido el privilegio de compartir escenarios de festivales con Zakk y BLS en todo el mundo, y siempre ha sido una sociedad de admiración mutua entre las dos bandas. Ahora compartiremos el escenario todas las noches en la que va a ser la gira más heavy de 2022, la combinación definitiva de dos bandas. Ah, ¿y he mencionado que tenemos a los malditos Hatebreed con nosotros como invitados especiales? Mierda, va a ser la noche de los 1000 riffs aplastantes. No puedo esperar a verlos a todos en la carretera".
Zakk Wylde, de BLACK LABEL SOCIETY, dijo:
"Anthrax es una de las mejores bandas legendarias de metal/thrash de todos los tiempos – He sido amigo de Scotty, Charlie, Frankie y Joey durante más de 30 años y son algunas de las mejores personas que conocerás. Jon es la mejor incorporación que Anthrax podría pedir – Hatebreed es la mejor banda de hardcore/extreme metal y los mejores amigos de Anthrax y BLACK LABEL SOCIETY. La gira de Anthrax + BLACK LABEL SOCIETY y Hatebreed va a ser una de las mejores giras de la historia".
"¡Escuchen! Va a ser un verano caliente!" añadió Jamey Jasta de Hatebreed. "¡Anthrax, BLS y Hatebreed estarán en su caso, en su cara y listos para patearlos a ustedes y a su padre en su lugar! Nos vemos en el foso".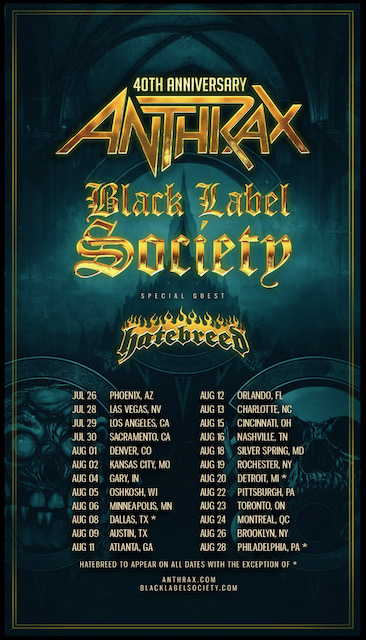 Fechas:
Julio
26 – The Van Buren – Phoenix, AZ
28 – Brooklyn Bowl – Las Vegas, NV
29 – The Palladium – Los Angeles, CA
30 – Heart Health Park – Sacramento, CA
Agosto
1 – Fillmore Auditorium – Denver, CO
2 – Midland Theater – Kansas City, MO
4 – Hard Rock Live Northern Indiana – Gary, IN
5 – Oshkosh Arena – Oshkosh, WI
6 – The Fillmore – Minneapolis, MN
8 – Southside Ballroom – Dallas, TX**
9 – Stubbs Waller Creek Amphitheater – Austin, TX
11 – The Tabernacle – Atlanta, GA
12 – House of Blues – Orlando, FL
13 – The Fillmore – Charlotte, NC
15 – The Andrew J Brady Music Center – Cincinnati, OH
16 – Ryman Auditorium – Nashville, TN
18 – The Fillmore – Silver Spring, MD
19 – Main Street Armory – Rochester, NY
20 – The Fillmore – Detroit, MI**
22 – StageAE Outside – Pittsburgh, PA
23 – History – Toronto, ON
24 – Amphitheatre Cogeco – Trois Riviere/Montreal, QC
26 – Coney Island Amphitheater – Brooklyn, NY
28 – The Fillmore – Philadelphia, PA**
** Hatebreed no aparecerá en estas fechas.
(Foto – Jen Rosenstein)