BEWITCHER – Estrena el vídeo "Electric Phantom", el nuevo álbum 'Cursed Be Thy Kingdom' ya está a la venta
El viernes pasado, BEWITCHER dio a luz a su trabajo más diabólico realizado hasta la fecha. Compuesto por 10 temazos de puro Heavy Speed Metal la banda nos hace viajar a los infiernos acompañados de un buen rock 'n roll, "Cursed Be Thy Kingdom" es en sí un viaje de vuelta al hogar del diablo.
Para conmemorar el grandioso día, la banda ha estrenado un cuarto single sacado del nuevo álbum "Electric Phantoms" que sin lugar a duda es una buena composición marca de la casa.
Puedes ver el vídeo de "Electric Phantoms" aquí:
M von Bewitcher (cantante y guitarrista) ha dicho lo siguiente: "Carreteras azotadas por el viento, clubes nocturnos grasientos, olor a cuero, cerveza y gasolina. En los gloriosos días en que las bandas de heavy metal merodean libremente por la tierra, estas cosas no son solo normas… son la ley. Da un paseo con los "fantasmas eléctricos" y descubre por ti mismo de qué se trata la vida sucia en la carretera".
El nuevo álbum ya está disponible haciendo click aquí
Los formatos disponibles son los siguientes:
Ltd. CD Digipak
Digital Album
black LP+CD & Poster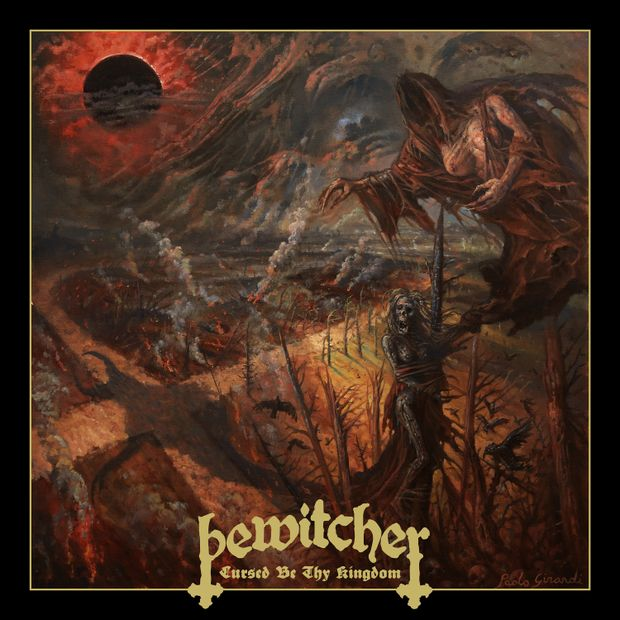 1. Ashe
2. Death Returns…
3. Satanic Magick Attack
4. Electric Phantoms
5. Mystifier (White Night City)
6. Cursed Be Thy Kingdom
7. Valley of the Ravens
8. Metal Burner
9. The Widow's Blade
10. Sign of the Wolf (Pentagram cover)
Cuando uno se encuentra entre un cruce de caminos y cara a cara con el mismo diablo – ¿Quién elegiría el camino del zurdo? Sinceramente, el mal es demasiado tentador, demasiado fuerte, y de todas formas en el infierno está la mejor música. Desde Portland, Oregon, los mestizos del heavy metal BEWITCHER hicieron un pacto con Lucifer hace años, y han caminado por la oscuridad desde entonces.
Grabado en el The Captain's Quarters en Ventura, California con Armand John Anthony (Night Demon) y mezclado por Cameron Webb (Motörhead, Megadeth), "Cursed Be Thy Kingdom" es un álbum de heavy – metal, rock n' roll, forjado en los candentes fuegos el infierno.
La portada la ha realizado Paolo Girardi (Power Trip y muchos más).
Formación:
M von Bewitcher – cantante y guitarrista
A Hunter – batería y percusión
A Magus – bajo y coros
BEWITCHER online:
www.facebook.com/BewitcherOfficial
www.instagram.com/bewitcherofficial