AT THE GATES estrenan el vídeo "Cosmic Pessimism"
Los pioneros suecos del death metal melódico, AT THE GATES, han lanzado un vídeo para "Cosmic Pessimism", de su último álbum de estudio, "The Nightmare Of Being". El vídeo, dirigido por Costin Chioreanu / Twilight 13 Media, se puede ver a continuación.
"'Cosmic Pessimism' es una de las pistas centrales del nuevo disco. No solo extrae el título del libro de Eugene Thacker del mismo nombre, la letra en realidad está escrita por el mismo Eugene. Esto es algo de lo que estoy muy orgulloso, el colaboración con una de las figuras centrales en lo que respecta al pesimismo moderno y la idea de cómo se correlaciona con el horror cósmico. Es una canción sofocantemente estricta y repetitiva, y muestra el estado de ánimo de la letra de manera brillante, en mi opinión. AT THE GATES siempre ha sido fanático de todo lo ecléctico y extremo, y finalmente estamos en un momento de nuestra carrera en el que nos sentimos cómodos levantando algunas de estas influencias más vanguardistas dentro del sonido característico de AT THE GATES. Las influencias neoclásicas minimalistas aquí chocan con el deutsche rock / "kraut" y no hay sonidos de onda que tanto amamos. El vídeo es una vez más filmado por Costin, nuestro colaborador desde hace mucho tiempo, y, una vez más, logró agregar profundidad y textura extra a la música y las letras", afirma el vocalista Tomas Lindberg Redant sobre "Cosmic Pessimism".
Ordene "The Nightmare Of Being" aquí.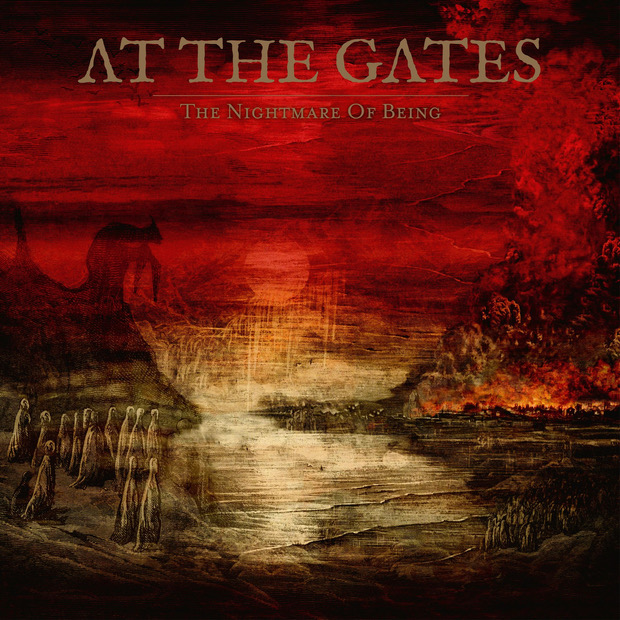 "The Nightmare Of Being" tracklisting:
"Spectre Of Extinction"
"The Paradox"
"The Nightmare Of Being"
"Garden Of Cyrus"
"Touched By The White Hands Of Death"
"The Fall Into Time"
"Cult Of Salvation"
"The Abstract Enthroned"
"Cosmic Pessimism"
"Eternal Winter Of Reason"
El tracklisting para el live bonus:
"Red" (King Crimson cover, Live at Roadburn)
"The Scar" (Live at Roadburn)
"Koyaanisqatsi" (Philip Glass cover, Live at Roadburn)
"The Burning Darkness" (Live at Roadburn)
"Daggers Of Black Haze" (Live in Stockholm)
"Death and the Labyrinth" (Live in San Francisco)
"A Stare Bound In Stone" (Live in San Francisco)
"Heroes and Tombs" (Live in San Francisco)
"The Night Eternal" (Live in San Francisco)
AT THE GATES es:
Tomas Lindberg Redant – Voz
Jonas Björler – Bajo
Martin Larsson – Guitarra
Jonas Stålhammar – Guitarra
Adrian Erlandsson – Batería