ASHES OF ARES feat. ex miembros de ICED EARTH estrenan lyric vídeo para el nuevo sencillo "By My Blade"
Nueve años después de la formación, el legendario dúo de heavy metal, ASHES OF ARES, anunció recientemente el lanzamiento de su tercer álbum de estudio, "Emperors And Fools".
Este álbum ve a Matt Barlow y Freddie Vidales llevar la oscuridad y la agresión de su álbum anterior, "Well Of Souls", a un escalón más alto. El proceso de escritura comenzó casi inmediatamente después del lanzamiento de "Well Of Souls". Como de costumbre, fue un verdadero esfuerzo de colaboración entre los dos, con ideas que se originaron en uno u otro, y luego evolucionaron y se refinaron a lo que se presenta en "Emperors And Fools".
Hoy, la banda lanza un vídeo para el nuevo single, "By My Blade". Mire el video a continuación y encuentre el sencillo en todas las plataformas digitales y de streaming.
El flujo del álbum está diseñado para mantener a los oyentes nerviosos mientras los lleva de himnos rápidos, pesados ​​y contundentes a piezas sombrías, melancólicas y emocionales. El álbum termina con la épica "Monster's Lament" de once minutos de duración, que presenta la unión de fuerzas imaginada durante mucho tiempo entre Matt Barlow y Tim "Ripper" Owens.
"Emperors And Fools" se lanzará el 21 de enero como CD digipak, vinilo turquesa / negro salpicado limitado (300 copias en todo el mundo), vinilo salpicado rojo / negro limitado (300 copias en todo el mundo) y transmisión digital y formato de descarga.
• Producido por Ashes of Ares
• Mezclado y masterizado por Byron Filson en Villain Recording, Phoenix, Arizona
• Batería grabada por Ed Warrin de LCS Productions
• Obra de Kamil Pietruczynik
Reserva el álbum aquí.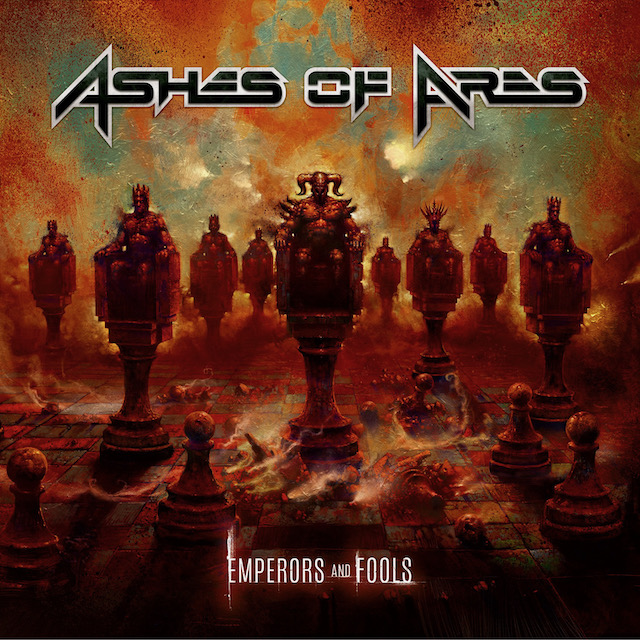 Tracklisting:
"A City In Decay" (Intro)
"I Am The Night"
"Our Last Sunrise"
"Primed"
"Where God Fears To Go"
"Emperors And Fools"
"By My Blade"
"What Tomorrow Will Bring"
"The Iron Throne"
"Gone"
"Throne Of Iniquity" (CD Exclusive Track)
"Monster's Lament"
ASHES OF ARES son:
Matt Barlow – Voz
Freddie Vidales – Guitarras, Bajo
Invitados:
Batería en todas las pistas de Van Williams
Teclado en el intro por Jonah Weingarten
1er solo "The Iron Throne" de Wiley Arnett de Sacred Reich
Segundo solo "The Iron Throne" de Charlie Mark
Segundo solo "Monster's Lament" de Bill Hudson
Voces invitadas "Monster's Lament" de Tim "Ripper" Owens
Teclados "Monster's Lament" de Brian Trainor